10 Minute Leg Toner with Ankle Weights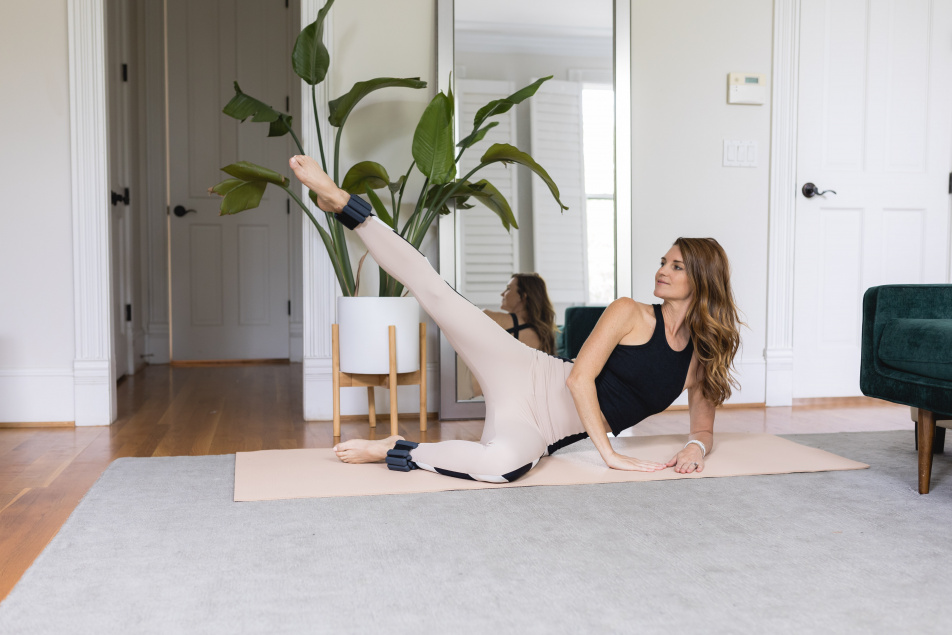 THIS WORKOUT AND OTHERS LIKE IT ARE PART OF MY YOUTUBE CHANNEL.  SUBSCRIBE AND NEVER MISS A WORKOUT!
Today we are spicing it up! Get ready for this leg toner with ankle weights.
10 Min Leg Toner with Ankle Weights
Heading down to the mat is a great way to really tone your legs.  This spicy workout is even spicer with ankle weights!  While the moves are simple, such as leg extensions and leg lifts, the repetitions are where you start to feel that heat for an effective workout that is only 10 minutes long!
Why workout with Ankle Weights
There are many types of ankle weights out there, but I have to say I love these lightweight bala ones.  I used to work out at a studio that used heavier ones and honestly, they just felt bulky and too much.  I would would rather do more controlled mindful reps than overwork my legs with a struggle.  Also, these can be used on your wrists and easily travel with you on a vacation.
Working out with ankle weights helps target the leg and hip muscles.  They can really build strength in your lower body.  If you want to challenge your calves, glutes, thighs, hip flexors and full lower body, I highly recommend them.  Again, those slow mindful movements are going to be more beneficial in your workout rather than cause injury.
Who Should and Shouldn't Use Ankle Weights?
If you are starting out a new exercise program, try using your own body weight first.  Get your body and mind comfortable with the movements and then try add on ankle weights as you increase your confidence.  Ankle weights can be a great tool to build strength after an injury, for seniors, or for anyone looking to really sculpt and tone during a workout.  Just ease into it! Start with light weights.  Use that mindful energy to focus on that control and body alignment.  And grow from there!
How to Workout With Me
Yes, on demand quick workouts are perfect for getting in your workout any time or anywhere.  But if you're looking for more, you can also workout with me LIVE.  Here's how:
Each week I provide virtual workouts HERE.
You'll find under 15 minute workouts, 25 minute barre sculpt and more!  So what's the difference vs. watching my youtube videos?  Well, these classes are LIVE.  So if you like to be held accountable and say you're going to show up for yourself because of a specific class, I got you.  Right now, all my 15 minute and under classes are FREE.  Yes, the LIVE 15 minute and under classes are FREE.
And for the more part, you can also get a monthly subscription for $10 USD/ month or $99 USD / year ( a 20% savings!).  Included in the subscription is ALL the live classes plus an on demand video library.  Typically, I record my classes and add them so if you're looking to workout with me anytime or anywhere, you can! This is your workout, so make it work for you.
I am getting into the practice of sharing my weekly schedule on Instagram (@kellienassr_) and through my weekly newsletter.
And if you're looking for a one on one session, or maybe you and some friends want to find a time that works for a live class.  You can also schedule here.
Wishing you a week filled with peace, health, joy, nature, fulfillment, and positive thinking.
xox,
Kellie