My Clean Beauty Favorites + Products I'm Currently Loving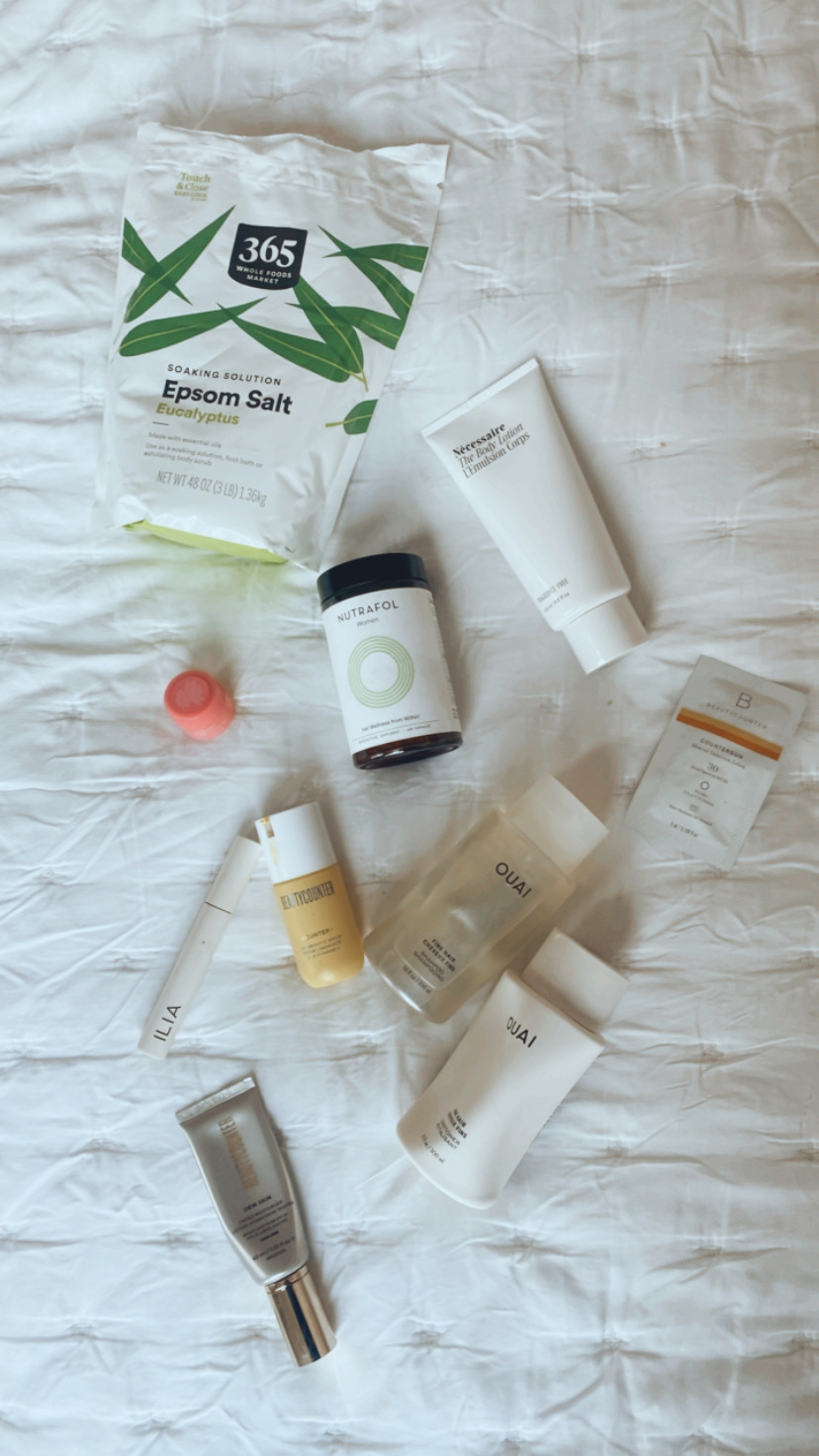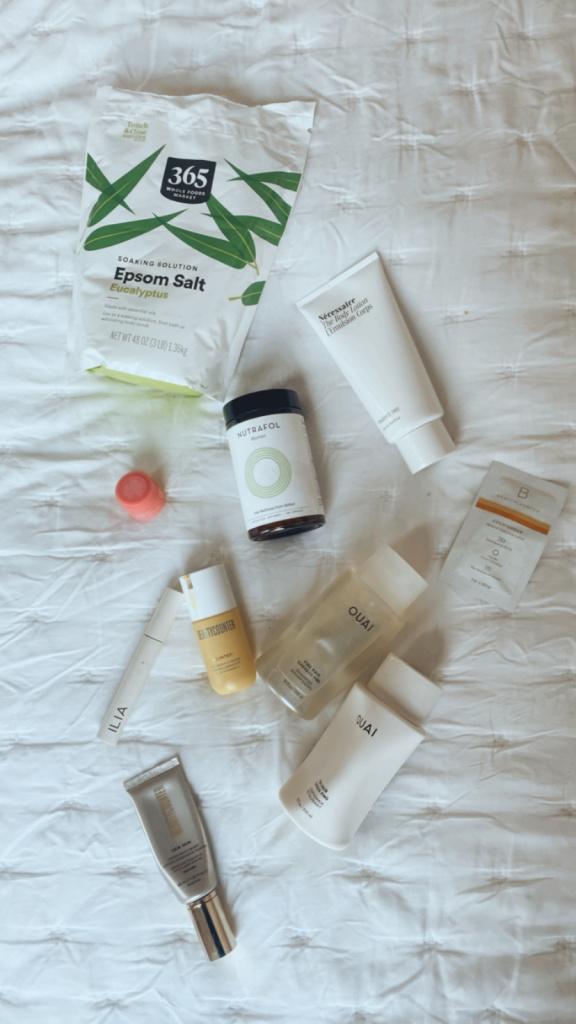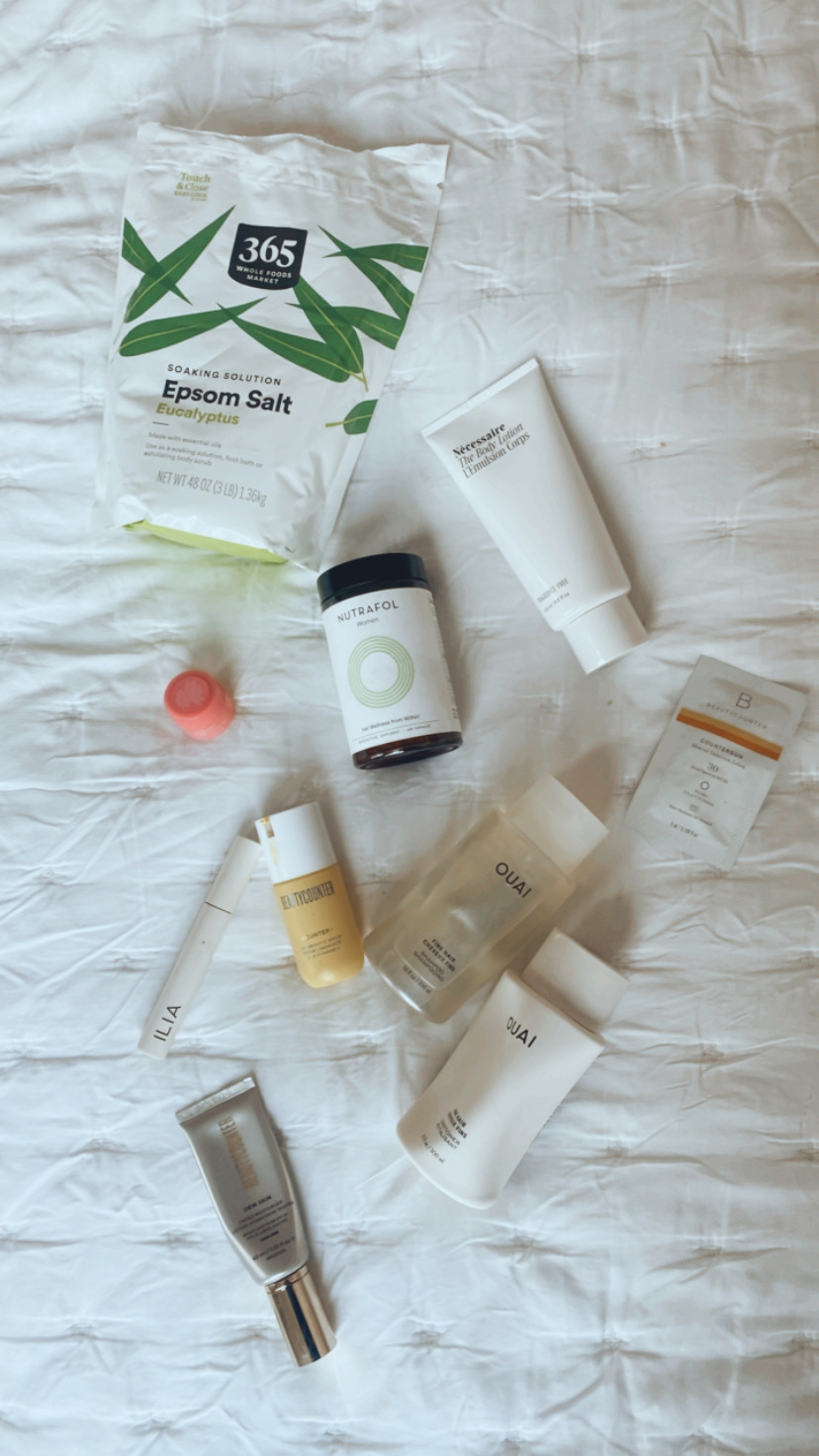 In the beginning, this blog was all about beauty products.  After my days at Revlon and bluemercury, I had so much beauty knowledge, specifically cosmetics, that I felt I had to start my first blog posts with beauty pics.  That said, I wasn't a girl who loved wearing makeup.  And even after looking at all the incredible makeovers online and on social media, I new nothing about technique, or how to make the perfect contour.  No.  My head was filled with the SKU line up at Target.  The number one makeup brand at CVS.  And even a little tea like what Olivia Wilde said during a lunch break at an ad shoot. In short, being a beauty marketer didn't completely translate to the go-to blogger status.
But those days are long gone.  Now, I go with what I like.  Keep it simple.  Keep it clean.  And only purchase what works for me.
So with this evolution of FBM, I'm still sharing my beauty favorites.  But giving you more of a wellness angle.  Because, products in the beauty category only work, if they make you feel good.  If wearing a red lipstick makes you feel empowered and brings out your inner Sasha Fierce.  Rock it.  If the idea of wearing anything but a clear lip gloss makes you feel like a clown.  Then listen to yourself.
Beauty should make you feel good.  It should uplift your mood.  It should not feel like an obligation.
So what are are few things I look for in my beauty products?  I'm glad you asked! Today I'm sharing my clean beauty favorites and products I'm currently using and loving. Let's dive in…
The Best Clean Beauty Products Without Harmful Chemicals
Yes, I am still on a clean beauty kick.  Most of my products are from clean brands.  Not all of them, but I strive for clean beauty as much as I can.
On the topic of harmful chemicals in beauty products, something we are all searching to understand, the basic truth to this is that the beauty industry is very unregulated.  Basically, a law put into place in 1938 pushed for by Eleanor Roosevelt (trail blazer!) has been the last update to keeping things safe in our consumer products. That's not to say that everything out there will kill you.  But if you want clean, non-toxic beauty products, you are going to have to read some labels.
Or even easier, stick with brands with a commitment to formulate without harmful chemicals.  A few of my favorites are:
The Top 5 Best Skincare Products
Now that you know some brands, I'm going to focus specifically on skincare in this section.  As someone who is over 40 years old, skincare is the most important to me.  It doesn't have to be the most important to you.  But if you have skin concerns as we gracefully pass time on this Earth, these will keep you feeling your best. I'm limiting these only to facial products.
Again, I am pairing down my beauty products.  I find something I like and I stick to it.
In my humble opinion, my top 5 Best skincare products are:
Clean Beauty Favorites + Products I'm Currently Using
Between the skincare, clean beauty, body products and more, there are are few items I have that would need replenishment immediately if I ran out. You know what I'm talking about.  There are lots of products I'm sure taking up space on your vanity.  Maybe you tried once or twice.  (I actually encourage you to use them up. Or gift them to someone.  I try to do this to avoid the over clutter of hoarding products).  But you know there are items that you are squeezing out of the tube and cursing if you the shipment doesn't come in time to refill.  OK, not that we're on the same page.  Some of these are repeats from above, but I'll go into detail. Here are mine…




Hope you discover some new beauty favorites of your own!
Share in the comments below your thoughts on beauty as a form of wellness, clean beauty favorites, the products you can't live without, or any questions you may have!
Wishing you that wonderful feel good feeling.  Without or without purchasing a product.
xox,
Kellie