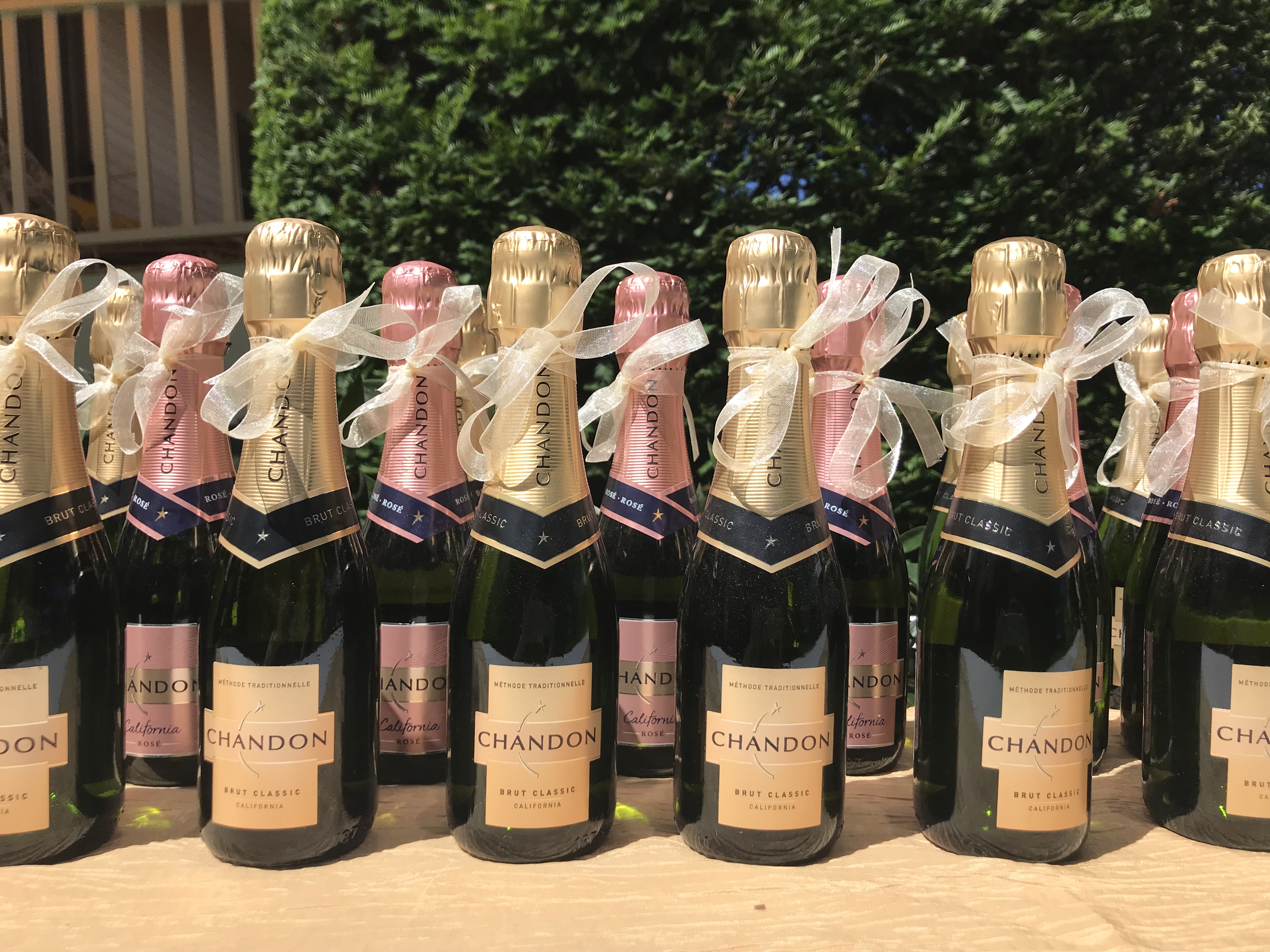 Time to celebrate! I can't believe how quickly my sister-in-law's wedding has come up, but this weekend it's finally here.
I recently shared details of her girls' trip to Napa and what I wore to her bridal shower, but I never got around to posting about the amazing bridal shower favors I made for her party. I mean, it doesn't get better than mini champagne bottles, right?  While I did love the adorable nail polish favors I made for my other sister-in-law's baby shower last year, nothing says celebration like bubbly.
Mini Champagne Bottle Favors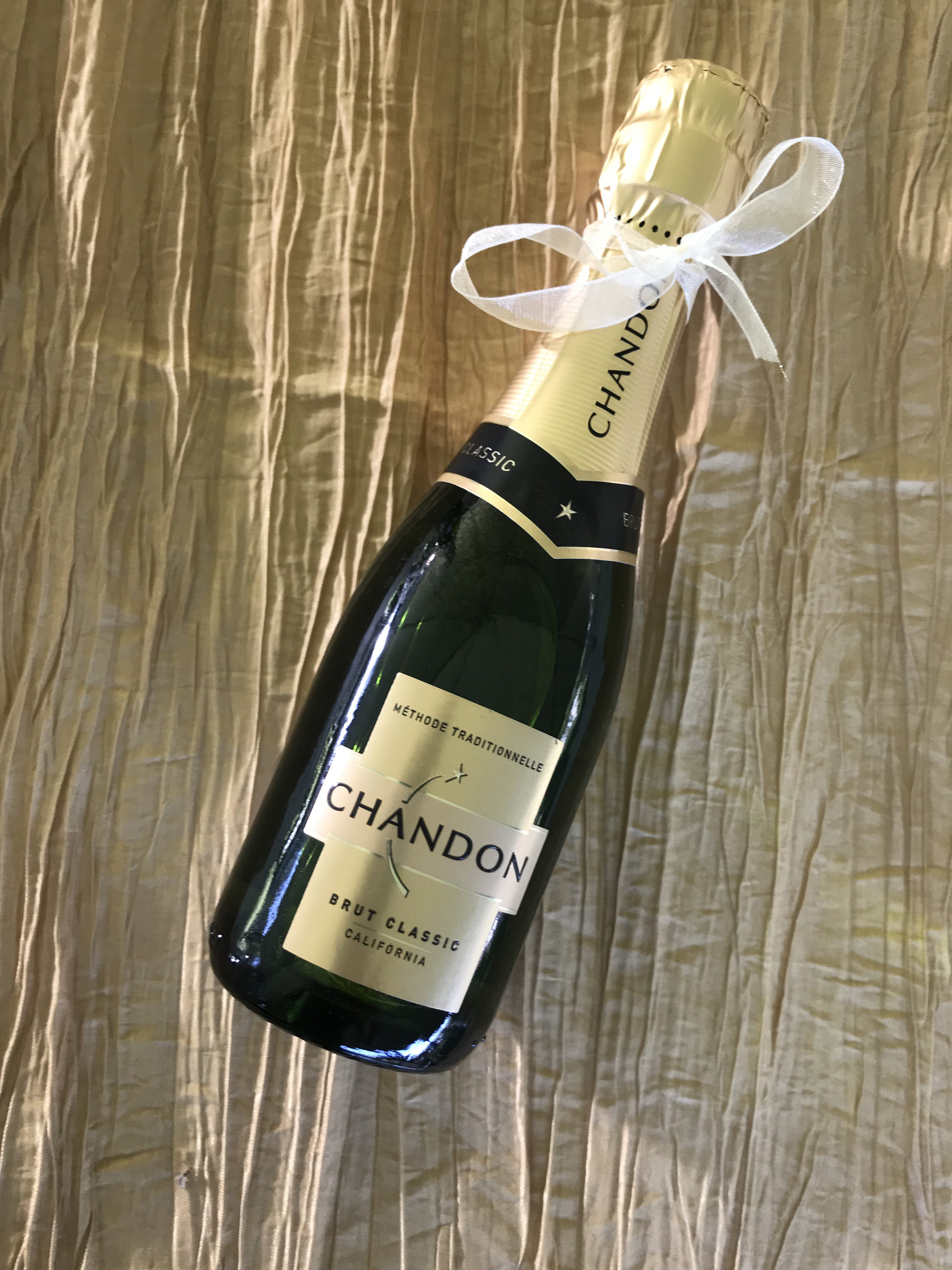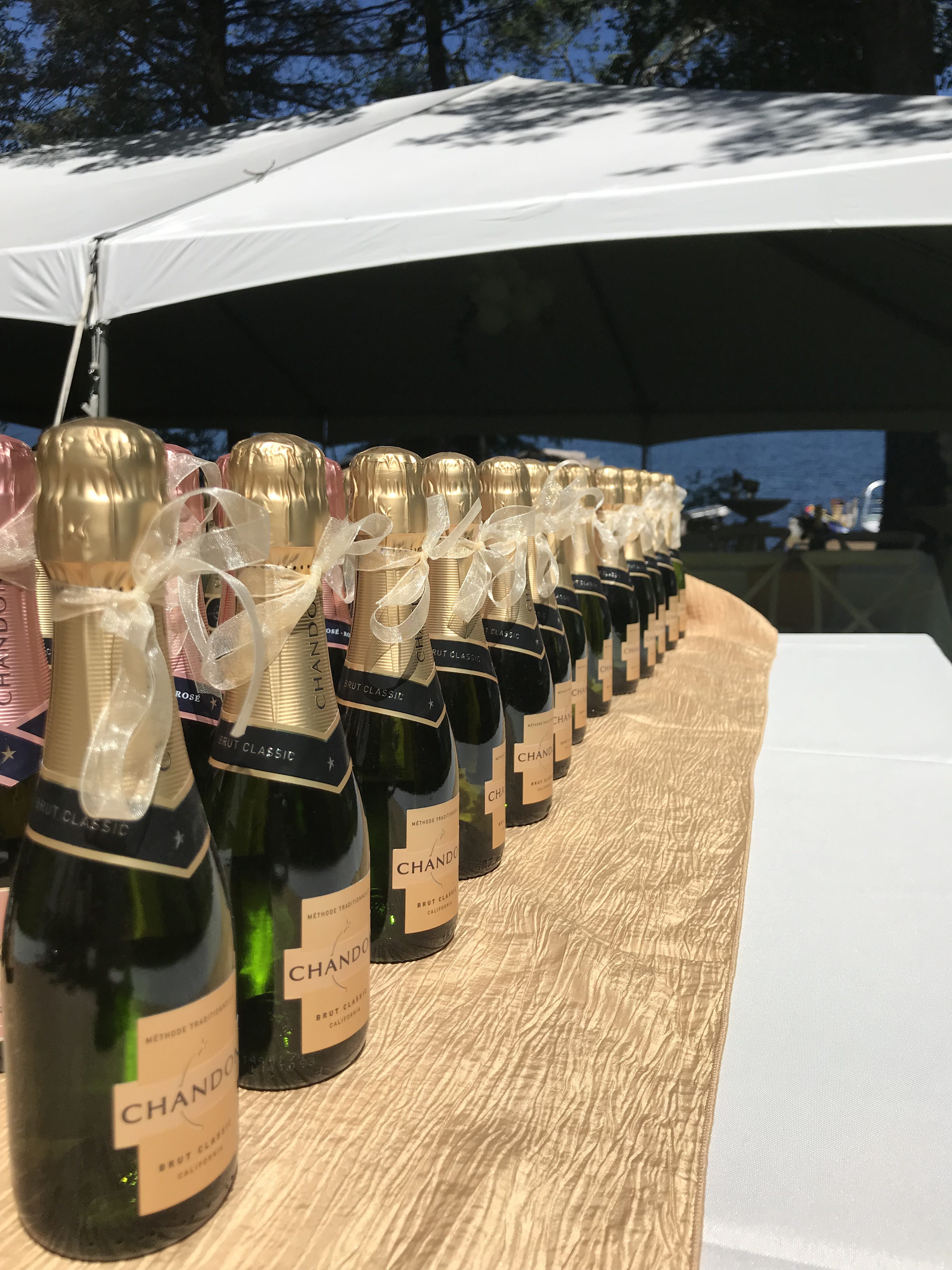 For the bridal shower, I went searching through the internet and local stores to get a good deal. After a thorough search I decided to order through Grand Wine Cellar and chose Chandon. I loved the gold caps and we even mixed in a few roses.
Technically, these are mini sparkling wine favors since they are produced in California. I'm using the term champagne generally in this post.  If you or the person you're celebrating prefers cava or Prosecco, then select the bubbly of your choice.
You'll soon see that champagne will be the most expensive option. If you have a budget or fixed price per person, you can play around with the varieties.
One more thing to consider before making a purchase is to check all the shipping requirements.  The bridal shower was in Scranton and I would have loved to ship directly, but at the time I wasn't able to ship to Pennsylvania. To play it safe, check the shipping dates and include a month buffer from your date. That way, you won't worry a out delays or issues with shipping.
Also, remember you're going to need someone who is at least 21 years old to sign for delivery. So make sure you track your package and can sign for the box or boxes.
Mini Champagne Bottle Favor Ideas
These were really great for a bridal shower, but champagne is so celebratory these favors can work for other occasions as well.  A few ideas to gift these fun favors….
Your Wedding! These or even mini wine bottles would make the type of wedding favor guests would actually enjoy. Definitely the sign of a glamorous event!
A bachelorette party. It's so cute when the bride or the maid of honor gifts the attendees of a bachelorette party. It's a nice way to say thank you for those who have traveled and made the the effort to be with you.
A New Year's Eve party would also be a perfect event for everyone to have thier own bottle to toast at midnight.
Client gifts. Show your appreciation with champagne! If you really want to thank someone for their business, these favors can be part of your gift.
Milestone birthday parties. Living a full life is always something to celebrate. If you have a big birthday coming up, mini champagne favors are way better than birthday candles.
Picnic Dates. Pulling out these little bottles will turn an ordinary picnic into something special.
You could also serve them at baby showers, but I prefer non-alcoholic favors when there is a pregnant lady involved.
BUY MINI CHAMPAGNE FAVORS:
Barefoot Bubble Brut Cuvée
Whatever your reason, these will definetly get you in an effervescent mood and lift your spirits.  Cheers!!