One thing I'm sure of these days, is that we all need some extra self care.  Taking time for yourself is super important and critical to keep your sanity. And I know that it's not always the easiest thing to do, but it goes a long way. So before we head into the holidays and you're consumed with purchasing gifts for others, it's time to put that oxygen mask on first and gift yourself with some non-toxic self care favorites.
That non-toxic piece is super important. If you are going to take the time and money to take care of yourself, you want to ensure the products you are using are also good for you. So what does that mean?
Non-toxic products are those formulated without potentially harmful or irritating ingredients.  You can also think of them as clean beauty. These aren't just reserved for overly cautious pregnant women or the extremely health conscious. Everyone can enjoy these products! You're just selecting better, quality ingredients. Not the parabens, phthalates, fillers,  synthetic fragrances –  list can go on!
I don't want to stress you out even before we begin, so let's take a deep breath in, breathe out, and check out these self care favorites!
Non-toxic Self Care Favorites
body wash
There are two body washes that are currently in my rotation, because let's be honest, it's fun to mix things up. The first is the Necessaire Body wash, which I love! The brand is all about clean beauty products and self care. The body wash comes in a non-scented version, but I use and really enjoy the Sandlewood scent.
I also use Love Beauty Planet body washes. Usually on a Target run I stocked up on this clean product line. I'm currently using a Lavender scent and like to switch to this one for evening showers.
Body serum
I haven't used a body serum since I was pregnant! Back they I was really concerned with keeping the skin on my tummy hydrated. In the same way I use a serum in my daily skincare routine for my face, I wanted to incorporate that to my full body! As I get older, I'm trying to tighten and keep my skin looking youthful so I started using the Necessaire Body Serum.
face masks
At least one a week, I like to apply a face mask. Sometimes it's an intention relaxing moment in the tub, or a multi-tasking moment while folding laundry.  I love Farmacy products and this honey face mask is a best seller for a reason!
shampoo and conditioner
Same as my body washes, I mix these up. I fell in love with the Olaplex line after gifting myself with their holiday set last year. I'm so happy they are offering it again this year!
And again, I use Love Beauty Planet shampoos and conditioners. My current favorite is the Coconut Oil and Ylang Ylang. I included all my favorite hair products in my How to Get Healthy Hair Naturally post.
body scrubs
I don't know about you, but my skin gets soooo dry some times. Especially my legs. I love a good body scrub like the Beautycounter Lemongrass Sugar Scrub to make my skin feel soft again.
deodorant
I have to admit, for a while I wasn't wearing deodorant. After learning about the harmful ingredients and how close it is to your breasts, I just started to skip it. Now, I've been working out so much as a fitness instructor, it's been hard to skip! I like  Native Deodorant– it's aluminum-free and effective against sweat and order. Also, the company started offering a plastic free line! They even offer a subscribe and save option on their site.
diffusers
Sometimes, just breathing in a great scent can make you feel at ease. My stone diffuser is such a joy to have around. When I first starting using it, I attempted complicated essential oil mixes. Now, I like to keep it simple. Peppermint and eucalyptus are my go to scents. These are so much better than air fresheners made with who knows what. Plus, this diffuser looks so pretty in your home!
lip balms + scrubs
Winter is coming and so are the dry chapped lips. I always need an extra lip scrub to really tackle my lips like this Balmy Night Lip Scrub from Ilia.  The natural sugar is a great way to get those lips baby soft again. And definitely a ski trip packing essential.
suncreens
Wearing sunscreen is not just a summer thing. If you really want to protect your skin and keep it looking youthful, sunscreen is a must. Especially on your face! I keep this Beautycounter Daily Defense in my purse and apply while out and about running errands throughout the day. I also really love the Supergoop brand.

Body and hand lotions
All this sanitizer usage is drying out my hands. I keep a squirt bottle of hand lotion near my kitchen sink and this ultra rich body butter next to my bed at night. I just need to keep slathering it on!
Gift yourself: non-toxic self care gift sets
The holidays are a great way to try out new products and save money on value sets. Yes, you can also gift these. But highly considering picking up a few for yourself!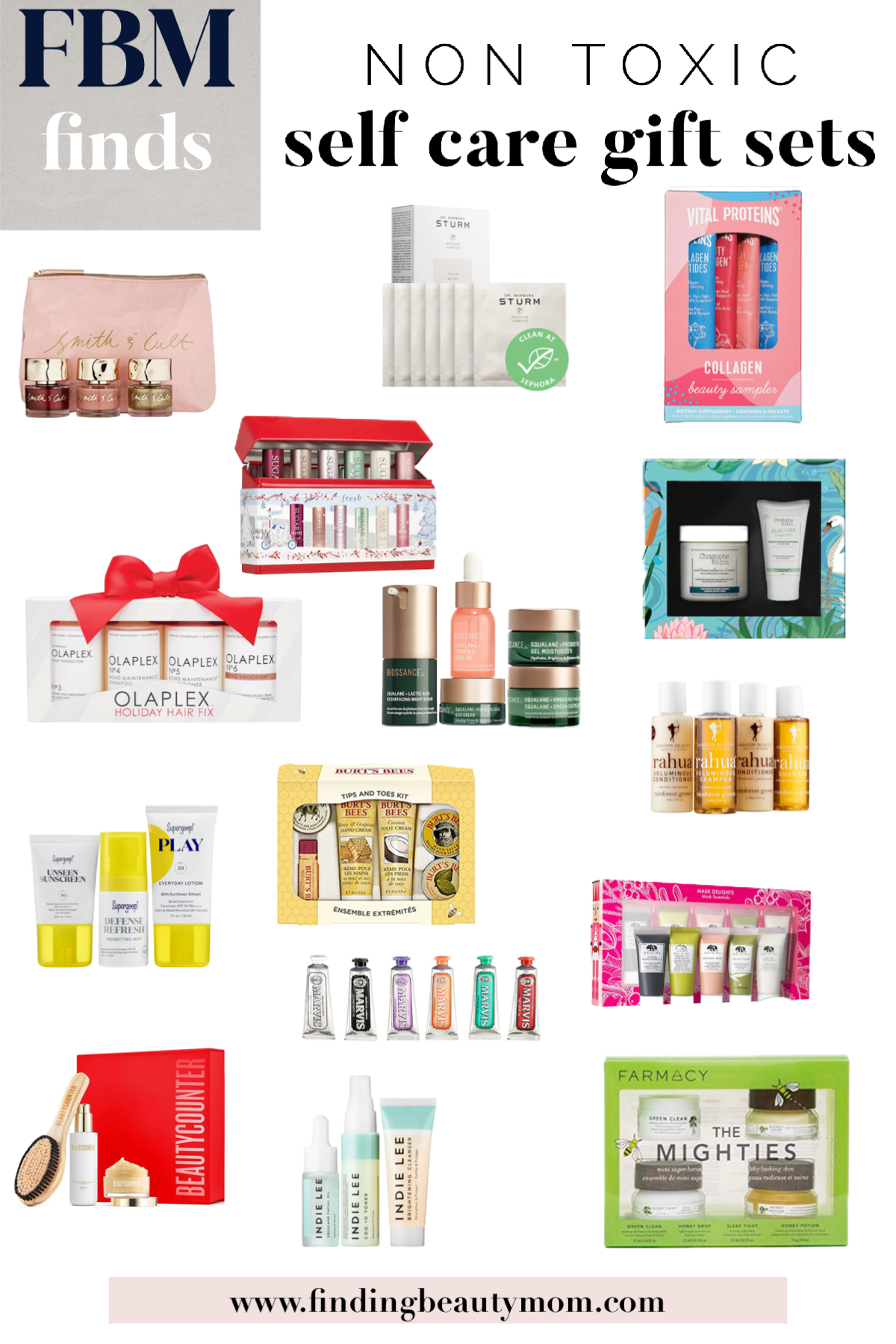 Dr Strum Face Masks – Splurge!!
Vital Proteins Collagen Sample Pack – $10!
Fresh Sugar Lips Best Sellers Tin
Christopher Robin Healthy Glow + Detox
Burt's Bees Holiday Set – $8!
7 Days of Flavor Toothpaste Set
Indie Lee Discovery Set – $29!
I hope that gives you the perfect self care Sunday! Enjoy!
xo,
Kellie