Weekend Getaway: Salamander Resort + Spa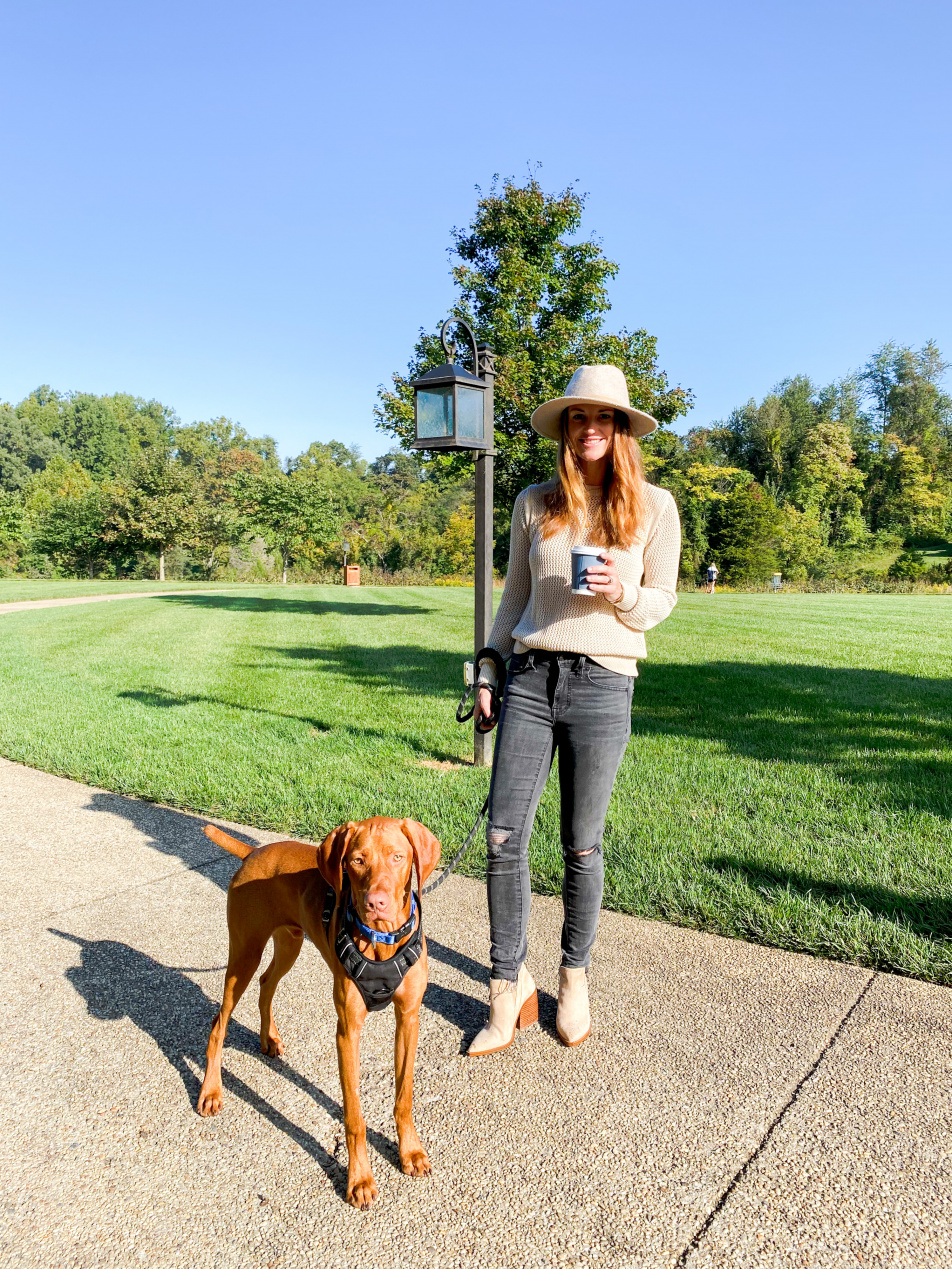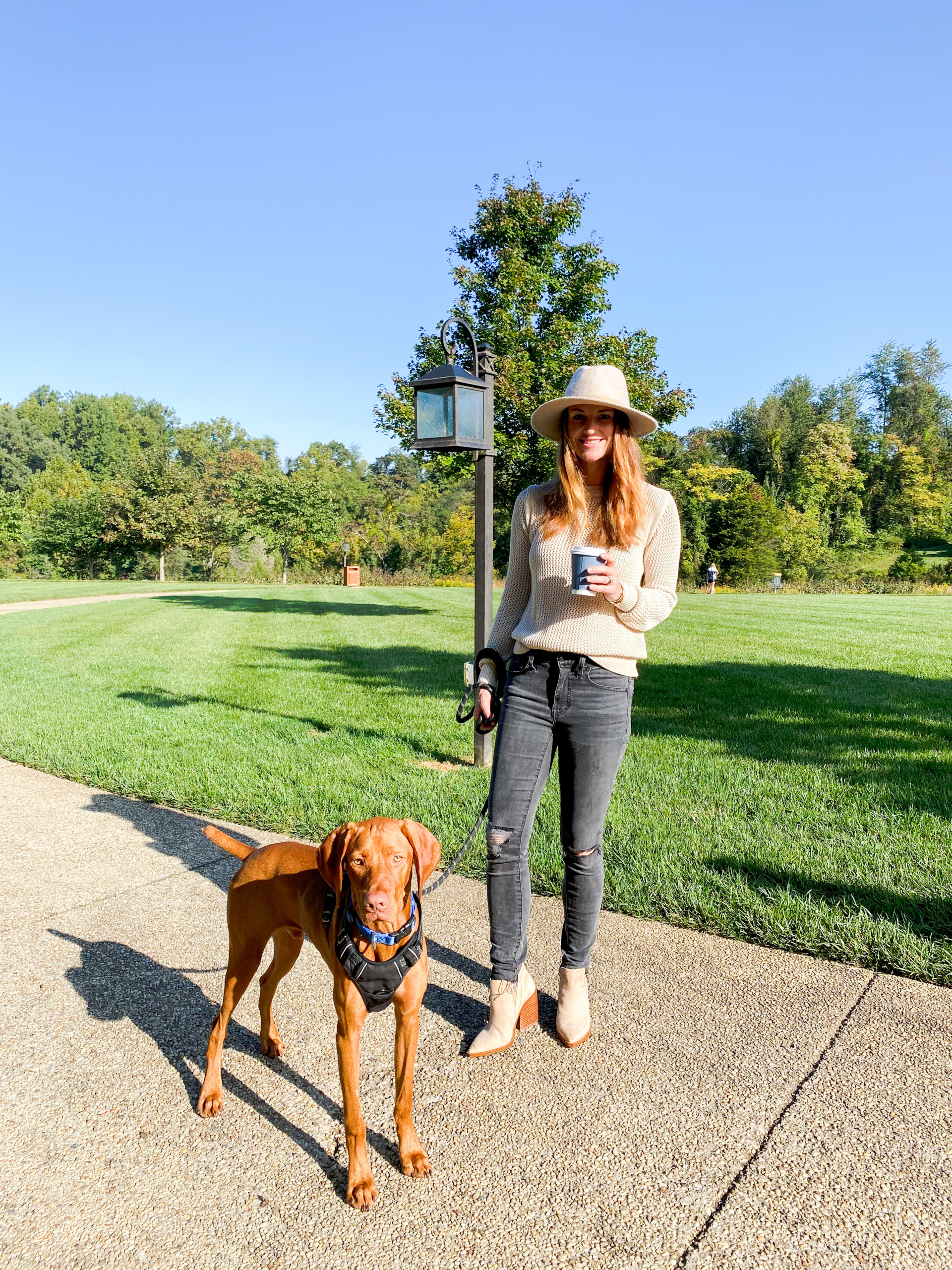 Anyone else dying for a travel trip? I wish I was currently
packing a bag to Italy right now. However, since big fun trips are a little challenging these days, it's a good opportunity to  explore local destinations. A few weeks ago, our family took a trip to the Salamander Resort and Spa and it was so heavenly. It was such a great time that I wanted to share some fun details with you!!

The Salamander Resort + Spa
This newly built getaway spot is located in Middleburg, Virginia, a little over one hour from DC.  The travel time was amazing for us. We have visited places like the Homestead, and while it is nice, we prefer the shorter drive and updated atmosphere.
Middleburg is a charming town settled in Virginia wine and horse country. It's extremely easy to get to the Main Street  from the resort.  There are lots of great shopping, dining, and charming streets to enjoy.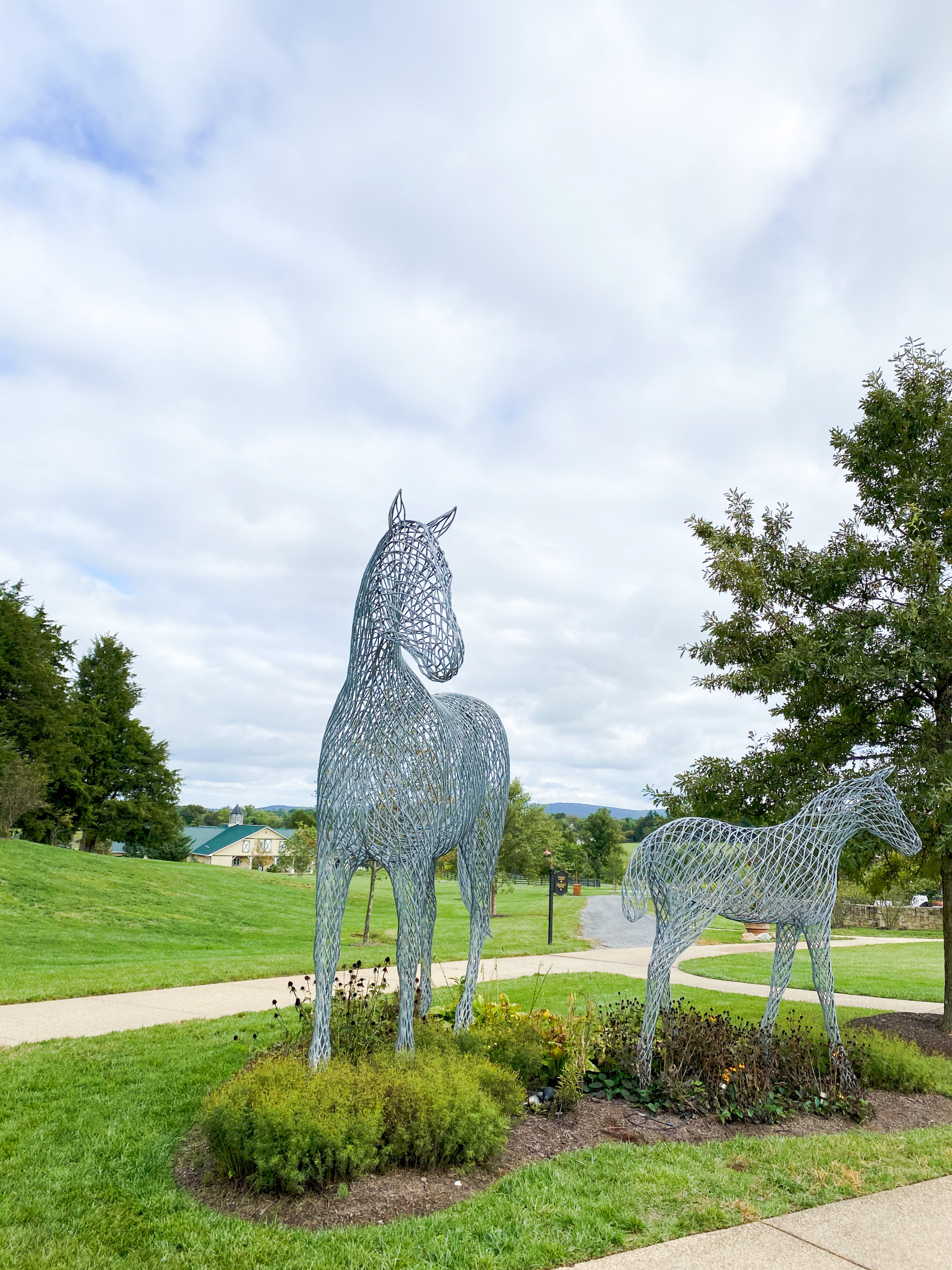 Why we chose the Salamander
With big celebrations harder to do these days, we were looking for a way to make Marielle's 5th birthday feel special. It was also on the same weekend as our anniversary! This year was 11, so not as epic as traveling to Santorini for a week without our kids like last year.  Here's how we settled on the Salamander Resort + Spa.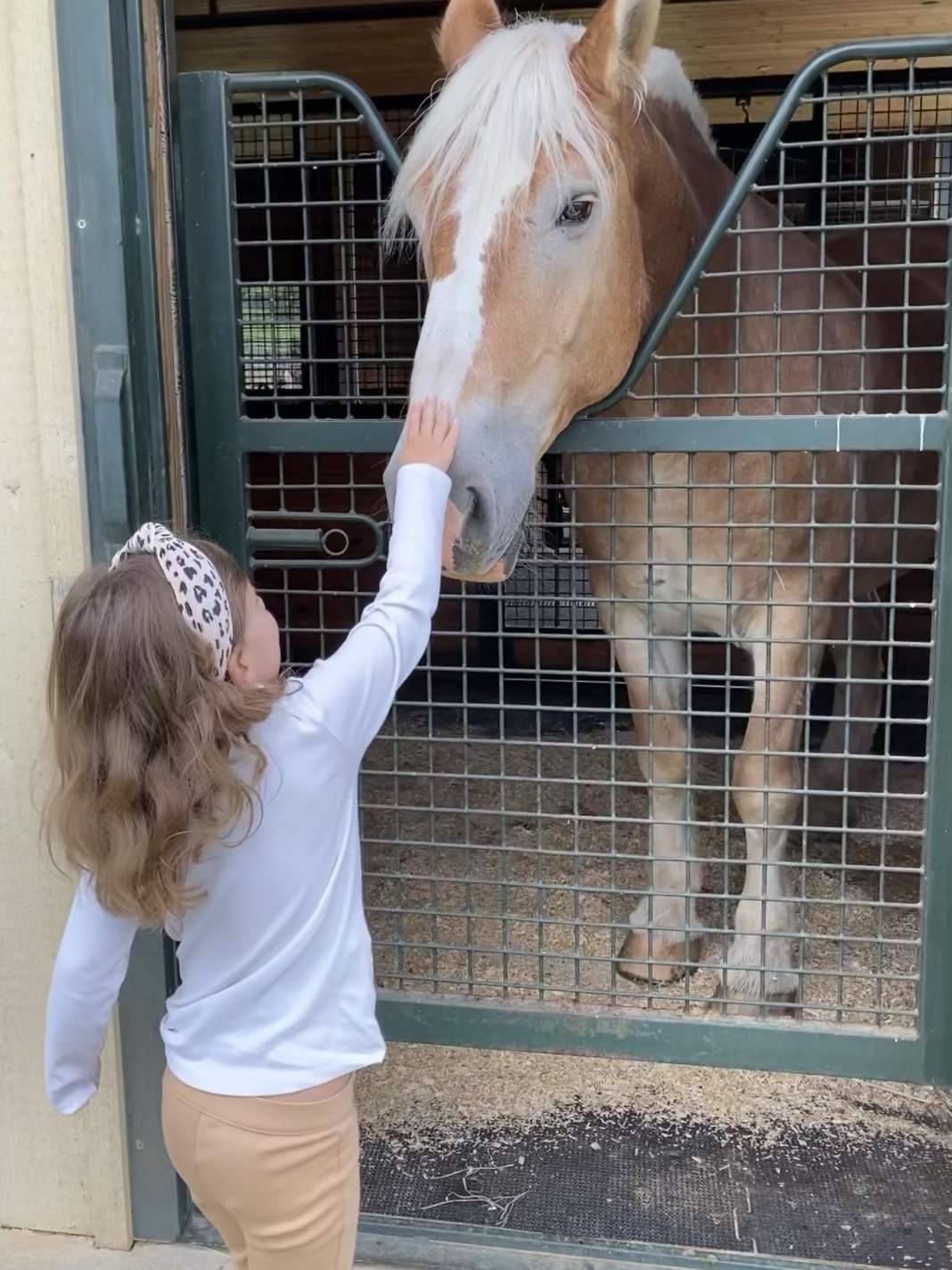 The Equestrian Center
Each year I take Marielle horseback riding somewhere. Typically, just a small trail ride but she gets so excited for it. We knew riding a horse would just make her day!
On the property is the Equestrian Center and it is amazing. Plus, you don't have to walk far, it's right there on the grounds past the kitchen garden that grows the veggies the restaurant serves.  The barn is extremely clean. You can walk around outside or inside and check out the horses. Including Cupcake the miniature horse that makes appearances at cocktail hour!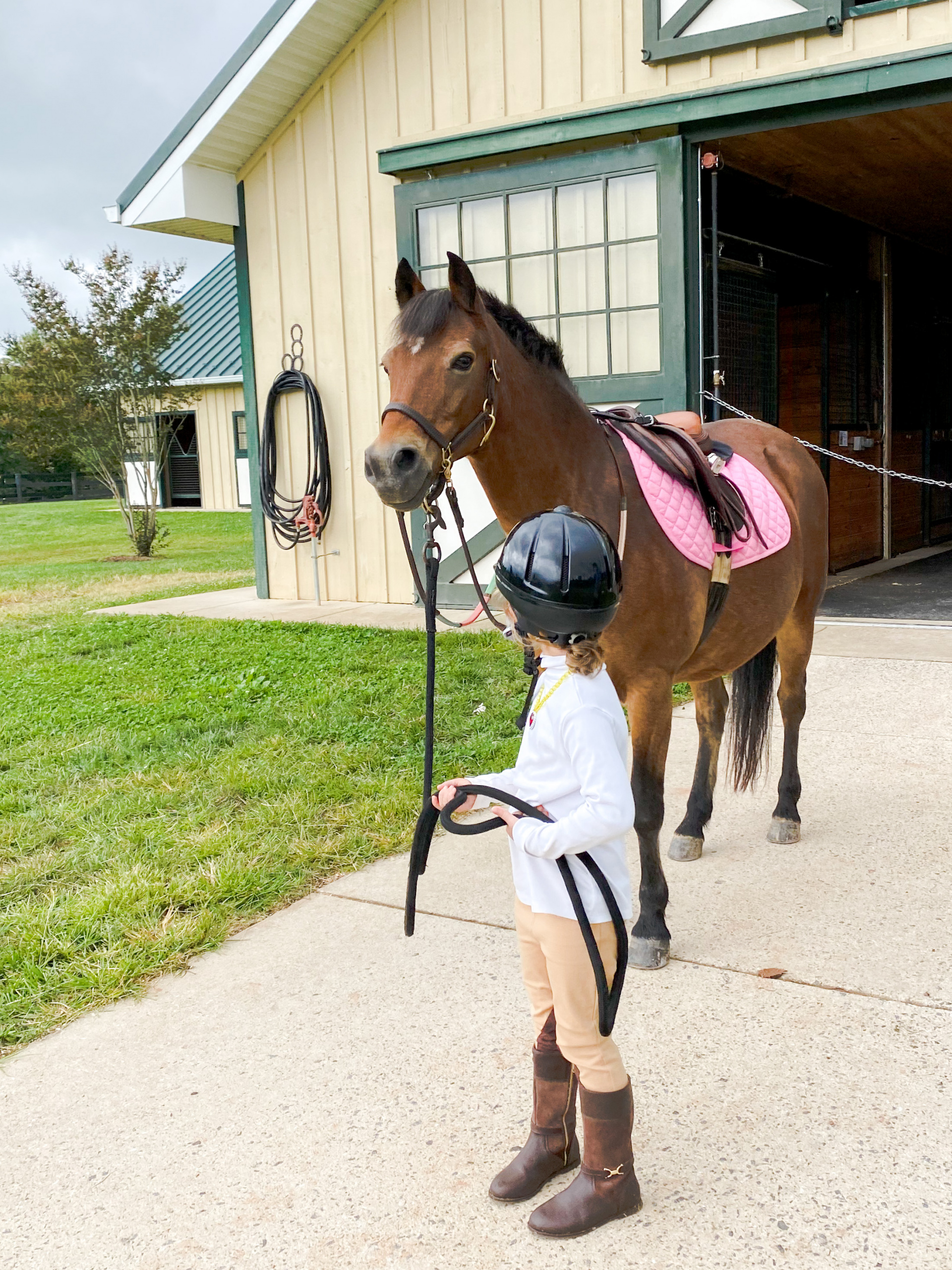 We booked a one hour horseback riding lesson for Marielle. She learned how to groom a horse, saddle up, lead and ride. It was just the cutest thing to watch!! And she absolutely loved it.

It's A dog friendly hotel
Now that we have Tucker, we don't want to leave him behind. The kids will tell us that it's not a family vacation unless the whole family is there. The fact that the Salamander is a pet friendly hotel made all the difference. We had a terrace level room to easily let out our pup. He was able to walk on a leash throughout the property except inside dining. We loved having him with us!  Also, check out how much he's grown in the past few months since we got him!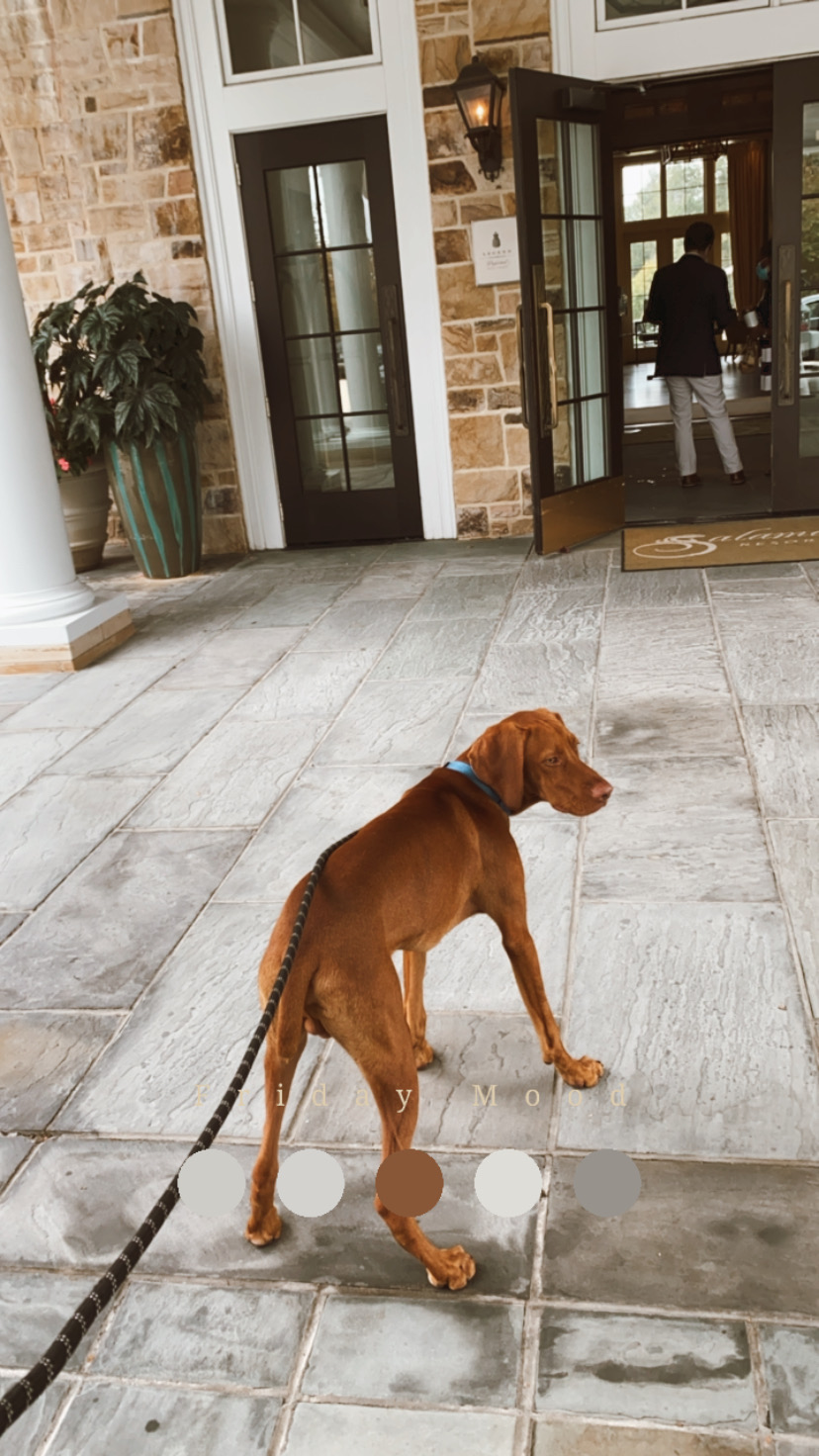 Family Friendly Atmosphere + Amenities
The whole time we were there, we felt relaxed and welcomed. There are s'mores kits to take to the fire pits. A family pool that the kids had a blast in. Zip lining, golf, tennis courts, and next time I need to hit up that spa!! There was even a beautiful wedding going on and I felt that there was space for everyone – also, that wedding looked unbelievable gorgeous.
Lastly to add, with COVID, we felt super safe. There are hand sanitizer stations, guests are required to wear masks in the common areas, and extra precautions were made.
It was definitely one of our best family getaways. We are already talking about when to go back. Maybe Christmas? I hope that of you get the chance, you get to enjoy the Salamander Resort + Spa as much as we did.
Cheers! And safe travels.
Kellie
Outfit details: