Kitchen Updates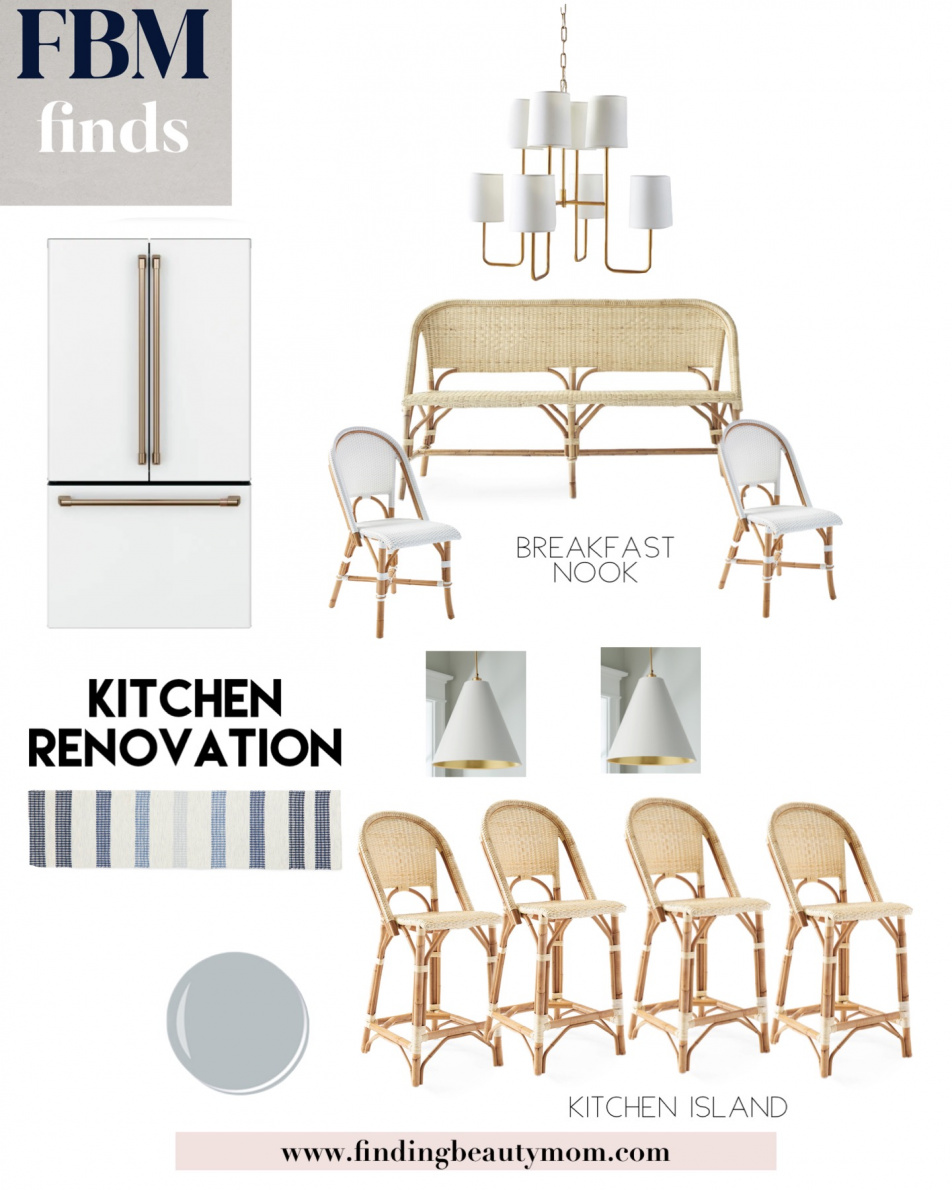 Hi, friend! I wanted to give an update on my renovation projects at the new house.  Specifically, in the kitchen!  As a little background, we recently sold a condo that I owned in New Jersey and used the sale to purchase a vacation home on the Eastern shore of Maryland.  If you want to read more, head to this post.
Kitchen Updates : Renovations We're Doing
We stopped by the house over Labor Day and the week after for a fun event in St. Michael's.  Both times we saw major progress and frankly, we were in the way of the contractors doing their awesome jobs.
I figure I would do this first home renovation update on the kitchen since it's where we're doing the most work and purchased the most furniture for.  What's excited, albeit daunting, about this home project is that we have zero furniture for it.  So starting from scratch really gives us a fresh palette.  And a little more work.
I feel like I'm going to be jealous of this kitchen and will definitely like it more than at our primary residence in DC.  Here is a picture of what the kitchen looked like when we became owners.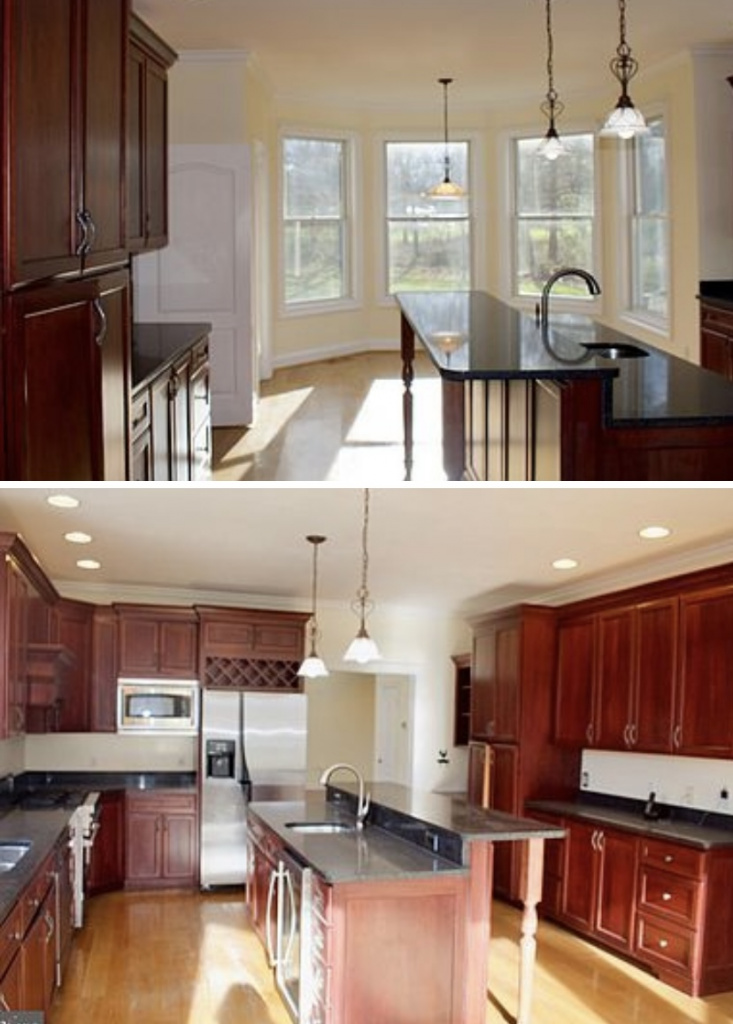 The Good
First, let me say the cabinets are very high quality.  So those are staying.  Next, I love the breakfast book area and all the light that comes in there.  I'm hoping to put a pollinator garden outside it so you can watch hummingbirds while enjoying breakfast. Also, there was a Wolf range so that is a total plus!
Kitchen Renovations
The Floor: The oak floors have seen better days and I don't like the yellow tone.  Also, leading out to the kitchen is a living room where the rug is going to be replaced.  We're sanding down the floors to match a lighter, Arctic Oak / washed out color.
Open Up the Wall:   We love an open space and the kitchen felt a little closed off.  Behind the wall is a fridge and that is going to move to wall on the left, replacing where a desk is.
Cabinets: These will be painted white.  We're using Sherwin Williams Pure White.  For the cabinets under the island, these are painted Sherwin Williams Kypton.  I was totally inspired and influenced by the kitchen from the blog Chrissy Marie blog.  I'm also using this color on the swinging door. Additionally, the knobs will be replaced with pulls and a metallic color – I need to pick out this week!
Countertops:  Replacing the dark granite with a white, low veiny quartz.
Sink:  Adding in a farm sink and new gold faucet.
Island: We're expanding this out more and removing the additional bar sink.
Walls: Adding a subway tile back splash and painting the buttery color with a white:  BW Decorator's White.
Light Fixtures:  Yes, those are going to! I detailed the ones we ordered below!




Here are few snapshots on the work.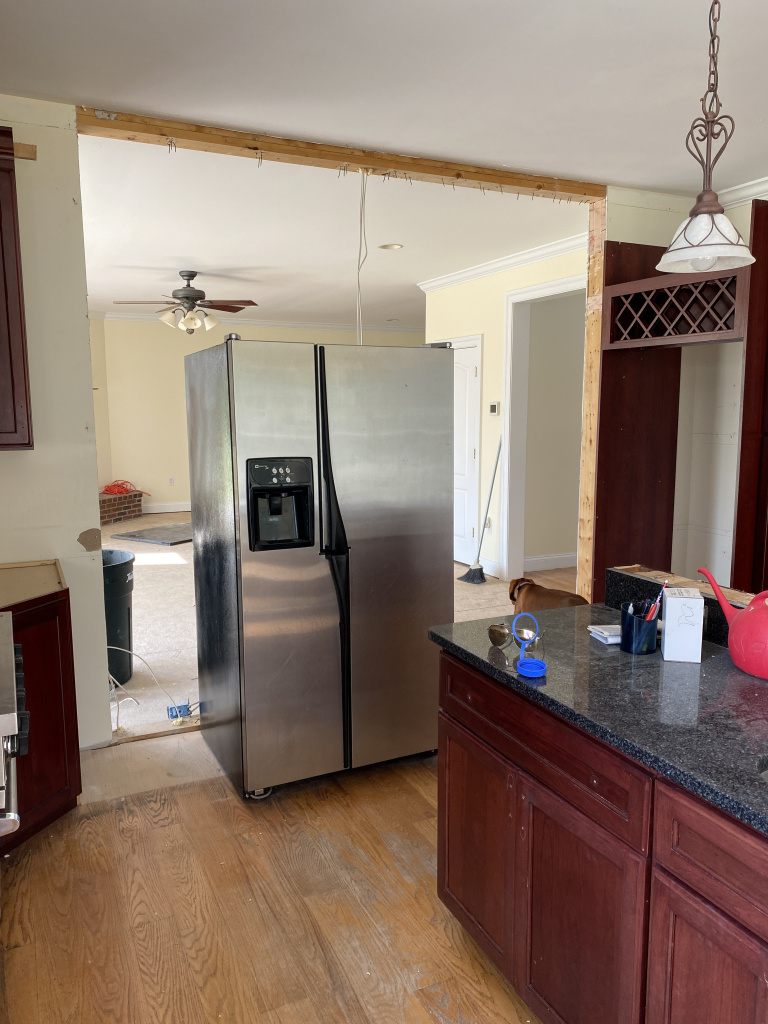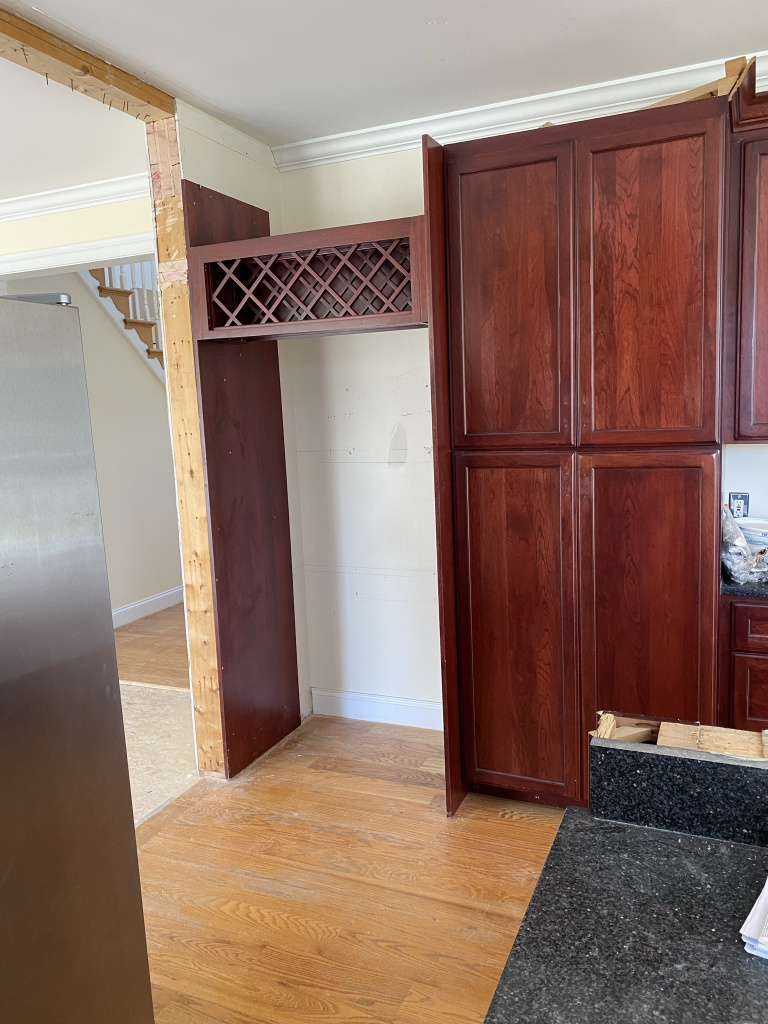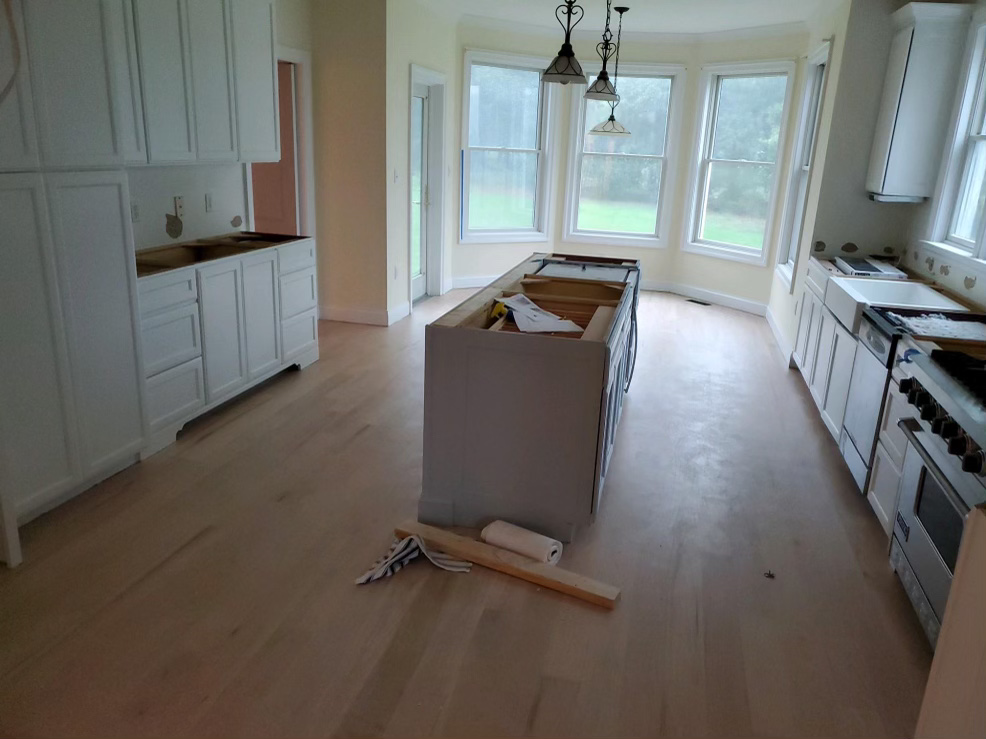 Kitchen Furniture, Lighting + Appliances
More to come, but these have been ordered!  We keep taking advantage of Serena + Lily sales and saving up to 20% off.  I'm still working on the kitchen table.  I've been messaging with an Etsy owner for a white picnic style table.  Still need throw pills, rugs, curtains, wall decor and accents.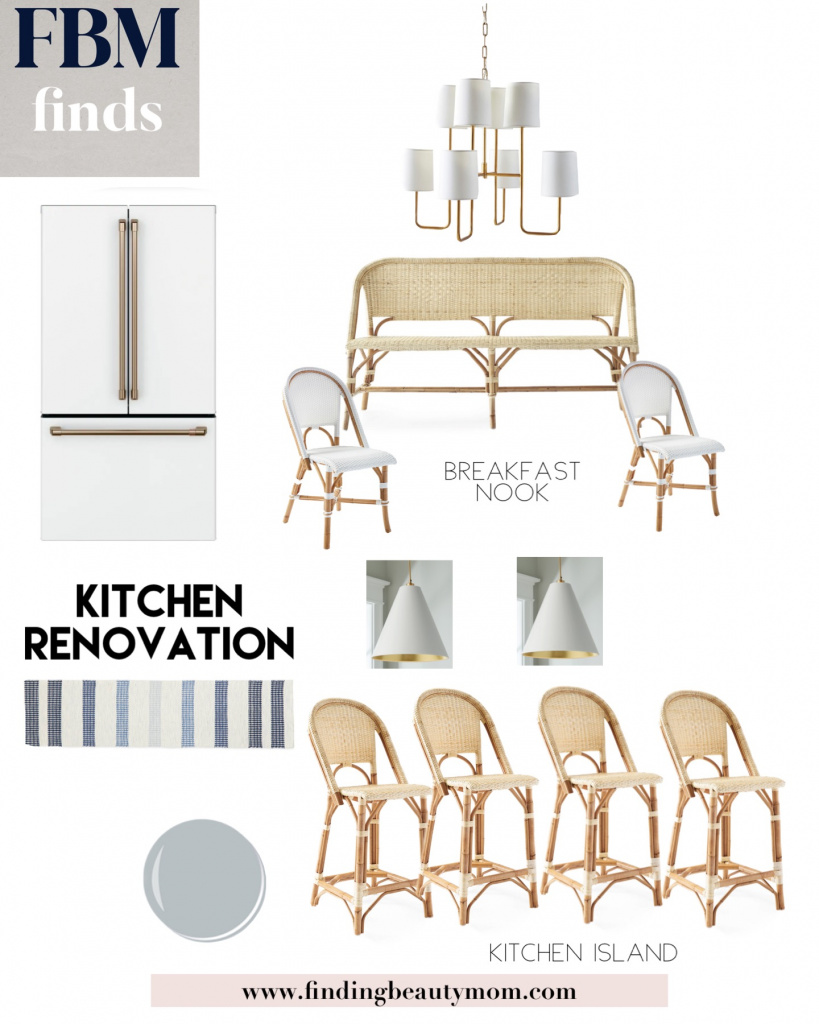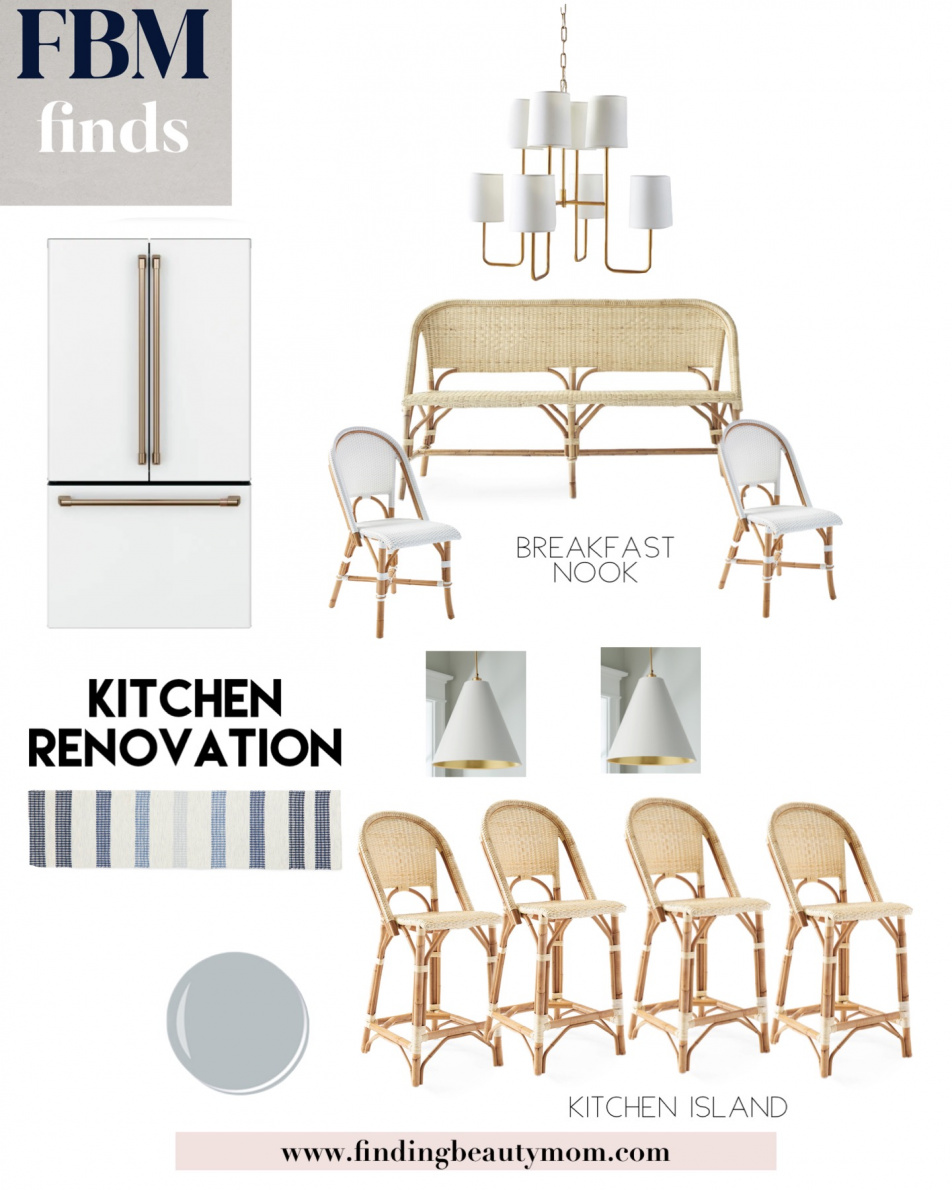 Easily shop our Kitchen Furniture Here
Next Up….
We're headed back in a few week's and cannot wait to see the progress!  If you want to stay up to date on my renovations, subscribe to my newsletter here.
Shop Kitchen Updates