Everyday Look: Beyond Yoga Matching Sports Bra and Leggings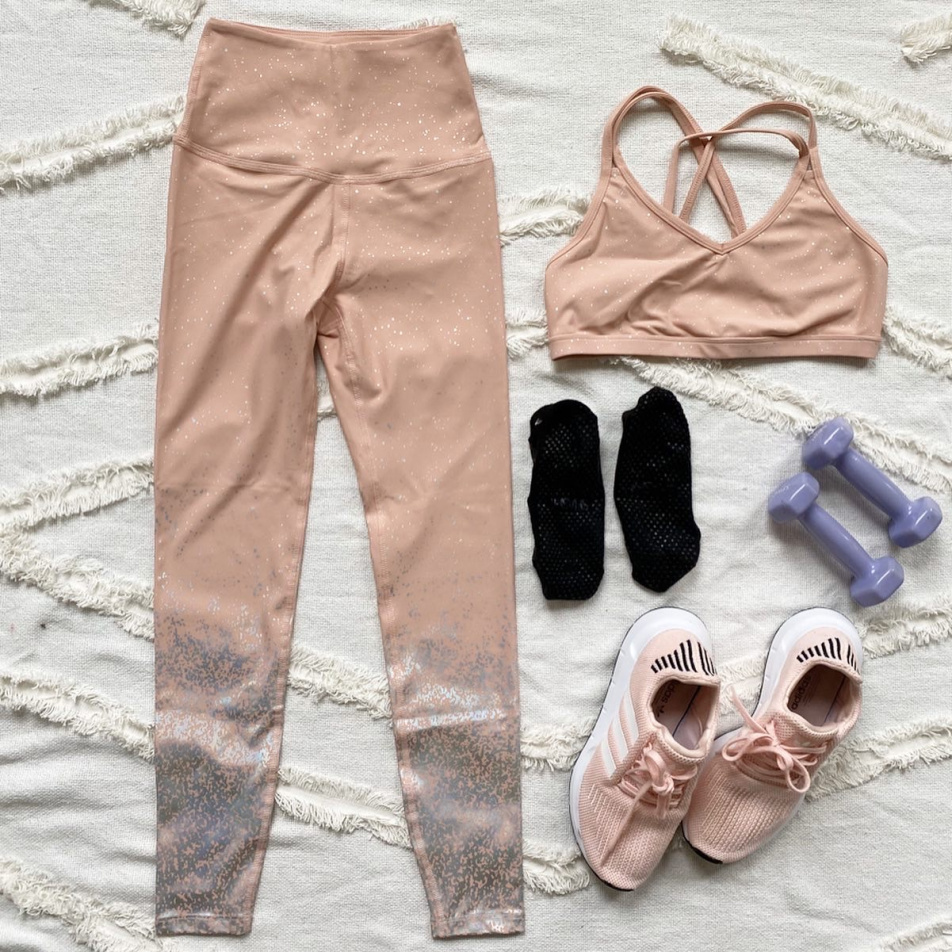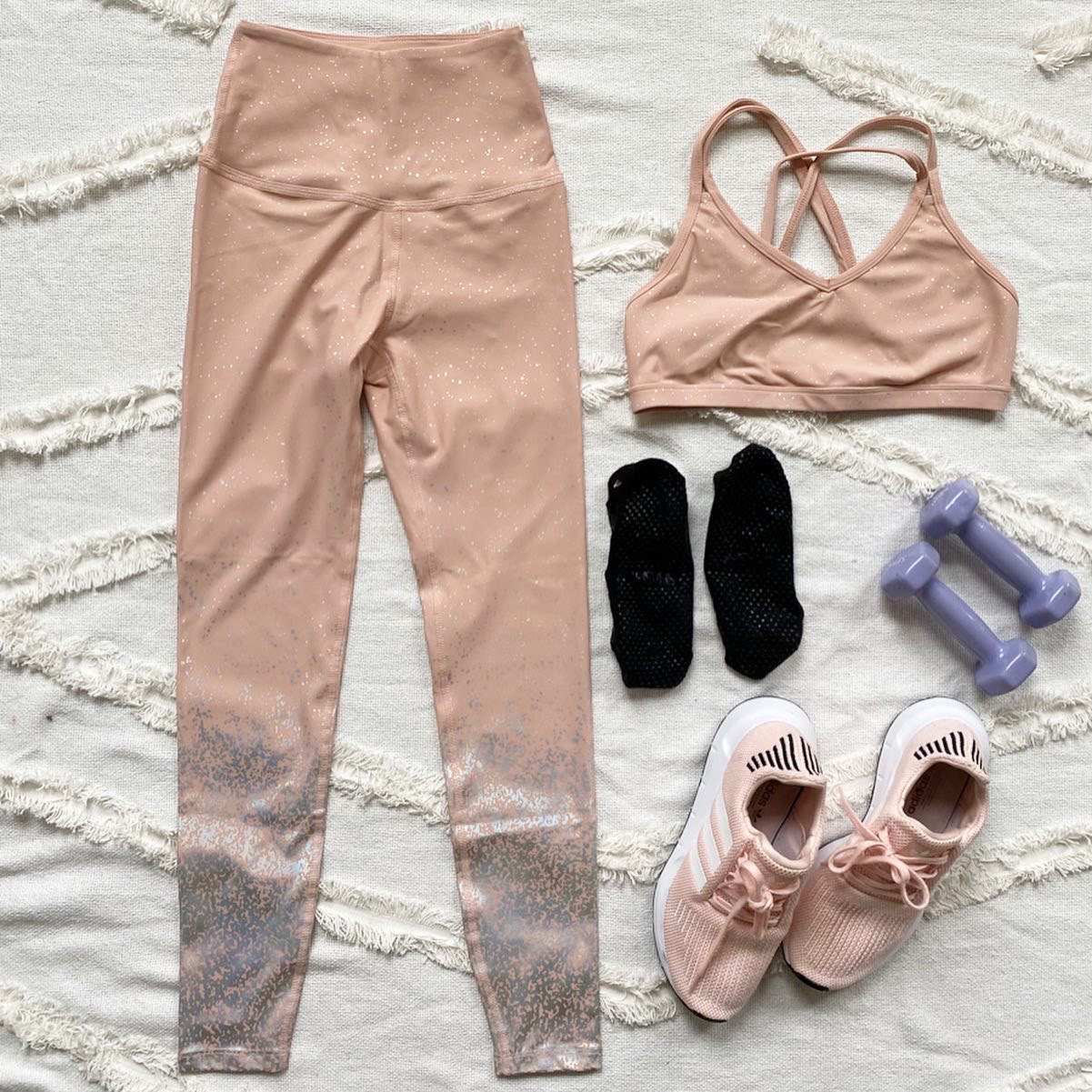 Since I've been practically living in workout clothes, I thought it would be time to make some upgrades to my fitness selection. I have lots of random items, but really love that put together look of a set. One of my recent purchases was this Beyond Yoga matching sports bra and leggings – and I'm in love!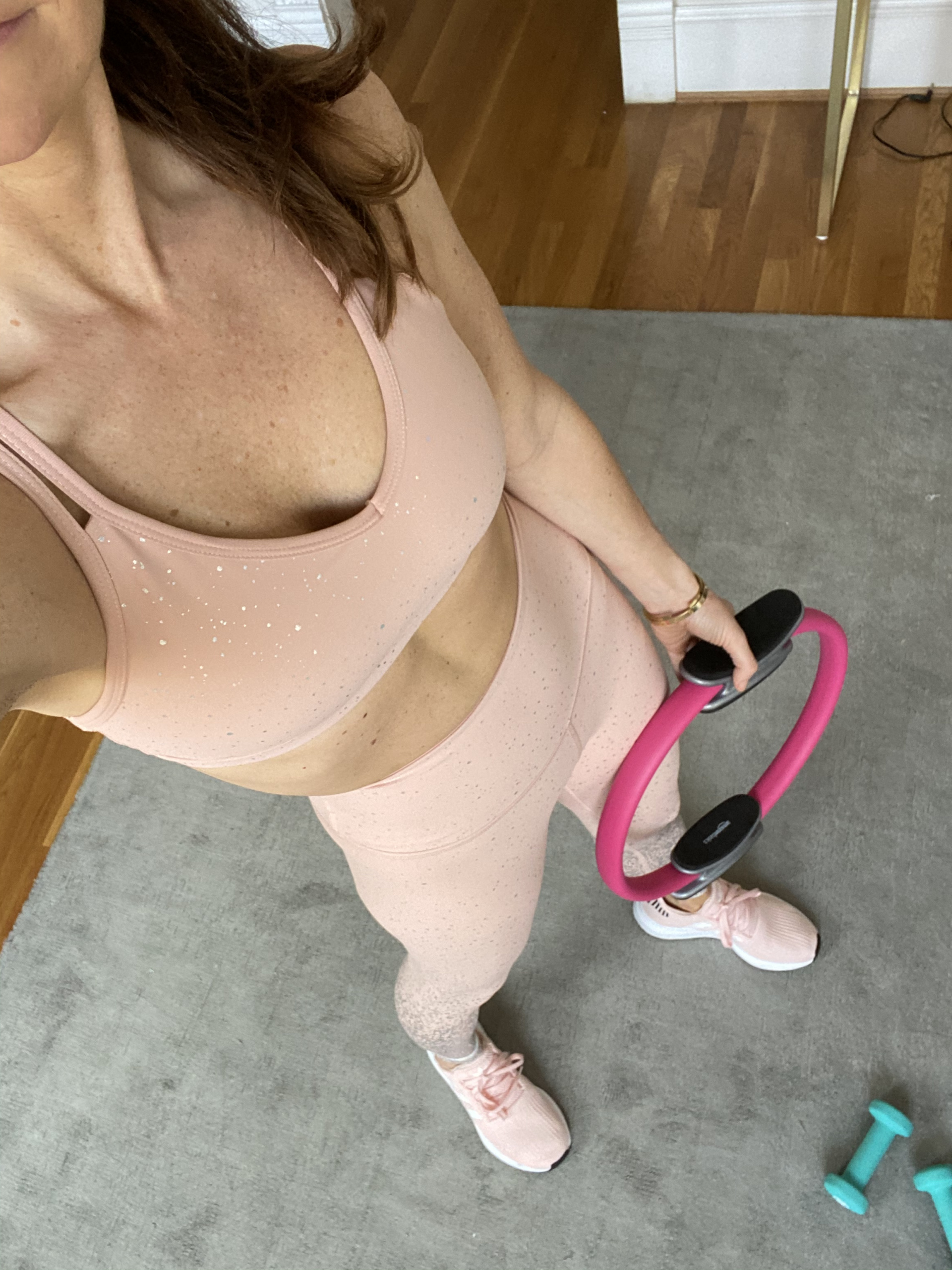 Matching Sports Bra and Leggings Set
These ombré leggings are so fun and you know Marielle approves of them! She calls them my unicorn pants.  This is definitely a look that will put you in a happy mood.
My skin tone is a little on the pale side, especially in the winter. So the lightness of this Beyond Yoga set can look a little nude. But I can assure you that no one will actually think you are naked. I have also majorly sweat in them and can tell you that at no point did they become see-through.
The material is super soft and stretchy. Also, I need a good high waist to pull me in and these do the trick nicely.
Im not 100% comfortable rocking a bare midriff outside of my house. I have a great cover tank top that I throw overtop of the sports bra. There is also this crop top from Amazon that comes in a few colors and is under $20. It gives just the right amount of coverage.
Why You Should Elevate Your Workout style
While this particular color and set is not for everyone, leveling up on your workout outfit is a great idea. Here's why..
1. It's really motivating!
These days we are all practically living in black leggings. So gone are the days of throwing on an old t-shirt and headed to an exercise class. Having clothes that make you feel healthy and strong will only make you healthier and stronger. Think about how excited you are when getting a new sports bra. We'll time to show that baby off!
2. It actually keeps things simple.
I sometimes get hung up on creating an outfit with mismatched pieces. I start asking myself – does this gray top really go with these olive pants? Then before long, I'm running late because I couldn't make up my mind. With a matching set, it's like workout uniform that's already figured out for you. Plus, since you're always wearing it together, they'll need to be cleaned at the same time. You can just put them away as a set rather than say one in your legging drawer and the other with your other bras.
3. You'll look super stylish beyond the gym.
These days, there aren't many times I'm leaving the house. So on days when I'm going to a class, chances are I'm also doing a Target run, grocery store trip, and showing up at other places that I don't want to look completely run down.
Also, I haven't really broadly shared this, but I'm currently in the process of becoming a barre instructor!!! I'm so excited for this next step. If you read my 2020 intentions post, you may remember me alluding to something in the works. It's been a little stalled with COVID19, but I'm currently taking the online classes for my certification.
More to come on this new chapter!! Which also means more workout outfits in the future as well.
Stay healthy everyone!
The Look:
Shop: Beyond Yoga Matching Sports Bra and Leggings