Can you believe we're finally here?! Gifting season!!  Each year, I kick off the holiday season with a post outlining my Beautycounter Holiday Gift Guide.  And here comes 2021.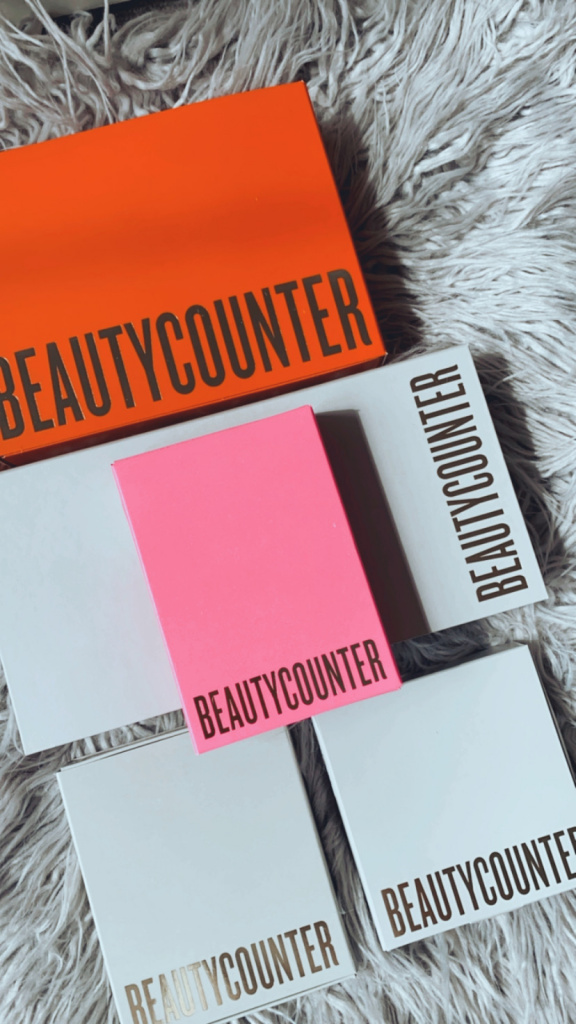 This post will show you the highlights that we know of right now.  Then I will update it as more gifts drop.  I don't know what surprises are coming, but there always are some.  I received Beautycounter's first wave of 2021 gift sets about a week ago and have been dropping hints to my clients. But now that the cat is out of the bag, here are all the details.
First, Let's Talk Ways to Save…
Yes, these sets offer deals and savings for this time of year, but I want you to get more for your money.  Here are some things to know before gifting this season with these clean beauty favs.
FREE SHIPPING FOR OCTOBER:  Currently, Beautycounter is offering free shipping on all orders over $50.  This is usually reserved for Band of Beauty Members and over $100.  However, this promo is for anyone who sees that shipping fee and winces.
BAND OF BEAUTY MEMBERSHIP:  These is like your prime membership where you get extra saving for a yearly fee. The $29 you pay for membership will give you free shipping all year long on orders over $100, a 10% product credit on all purchases, special deals, and a welcome gift.
FIRST TIME BUYERS SAVE 20% ON THIER FIRST ORDER:  If this is your first time making a Beautycounter purchase, use the code CLEANBEAUTYFORALL and save 20% off!!
Beautycounter Holiday Gift Guide 2021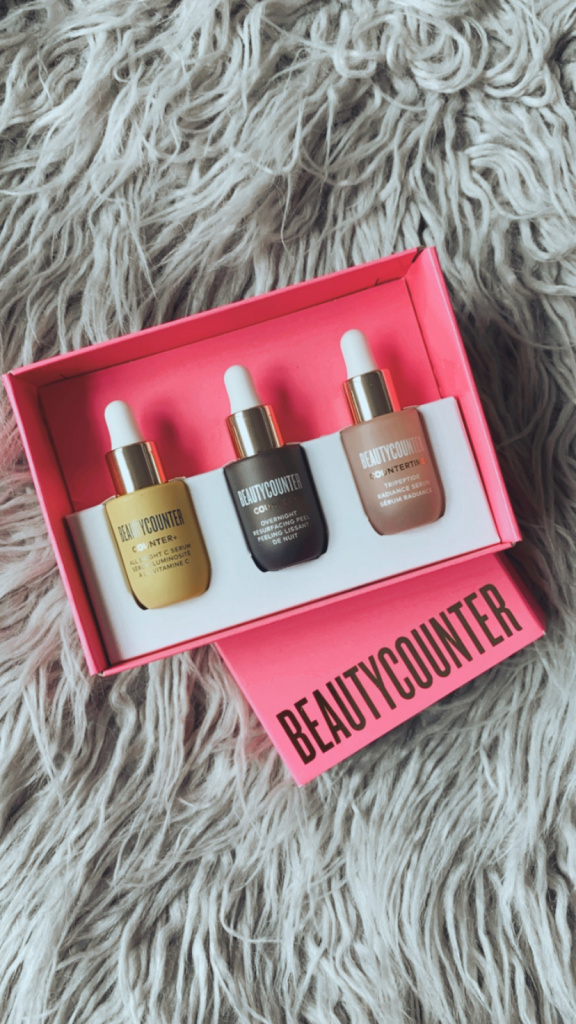 Mini Must Haves
This giftable set—having three of Beautycounter's skin-care favorites makes it the perfect pick for everyone on your list. Countertime Tripeptide Radiance Serum is a transformative treatment that visibly increases skin firmness while reducing the appearance of fine lines and wrinkles. Counter+ All Bright C Serum provides an instant brightening power and glow, and Counter+ Overnight Resurfacing Peel leaves you waking up to softer, smoother-feeling skin.
Perfect for: 
Your first Beautycounter skincare purchase
Moms
Sisters
Gifts Under $50
Price:  $45
Shop the Beautycounter Mini Must Haves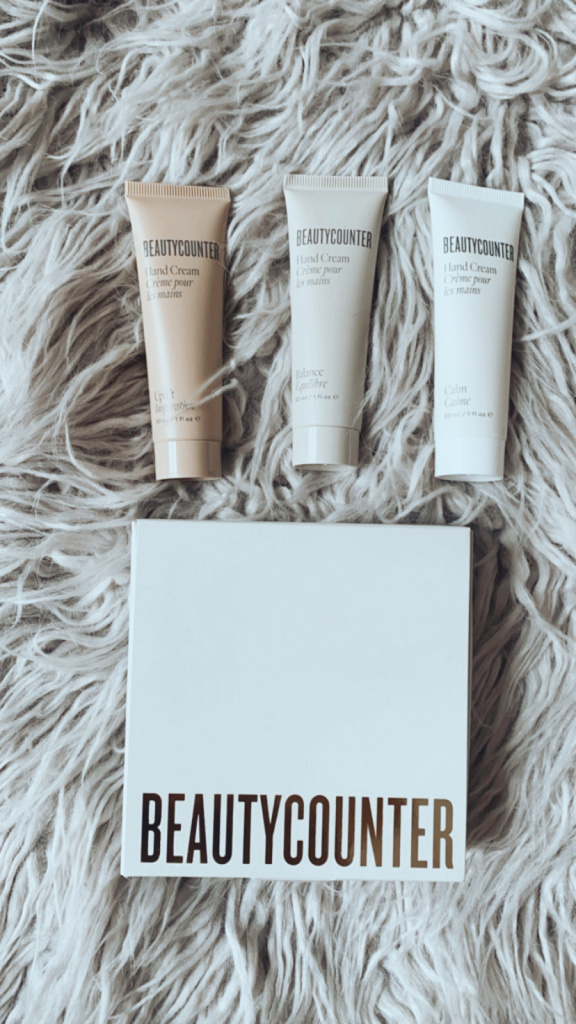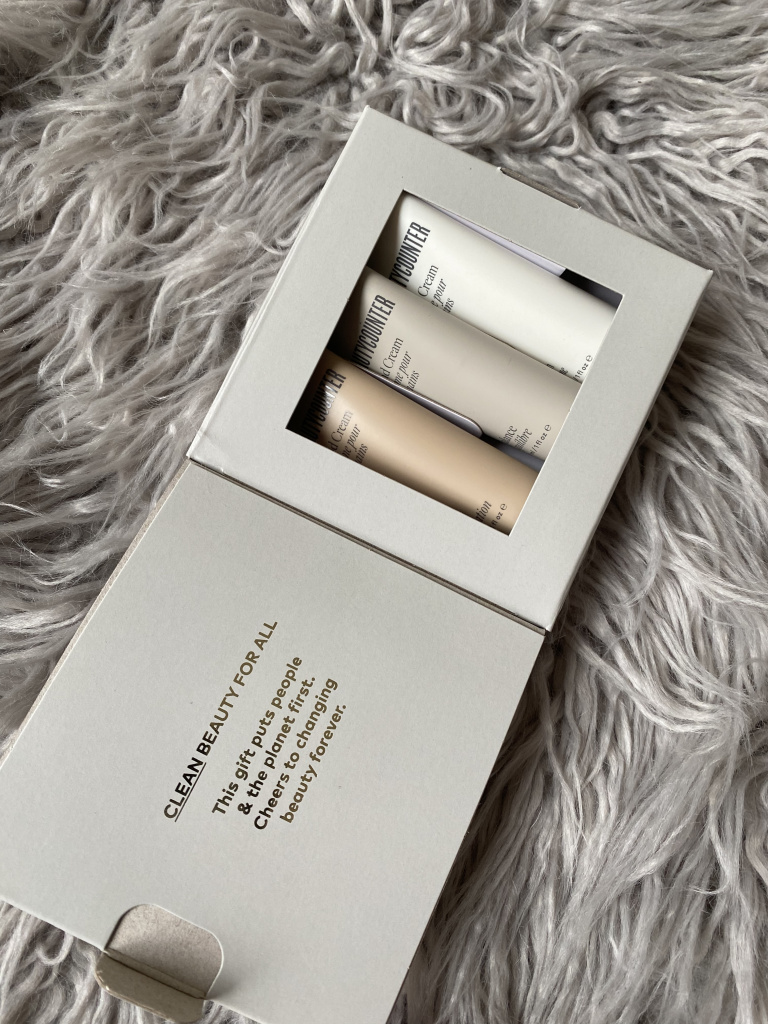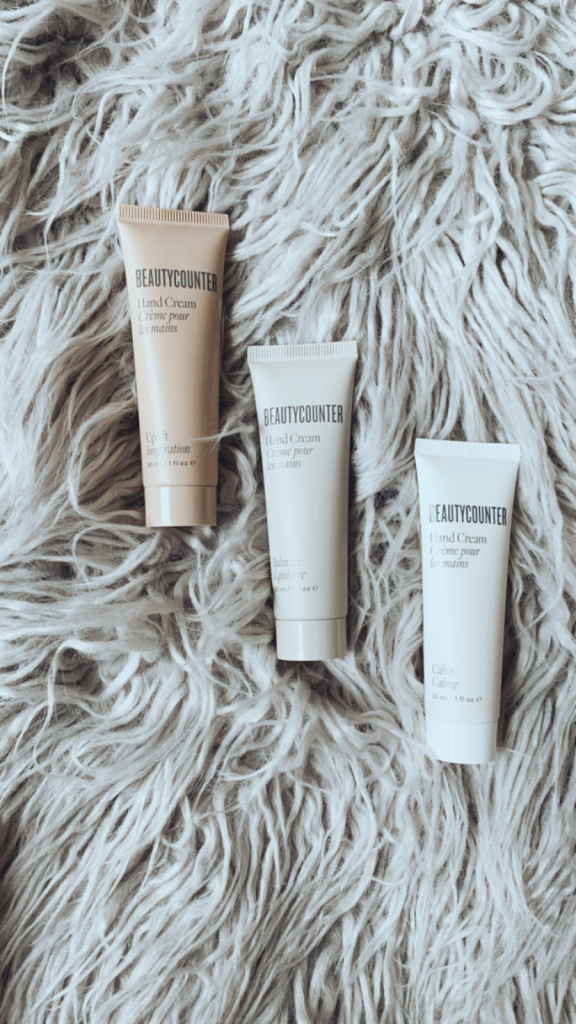 Good Scents Hand Cream Trio
I always love Beautycounter's holiday trio of limited-edition hand creams. Lightweight yet ultra-hydrating, they're enriched with shea butter, grapeseed, and jojoba oils, plus squalane for a rich, non-greasy texture. A treat for the skin and the senses, the aromatherapeutic scents are designed to calm, uplift, and balance.
Three limited-edition holiday scents include:
Uplift: (30 ml/1 fl oz) Ginger and Earl Grey
Balance: (30 ml/1 fl oz) Neroli
Calm: (30 ml/1 fl oz) Lavender and Tonka
Perfect for: 
Stocking stuffers
Hostess Gifts
Break these apart and pair with candles, wine, etc.
Teacher gifts
Gifts Under $50
Price:  $34
Shop Beautycounter Good Scents Hand Cream Trio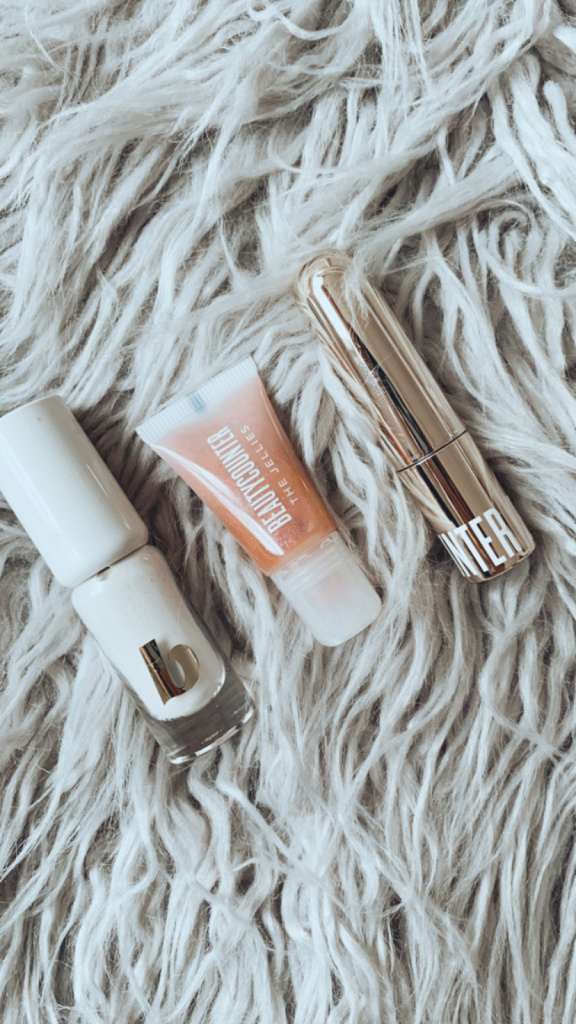 Ready, Set Makeup Trio
Holiday season got you short on time? This easy-to-use makeup trio will give you a clean, fresh- faced look in one, two, three. Accentuate the eyes with our foolproof Lid Glow Cream Shadow in Moonlit, an exclusive (and universally flattering) shimmering shade made with responsibly sourced mica. Then, add a safer swipe of Think Big All-In-One Mascara (in an adorably small size). Last but not least, treat lips to a wash of sheer, juicy shimmer with The Jellies in Caramel. Voilà!
Perfect for: 
Teens & Tweens
Friends
Your Holiday Makeup Look
Gifts Under $50
Price:  $39
Shop Beautycounter Ready, Set Makeup Trio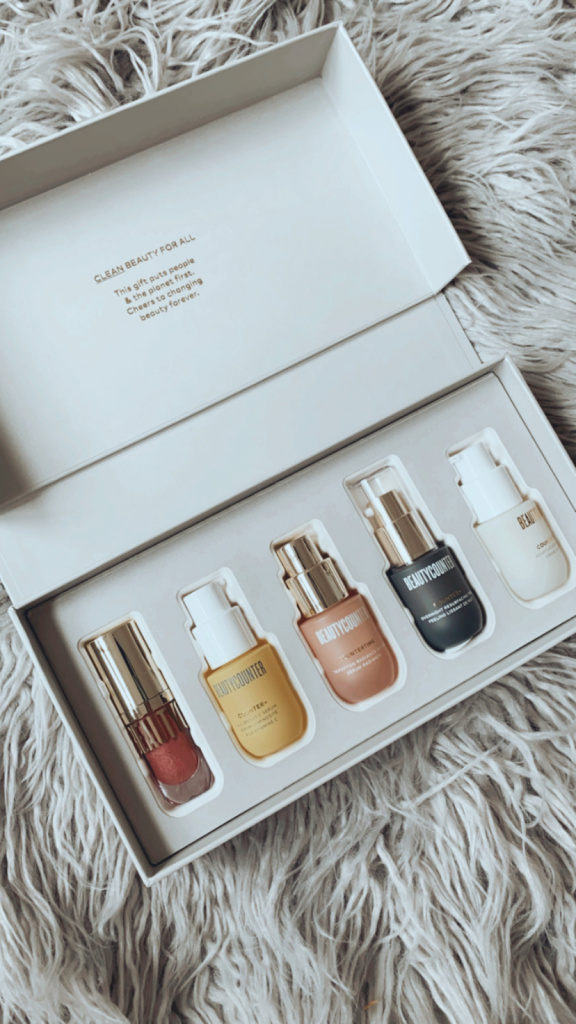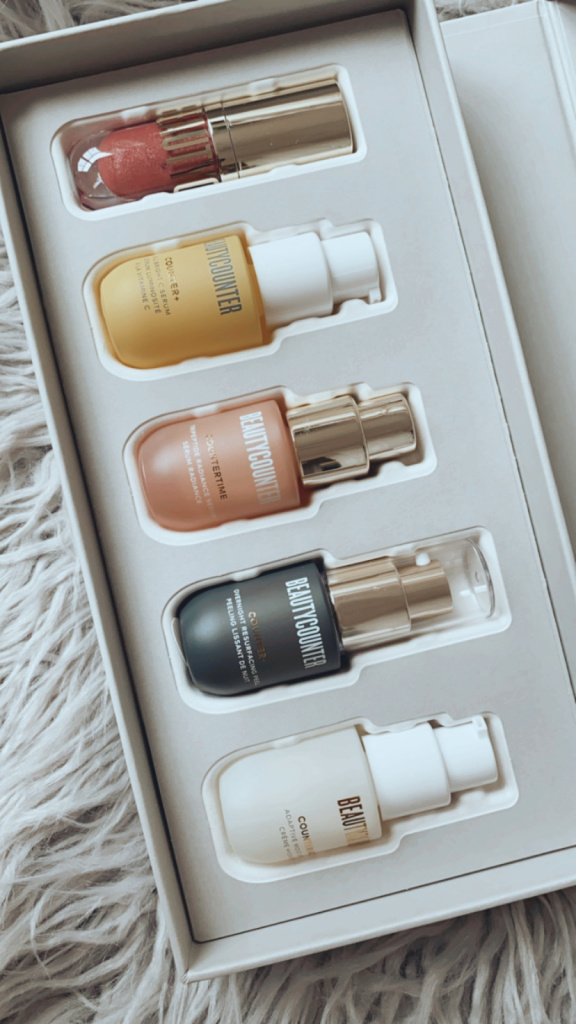 Best in Clean Heroes
The gift on everyone's wish list? This iconic set of makeup and skin-care favorites. Counter+ All Bright C Serum instantly boosts skin's radiance, and Counter+ Overnight Resurfacing Peel has a non-irritating AHA and beta hydroxy acid formula that refines your complexion while you sleep. You can rely on Countermatch Adaptive Moisture Lotion because it provides serious hydration, and Countertime Tripeptide Radiance Serum is designed to visibly increase skin's firmness and elasticity with daily use. Rounding out this coveted lineup is our high-shine Beyond Gloss, scented with our responsibly sourced vanilla in universally flattering shade Magnolia Shimmer.
Perfect for: 
Moms + Mother in Laws
Beautycounter enthusiasts
Wife Gifts
Treat Yourself
Price:  $99
Shop Beautycounter's Best in Clean House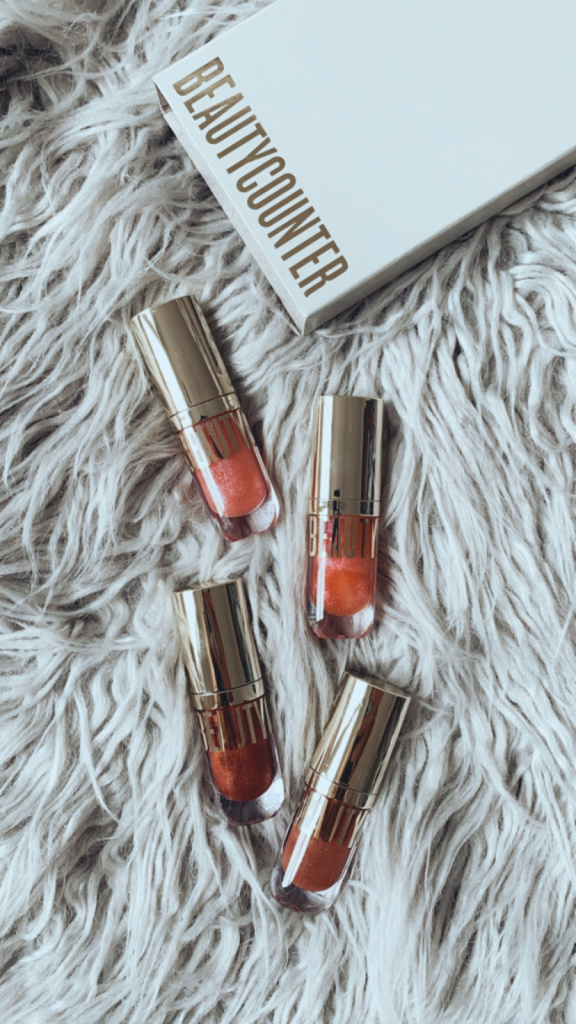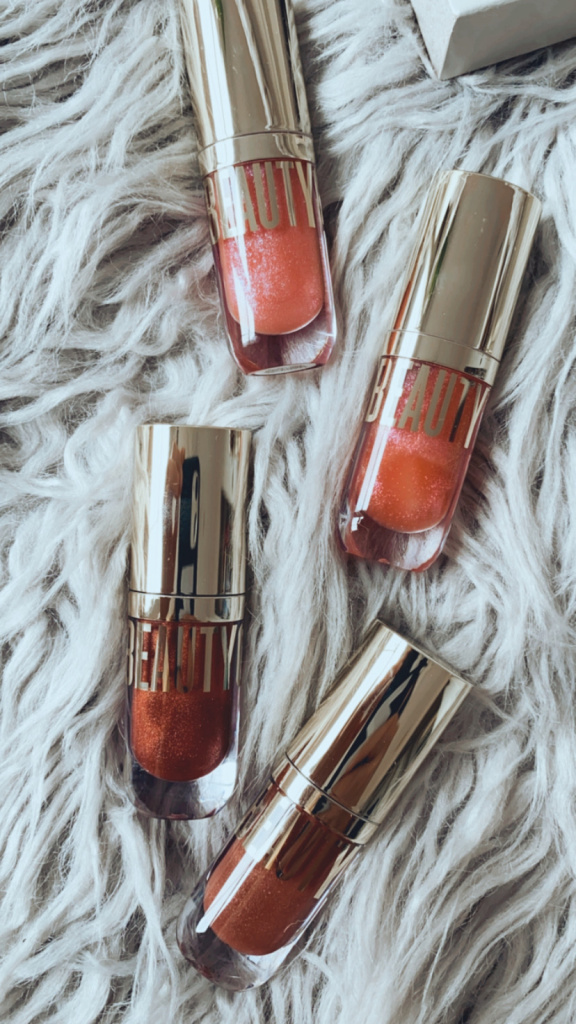 Mini Beyond Gloss Vault
This sweet set is perfect for gifting loved ones and treating yourself. Discover our best-selling Beyond Gloss in four all-new covetable shades: Truffle Shimmer, Cinnamon Shimmer, Ginger Shimmer, and Rosy Shimmer, in mini, take-anywhere sizes. Toss in handbags, gym bags, or travel bags all season long. With high-impact, non-sticky shine and a responsibly sourced organic vanilla scent, they'll give you plenty to smile about.
Truffle Shimmer (2.5 ml/0.08 fl oz): Rosy taupe with gold shimmer
Cinnamon Shimmer (2.5 ml/0.08 fl oz): Warm, burnt rose shimmer
Ginger Shimmer (2.5 ml/0.08 fl oz): Bright, peachy-pink shimmer
Rosy Shimmer (2.5 ml/0.08 fl oz): Neutral pink with blue shimmer
Perfect for: 
Teens & Tweens
Friends
Sisters
Your Holiday Makeup Look
Gifts Under $50
Price:  $49
Shop Beautycounter Mini Beyond Gloss Vault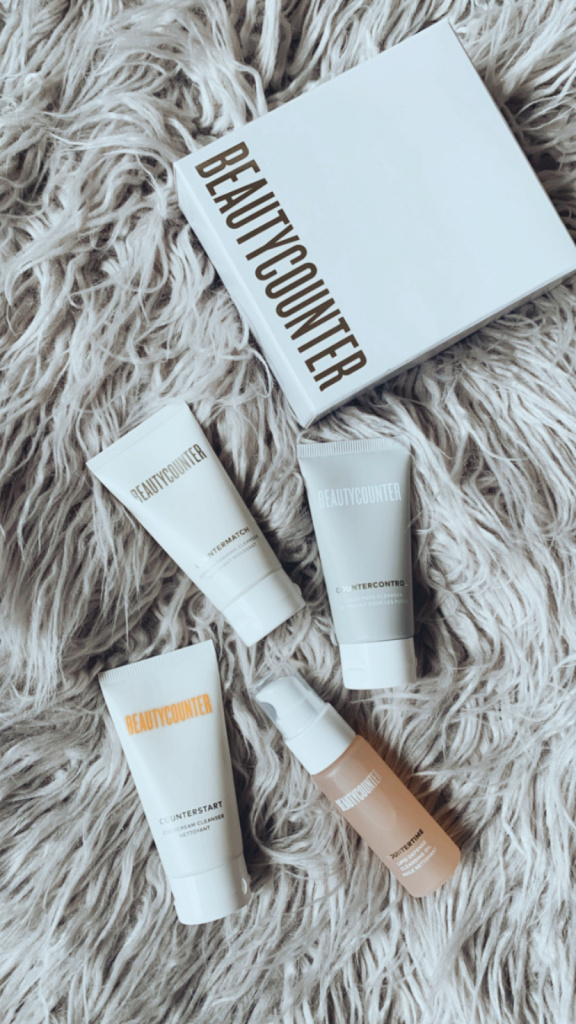 Clean Sweep Minis
Going somewhere this season? Meet our lineup of safer cleansers in portable mini sizes, ideal for travel or trial. For a "me time" moment anywhere, massage Countertime Lipid Defense Cleansing Oil onto skin to gently remove makeup and impurities. Reinvigorate a tired complexion with Countermatch Refresh Foaming Cleanser. Need a product designed for blemish-prone skin? Try Countercontrol Clear Pore Cleanser. And for sensitive skin, Counterstart Cococream Cleanser is formulated with coconut oil and aloe vera to gently cleanse and nourish.
Perfect for: 
Stocking Stuffers
Travelers
Gifts Under $50
Price:  $39
Shop Beautycounter Clean Sweep Minis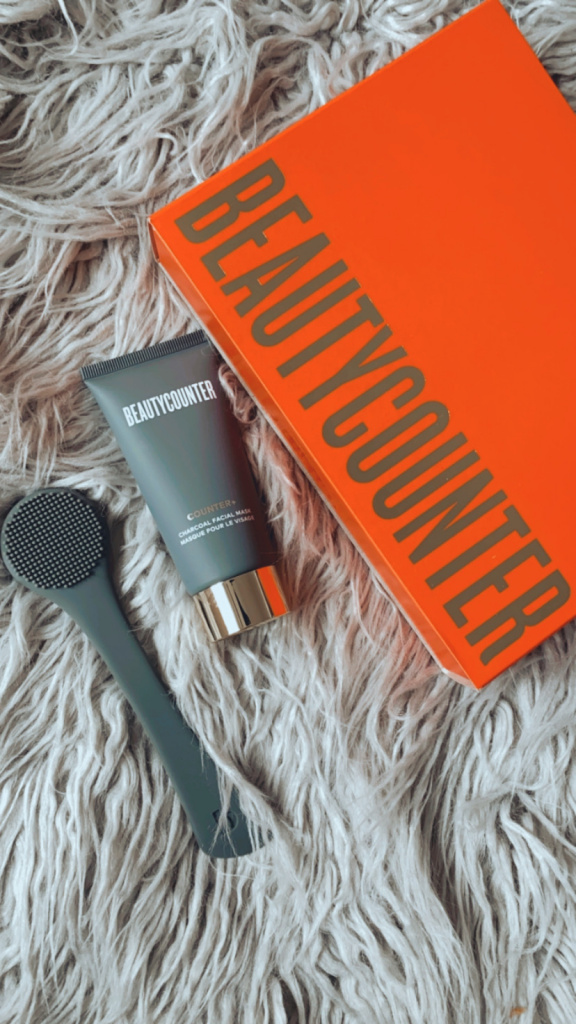 Detox and Done Duo
Treat yourself—and all the chill seekers on your list—to a little relaxation this season. Purified pores and self-care go hand in hand with this indulgent detoxifying set. Our cult-favorite Counter+ Charcoal Facial Mask purifies, detoxifies, and clarifies skin with nutrient-rich kaolin clay and activated charcoal. Pair it with our new silicone 3-in-1 Facial Tool for mess-free application, easy removal, and—best of all—a luxurious spa-like experience.
Perfect for: 
Men
Anyone who could use some self care!
Price:  $59
Shop Beautycounter Detox and Done Duo
In addition to these, the Beautycounter Holiday 2021 collection includes the following sets.  You can also click any of the images below to shop.

Good Glitz Duo
Limited-edition eyeshadow quad + Beyond Gloss in Gilded. $49
Solemates Exfoliating Duo
Solemates Volcanic Exfoliator Tool +  Sole Soothe Exfoliating Foot Balm. $49
Clean Dreams Set
Counter+ Overnight Resurfacing Peel, +  Countertime Tetrapeptide Supreme Cream, + Clean Dreams Eye Mask  $75
More Holiday + Beautycounter Posts To Read
Shop Beautycounter's Holiday Gift Sets