Found it on Amazon: Holiday Gifts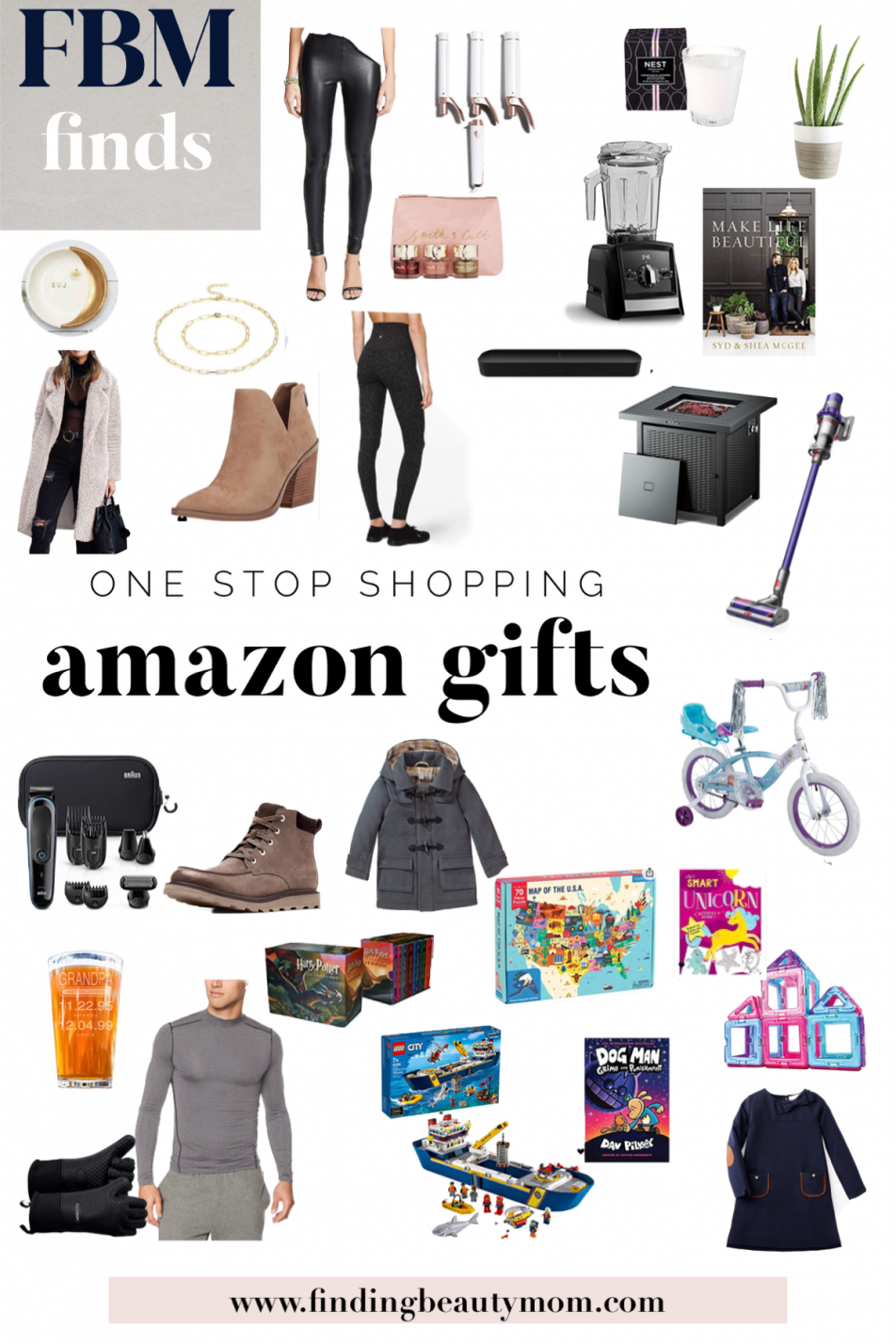 Who else is all about one stop shopping? I just love making things easy and getting everything in one place. So for the holidays, you know I'll be picking up a few gifts from Amazon.  It's one of the best sites to get all your holiday gifts!!
This year, I'm trying to front load holiday prep to take the stress out of the last days of 2020. I've already decorated my mantle!  But you can approach this list as you like. Maybe you slowly add items to your cart, or maybe do one  stop shopping and complete your list in one purchase. My only recommendation is to order by the first week of December to avoid any potential shipping delays.
Amazon Holiday Gifts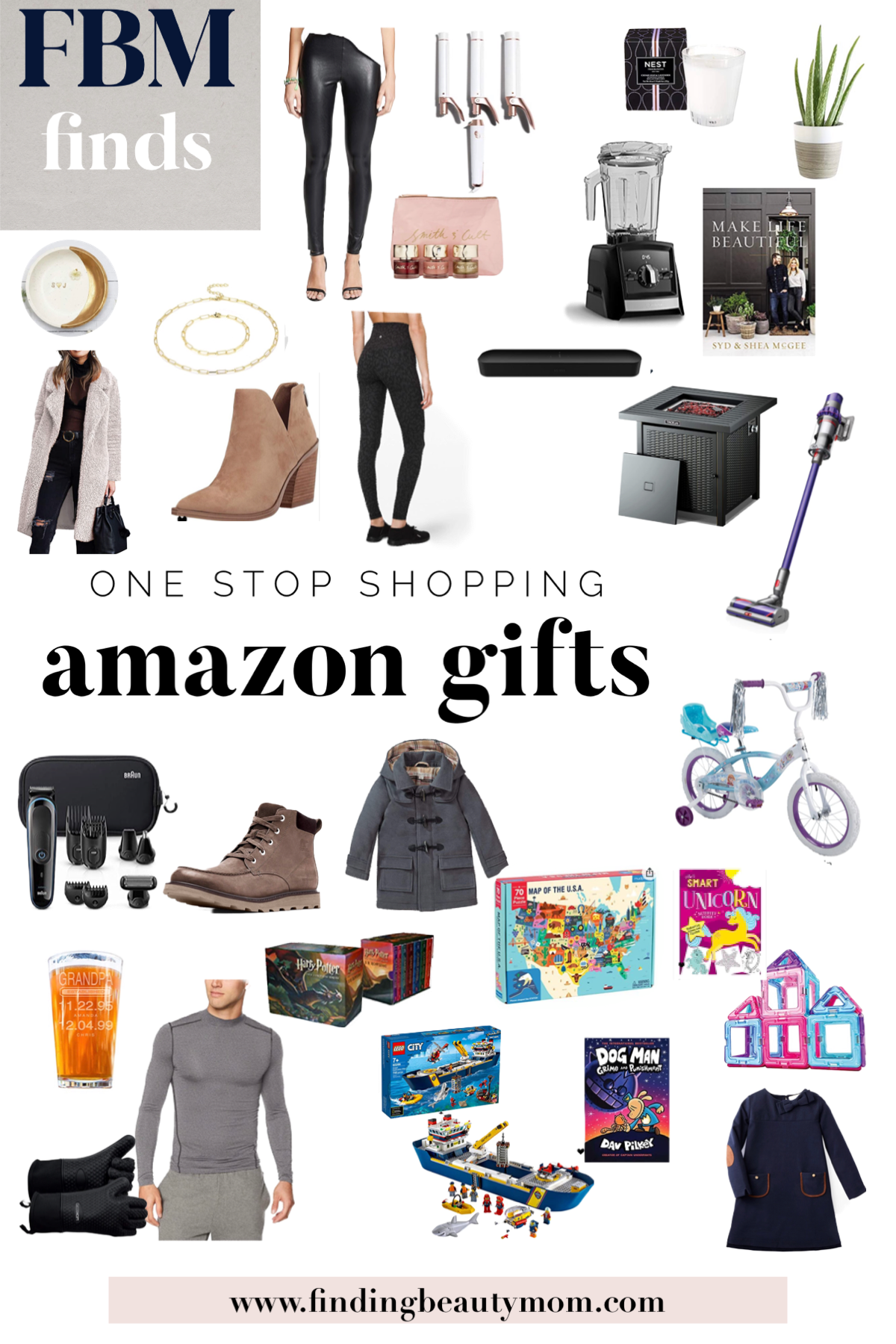 This roundup includes gifts for the women in your life, men's gifts, kids gifts, home gifts, or even something you would like to treat yourself with!
Gifts for Her on Amazon
My new favorite pair! These are under $100 and feel a little more substantial than Spanx. I wore them recently with an Amazon sweater which you can check out in this post.
Love this curling iron! I needed and upgrade and finally went the ceramic curling iron route this year. Just look at those perfect waves in this post! This set has different barrel sizes, but you can also just get the single pass version on Amazon as well.
This is a great small gift that everyone can use. It's also a really pretty bridesmaid gift and priced under $20. Heads up: this ships in 6-10 business days so this is an item to order sooner than later.
Such a steal!! It's $15 and looks like all the expensive ones out there. I've been layering it with other gold necklaces and love the look.
I'm always on the look out for clean beauty products. This set of three nail polishes is $36. If you are also looking for clean, non-toxic gift sets, check out my non-toxic self care post.
The cardigan coat hybrid is popping up all over the place! This one comes in a few colors and is only $42.
This Amazon find is under $40 and looks very similar to the boots I picked up at Nordstrom earlier in the year.
Yes! You can purchase lululemon items on Amazon! I'm always ordering workout outfits on the site. Here's a look I recently picked up.
Easily click these items and a few more finds below!
Shop Amazon gifts for her
Gifts for Guys on Amazon
Anyone else cutting their own hair during quarantine? Jeff has been cutting his and Sam's since April so having a hair clipper set on hand has been super useful.
Every guy needs a rugged pair of boots. And we're a family who loves Sorel boots. They look great and are super practical when outdoorsy activities are planned.
This is a cute grandfather or dad gift! You can personalize the names of all the grandkids on a beer glass. Or for your husband, it can have his birthday or your wedding anniversary.
If your guy runs outs doors, plans to play golf in the chilly winter months, or just needs and extra layer of warmth, then he'll appreciate this gift.
This was a recommendation from a grill master friend! We just picked up a new Weber wood fire pellet grill and Jeff has been grilling up a storm! These gloves can grab hot items and even make shredding meat off the bone super easy.
Shop Amazon gifts for him
Amazon Home Gifts
These can be gifts for anyone or a way to make your home more enjoyable!
Candles are great stocking stuffers, hostess gifts, and friend gifts. Plus they are a great decorative layer to your home. I love  Nest and Diptique candles like the berry and fire scents.
If you know a plant lover, why not hit up Amazon for a new potted friend for that person? Plants are a sweet, casual gift for even someone you don't know what to get for. They purify the air and are an overall healthy gesture.
I picked up this blender this year and it is amazing! We make smoothies all the time.
Sometimes you just need a little decor inspiration. Gifting a home decor book, or any coffee table book for that matter, would definitely get some use.
If you have someone on your list who loves music, an upgraded sound bar would really enhance their listening experience. We have this Sonos sound bar in white in our family room.
We've been sprucing up our backyard area and recently added a firepit. Winter is coming so this will be a nice cozy addition.
The best! Where has this vacuum been all my life? It is so easy to use it will actually make you want to clean the floor.
Shop Amazon gifts for home

Amazon Gifts for Kids
These are Marielle and Sam approved. The items here would be best for kids 5-8 years old, kindergarten to 3rd grade.
This bike has been a hit at our house! The extra seat for a stuff in or doll really makes it extra special.
Such a fun way to learn about the states! We try teach the kids about where different family members live or places they have visited.
My daughter is slightly obsessed with unicorns and there are only so many stuffed animals she can get. This activity book is a nice change. If you need more unicorn gift ideas, check out this post.
The kids play with these for hours! I love watching their creativity while building different things.
I love this brand! Marielle wore this dress over her birthday weekend at the Salamander. They have the cutest clothes! For the boys, I love this sweater and this toggle coat.
We have been reading these books with the kids and they are really getting into the whole wizzardly world of Harry Potter. Sam has been taking turns reading chapters as well!
So many LEGO sets around here! Anytime it's Sam's birthday or he wants to earn something, it's a LEGO set. He recently earned this ocean liner set and this train set was for when he turned seven.
Sam quickly fell in love with this author. As a kid, he was labeled "bad" and sent to the hallway. There, he created the Dog Man and Captain Underpants series. If kid loving potty humor is too much for your family, then I recommend checking out the Ricky Ricotta books.
Shop Amazon gifts for kids
And there you have it! These Amazon holiday gifts are sure to have you one step closer to completing you holiday checklist! One final tip: check the packaging and shipping details. Sometime items arrive in original packaging so if you want to keep things a surprise, you can plan accordingly.
For more gift guides, check out my holiday page and sign up for my weekly newsletter to never miss a post.
If you LOVE Amazon, check out my storefront. I've been adding videos of my favorites and reviews.
xox,
Kellie