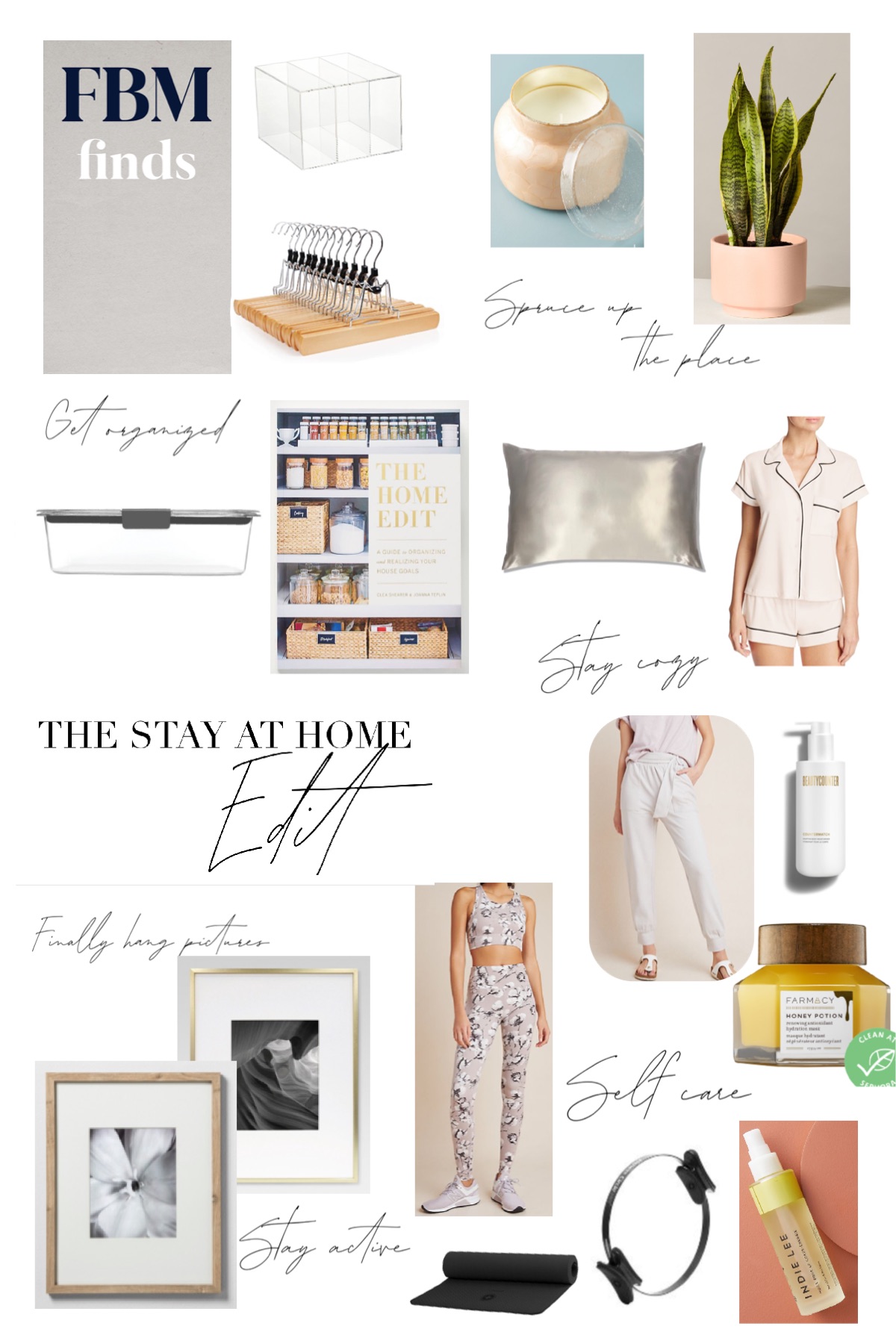 Now that we're all spending more time indoors, I thought I would put together a few stay at home essentials.
I know we are all dealing with this quarantine a little differently. I personally have good moments and bad ones, but I do my best to keep a positive outlook.
That said, here a few things that hare helping me through this time. I hope they do the same for you!

Spruce Up the Place
On of our favorite places to buy candles is Anthropologie. We just ordered a few of these pretty candles. With spending so much time in the house, it's nice to have a lovely scent.
I do not have a green thumb, but I have been slowly adding greenery around the house. Now, I have plants in our eating area, living room, and bedroom. One of the easiest to keep alive is the snake plant or mother-in-law tongue. Plus, plants clean and purify the air!

Get Organized
If your going to stay at home, you might as well get some spring cleaning done! These clear separators  can keep your folded items like sweaters in place, or they're great for your bags.
I love these!!! They make my closet feel so much more organized.
Organizing + Home Books
Books like these are great for two reasons: First, they give you the inspiration you need to organize and decorate your home. Second, they then are great as decorations themselves! I love the Home Edit.
Glass containers are better than plastic and more environmentally friendly. Also, if you're cooking in bulk to freeze later, a large glass container like this one is perfect!

Stay Cozy
I've been raving about silk pillowcases for years on this blog. This slip pillowcase is the one I use. It feels so much more gentler on my face while I sleep.
Let's face it, you're not getting dressed every day these days. Loungewear is the new work wear. A comfy pajama set like this one is just what you need.
How cute are these front tie joggers?  These can easily be worn outside with other humans. Another great pair are these amazon joggers.

Home Projects
I'm sure there is one thing in your home that is on your to do list. Creating a gallery wall with family pictures was on that list for us for a long time. Finally, we ordered these frames and now it's complete!

At Home Gym
Workout Props
I have a few hand weights and a yoga mat, but I'm really missing workout props like a circle and bands.  I was just doing an online class the other day and used Tupperware tops as gliders. Since it will be at least a month until studios open, I'm adding a few more items to my home gym.
Workout outfits
My current stay at home uniform is workout outfits. Between trying to stay healthy and getting the kids outside, it's the most practical option. I'm loving these sets!

Self Care Essentials
With all these extra hand washing, my hands have been super dry. I've been trying to up my moisturizing. I use this super hydrating lotion all over and keeps this hand cream in the bathroom.
I've been doing sooooo many masks at home! I received a sample of this Farmacy honey mask and loved. I also highly recommend this charcoal one.
Skincare Favorites
While I have been wearing less makeup, I have been piling on the skincare! Brightening oils, body oils, serums, hair masks and more! I'm hoping to come out of this lockdown with great looking skin.
shop stay at home favorites