7 Summer Health and Wellbeing Tips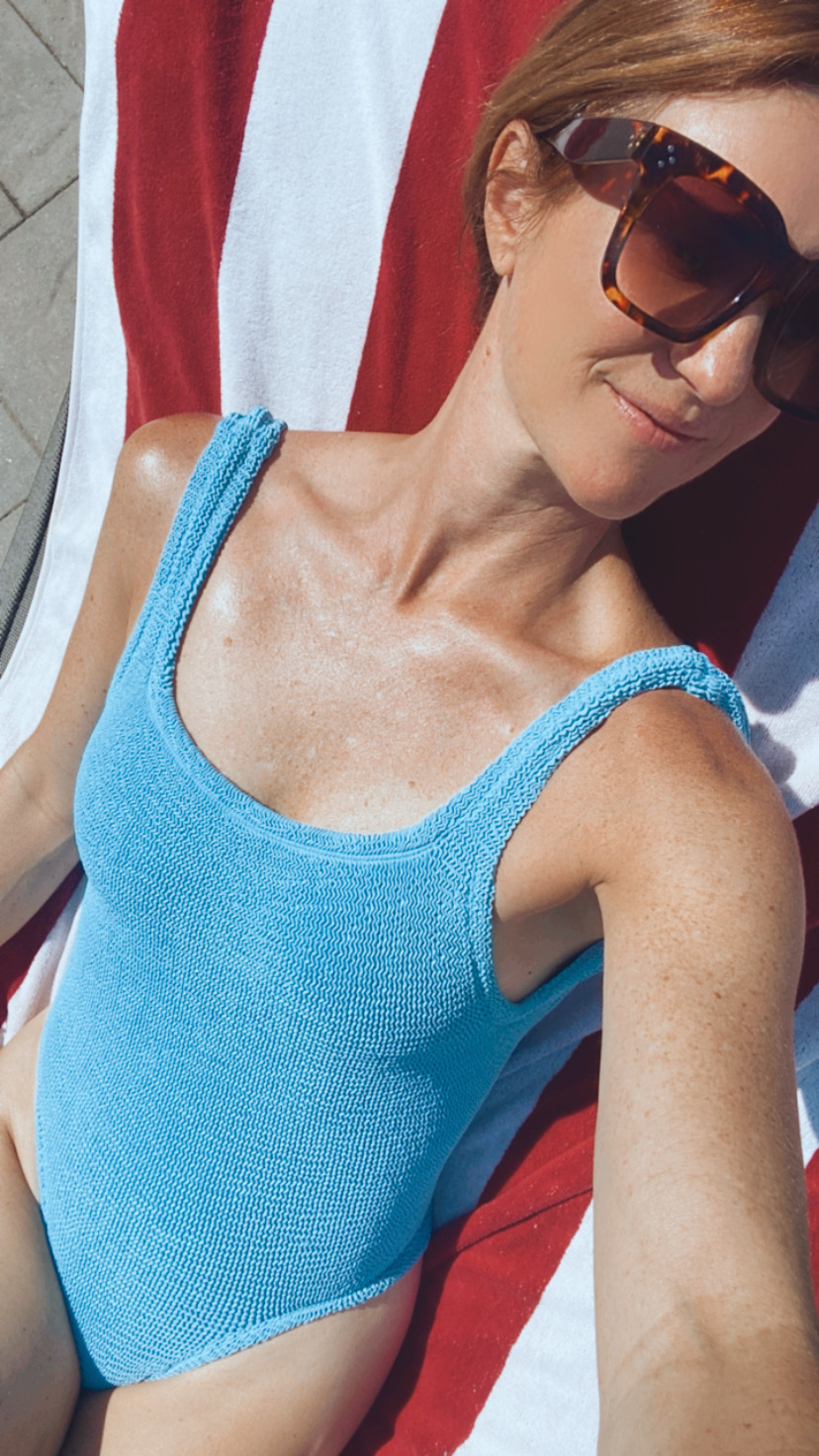 With every new change in temperate, there are opportunities to enhance your health.  Today, I'm sharing 7 Summer Health and Wellbeing Tips.  Summer solstice is next week, marking the official start of summer.  Each season has it's wonderful characteristics and let's face it, summer is pretty top notch.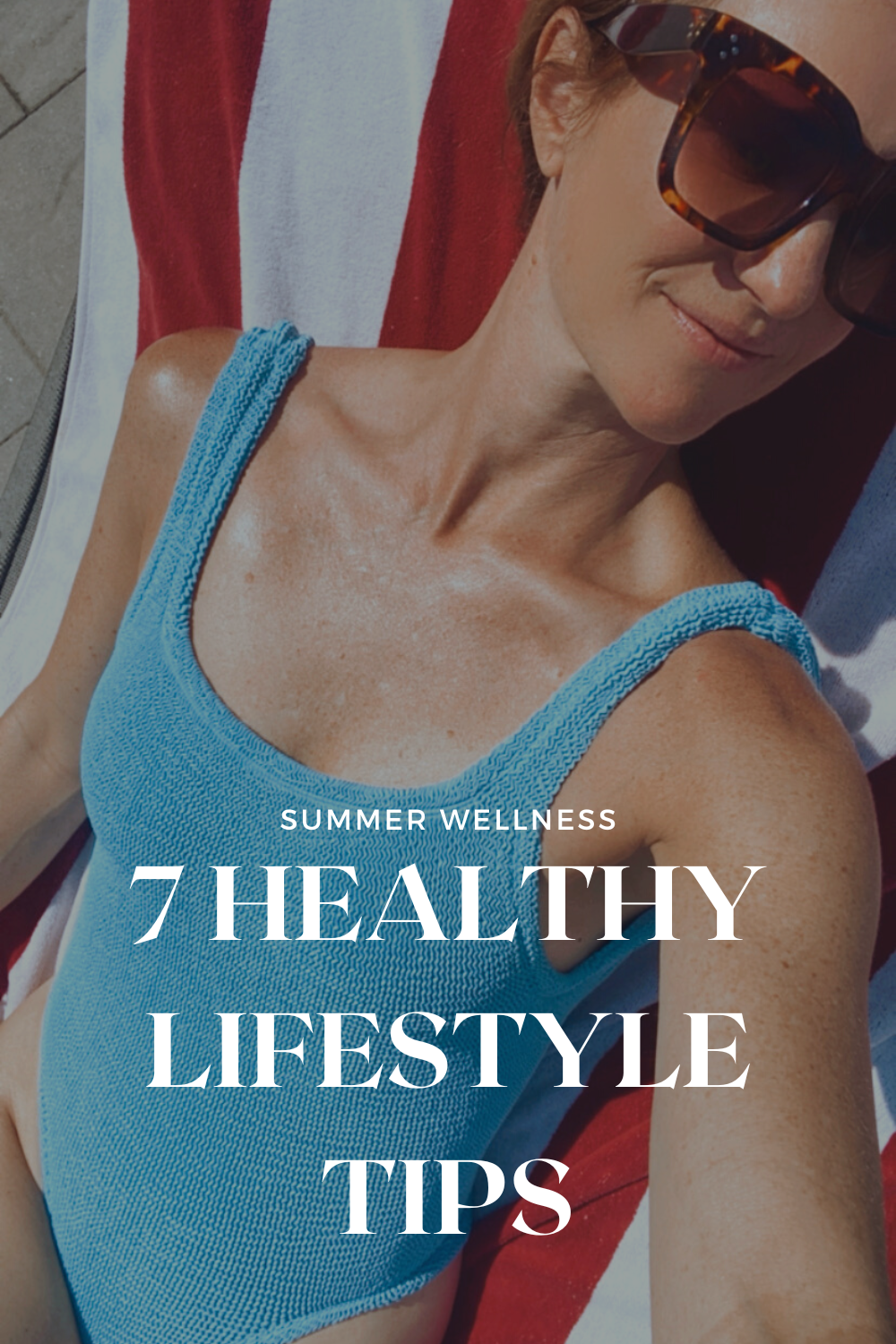 7 Summer Health and Wellbeing Tips
1. EMBRACE YOUR BODY
I, like many of us, have been programmed from a young age that you need to get your 'summer beach body'.  Rather than worrying about how you'll look in a swimsuit, free up that space in your mind with thoughts of how you are going to enjoy the summer in the body you have.  If you are healthy enough to collect seashells with your kids, swim in the ocean, take a walk with a friend or even alone at sunset – do it.  Do you know how common cellulite and stretch marks are?  No one is perfect, and perfect isn't always fun.  So let's opt for the fun instead.
2. MORE SUN, LESS SCREENS
Did you know that Vitamin D deficiency is extremely common?   Our bodies need sunlight.  When we don't have enough Vitamin D, this can lead to loss of bone density, broken bones, and osteoporosis.  But we also spend A LOT of time on our screens – phones, TV, iPads, etc.  This summer, limit your screen time and spend more time enjoying the outdoors in the sun.
3. BUT LATHER ON THE SUNSCREEN
I mention this a lot.  A former Jersey tanning bed girl, I know first hand the damage sunscreen can do.  Besides the risk of melanoma, it is the number one ager.  We're talking wrinkles, sunspots, damaged skin.  So grab some sunscreen (like Countersun Daily Sheer Face Lotion )  apply regularly, stay of the sun at peak times, lounge under an umbrella, and grab a cute hat or even a rash guard.
4.  EAT THE SEASON
Give your meals a boost with seasonally fresh fruits and veggies.  Strawberries, tomatoes, blueberries, asparagus, cherries, fresh herbs from your garden.  Load up your plate with summer salads and eat the rainbow.
5.  FIGURE OUT AN EXERCISE ROUTINE
I used to think that vacation was not the time to get a work out in.  It was made for relaxing the entire time!  But I soon realized that moving my body, even a little, made me feel so much better.  I'm not talking a 90 minute bootcamp, just quick and effective workouts.  All the summer travel makes it hard to keep a routine so check out my workouts on YouTube.  You'll find under 20 minute, under 10 minute and even one song workouts that will get your blood flowing and back to R&R in no time.
6. HYDRATE, HYDRATE, HYDRATE
Give your water intake a boost this time of year when heat, sweat, and yes, potentially more alcohol consumption is in full force. Your body needs proper hydration to be it's best.
7. BE MINDFUL OF YOUR SELF CARE NEEDS
Sometimes, the freedom of summer isn't as easy as it sounds.  You may be juggling kids at home, craving a routine, feel pressure to 'make the most of it'.  I know that in the summer, I need to slow down, let go of things for bit, and gather my strength for when my energy levels sky rocket in the fall.  Maybe for you, the longer days give you that drive. Take a moment to consider what works for your summer wellbeing and don't fight it.  Embrace it and let it fuel you.
And with that, wishing you a fabulous and healthy summer.
xo,
Kellie
LET'S STAY CONNECTED
Checkout my workout reels and videos on  Instagram @kellienasser_
Get all things workouts, whereabouts and wellness by subscribing to my weekly newsletter.
One Peice Swimsuit: Shop Here