Jackson Hole With Kids Travel Diary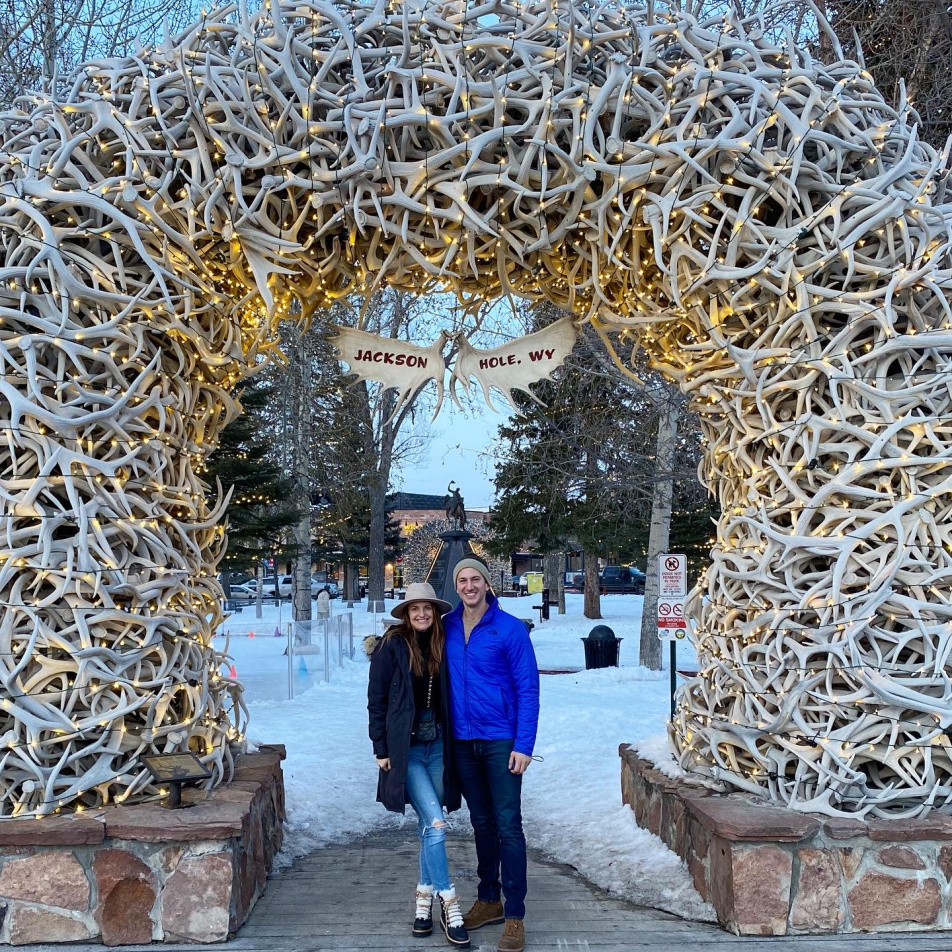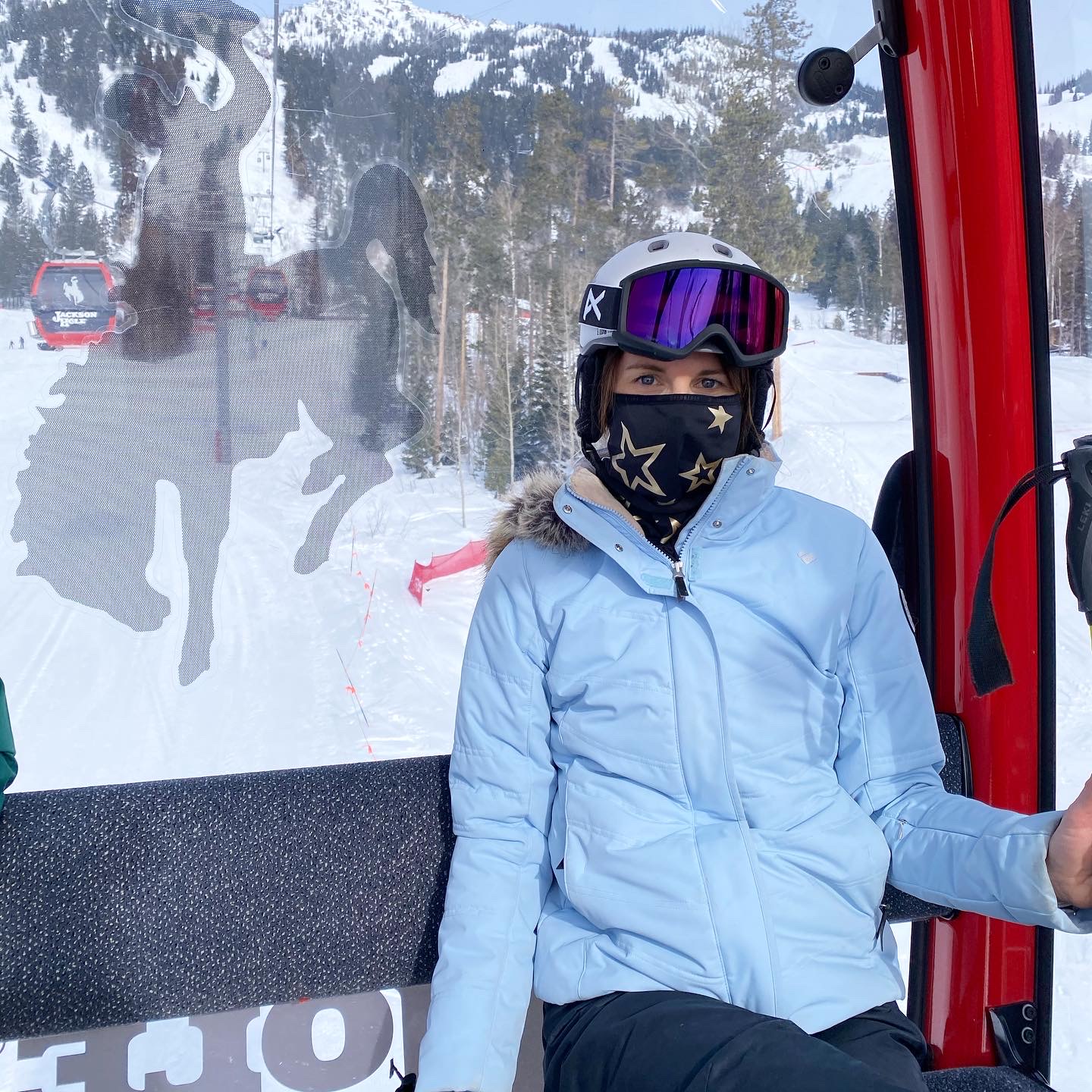 We just wrapped up an amazing family ski trip to Jackson Hole, Wyoming and I'm here to tell you all the details. To be honest, I still can't believe we made it there! But it was the best reset and way to end winter. I'm so glad we took the leap and went for it.
This is the second big ski trip we took as a family. Last year, before lockdown we all traveled to Aspen. During ski season we head up to Pennsylvania mountains as much as we can. And before we really got the kids on skis, we had a grown ups only trip to Mont Tremblant.
In this post, I'll share our trip itinerary, highlights and also a comparison to Aspen since I was asked that a few times on my Instagram stories.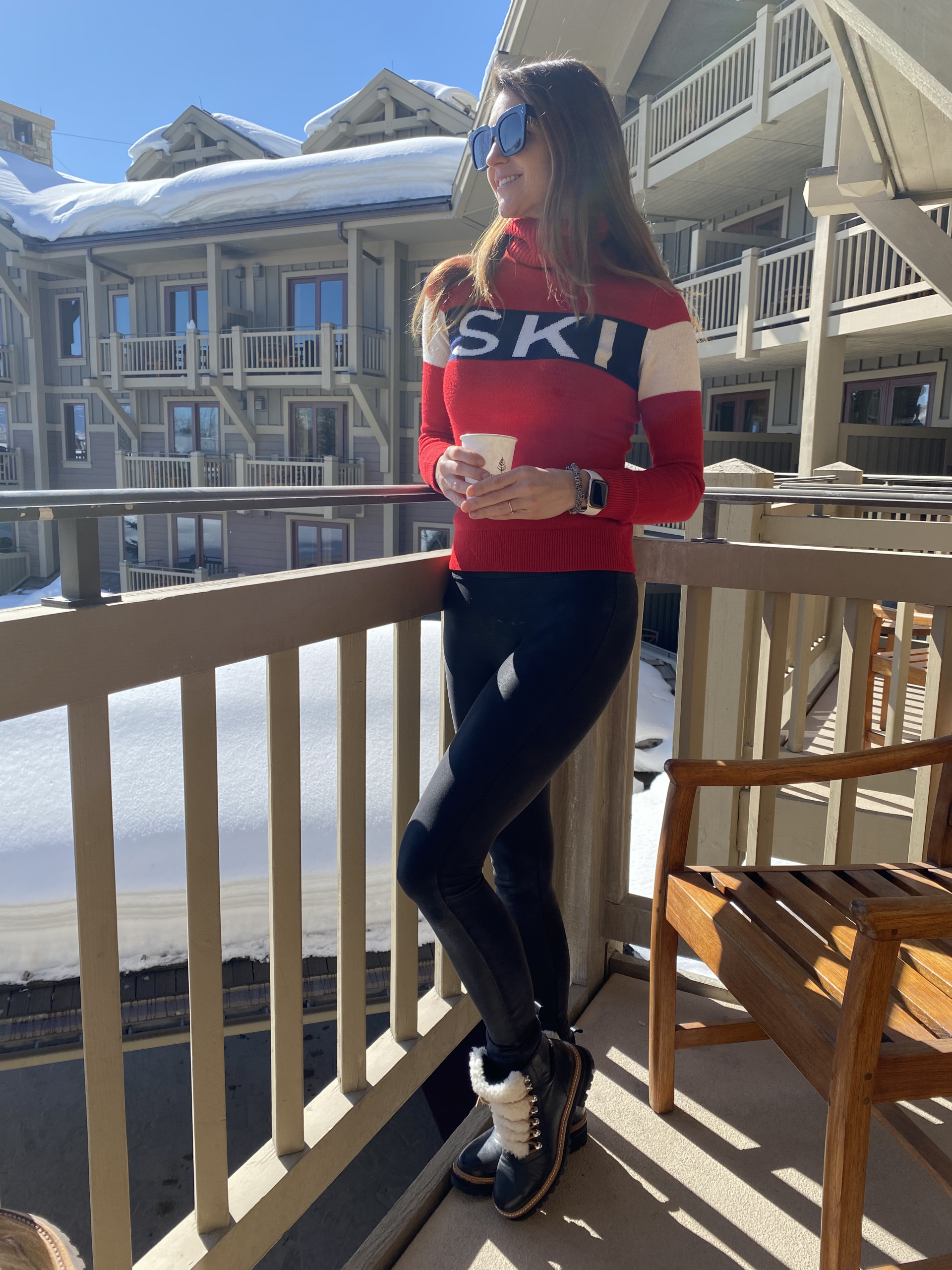 Jackson, Wyoming Itinerary
We left Washington DC on a Wednesday afternoon to kick off the travel. Originally, we were supposed to brave a 6 AM flight on Thursday morning, but a work need came up for Jeff and we left earlier. It was a blessing in disguise! I was at the studio teaching back to back classes in the AM, did a quick Target run and on the plane in the late afternoon.
We had one connection in Salt Lake City and a quick hop to Jackson airport, which is very homey and charming. I also love when you have to exit the plane outside. Not sure why, maybe it's the fresh air? Anyway, because the airport is super small our bags were there in no time and we were in a car to the hotel.
The kids were troopers. At this time they were pretty quiet and  started dozing off to sleep. It was a good thirty minutes to the hotel in Teton Village and it felt like almost midnight to us.
While we didn't get the gorgeous mountain scenery on the drive, it was the right move to get the kids tired for bed and let them sleep in the next day.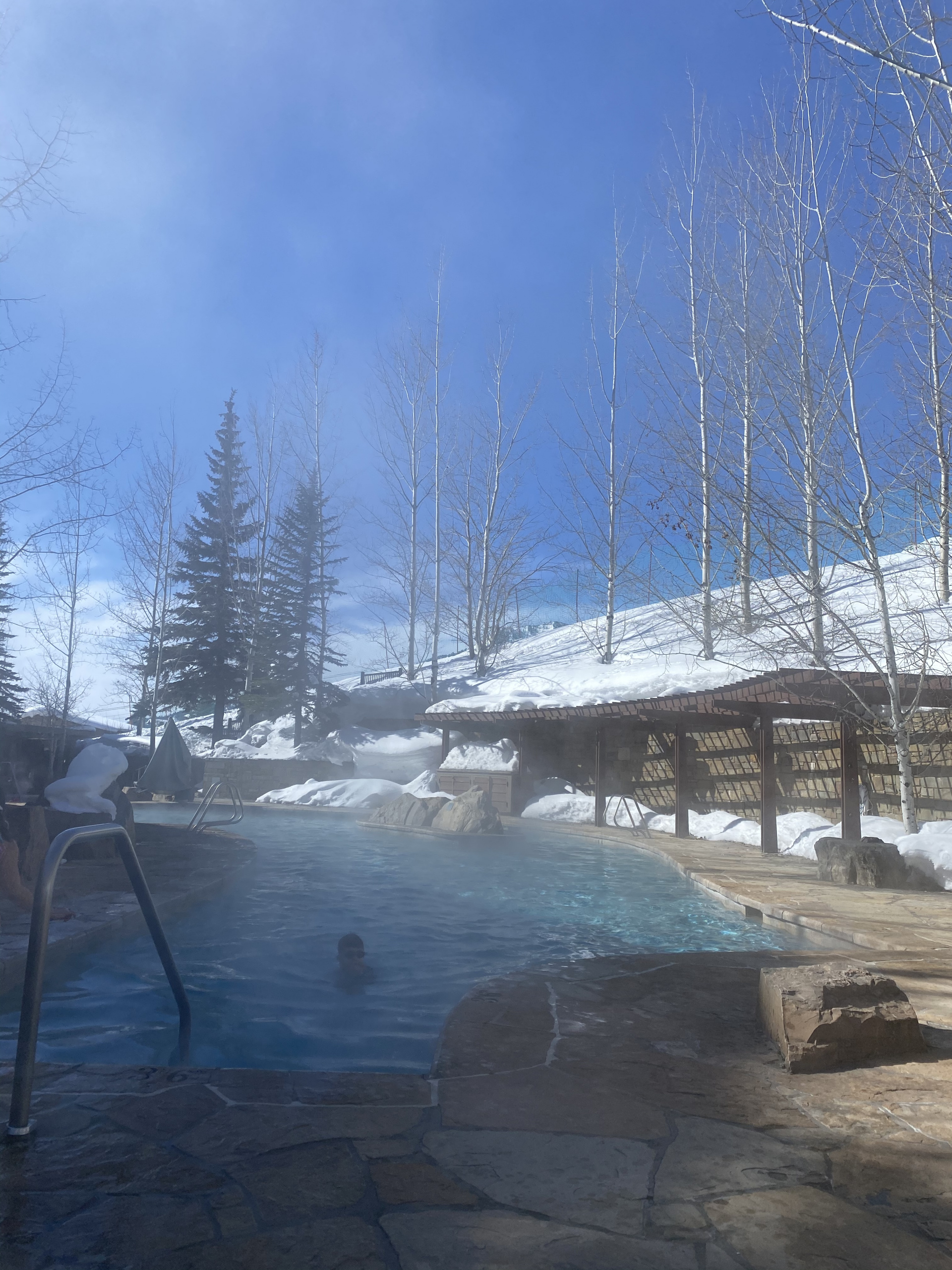 Where we Stayed in Jackson Wyoming 
We wanted to make things as easy as possible with kids and chose the Four Seasons Jackson Hole. As I mentioned, this property is located in Teton Village, which is a 15 minute ride to downtown. It is located at the base of the mountain so it's a ski-in, ski-out set up that saves so much time for everyone – especially the kids!! Also the ski concierge made everything sooo easy.
The Four Seasons rooms are beautiful and I loved the mountain rustic vibe.  Additionally, two of our favorite places to eat: The West Bank Grill and the Handle Bar are right in the hotel.
There are more hotels in Teton Village that are close by for a short ski to the lifts. Two friends in our party stayed downtown and a shuttle provided transportation to and from the mountain, so if you want be close to all the good restaurants, bars, and town center, that's something to consider.
One perk I need to mention is the heated pool at the Four Season Jackson. The kids LOVED swimming here surrounded by snow, even when it was 26 degrees out. There are also three hot tubs which are perfect. Show up in your robe and slippers and the staff will take them to keep them toasty in a heated locker. And don't forget the free hot chocolates and s'mores!
Where We Ate In Jackson Hole
There are so many great food options!! But I hope you like meat. You'll find the menus heavy on steak, elk, and bison.  Here's where we ate with a few of my favorite dishes.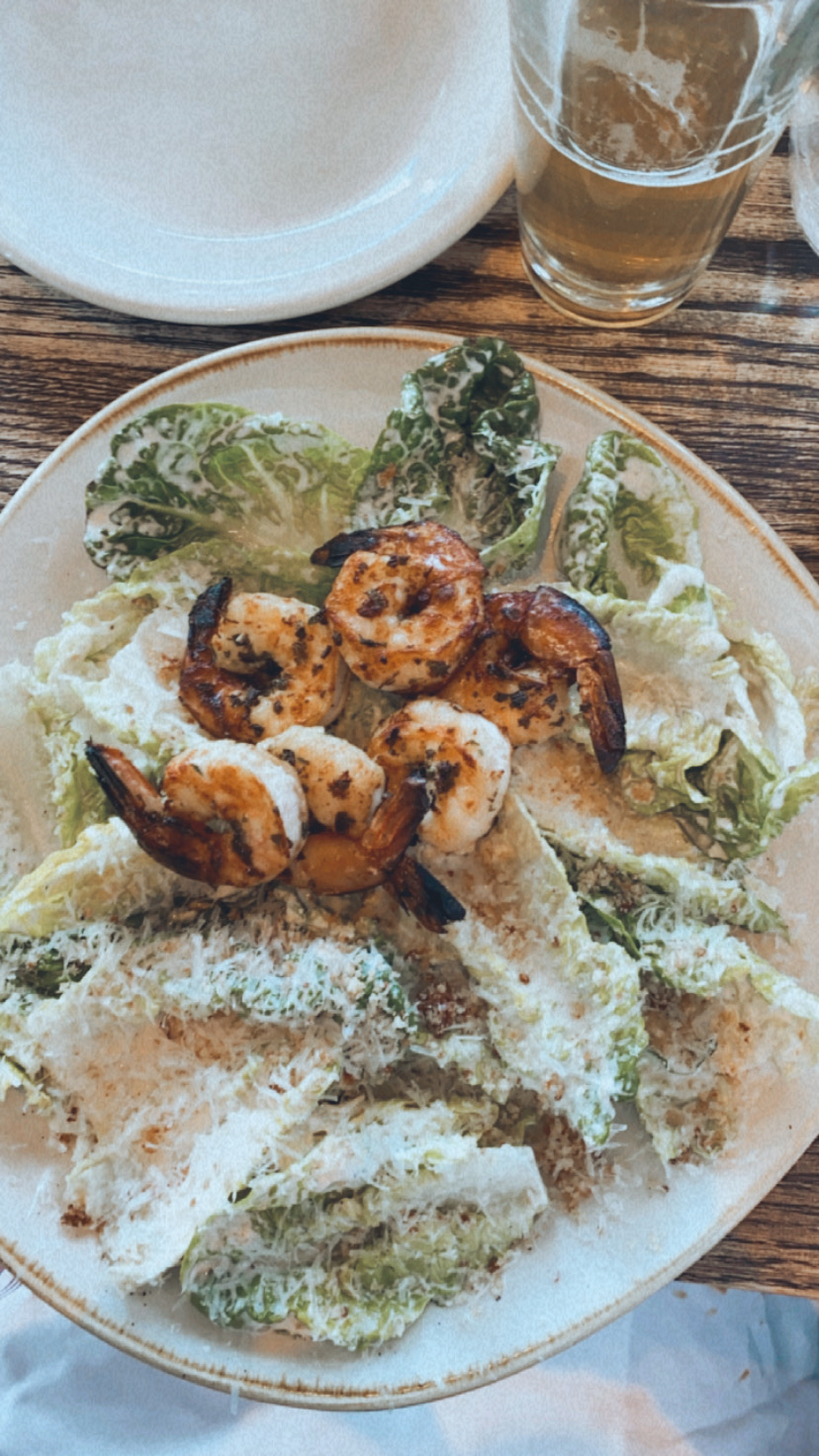 Handle Bar
This place is super casual and at the base of the mountain. So it gets pretty busy for lunch and Apres ski. We tried to grab a table around 11 AM.  We ate here a few times and I usually ordered the Caesar topped with shrimp, the kale salad, and also really like the tuna poke appetizer. I heard people rave about the burger, but I tried to keep my lunches on the green side. The kids also had plenty of options to choose from.
It's also a fun bar too! Try the Roll the Dice Game – I did it!! And ask for the shot ski.
Pro tip: We did have a little confusion with this place took reservations or not. It seemed like the concierge and the restaurant were not synced up. I would try to speak to the hostess directly.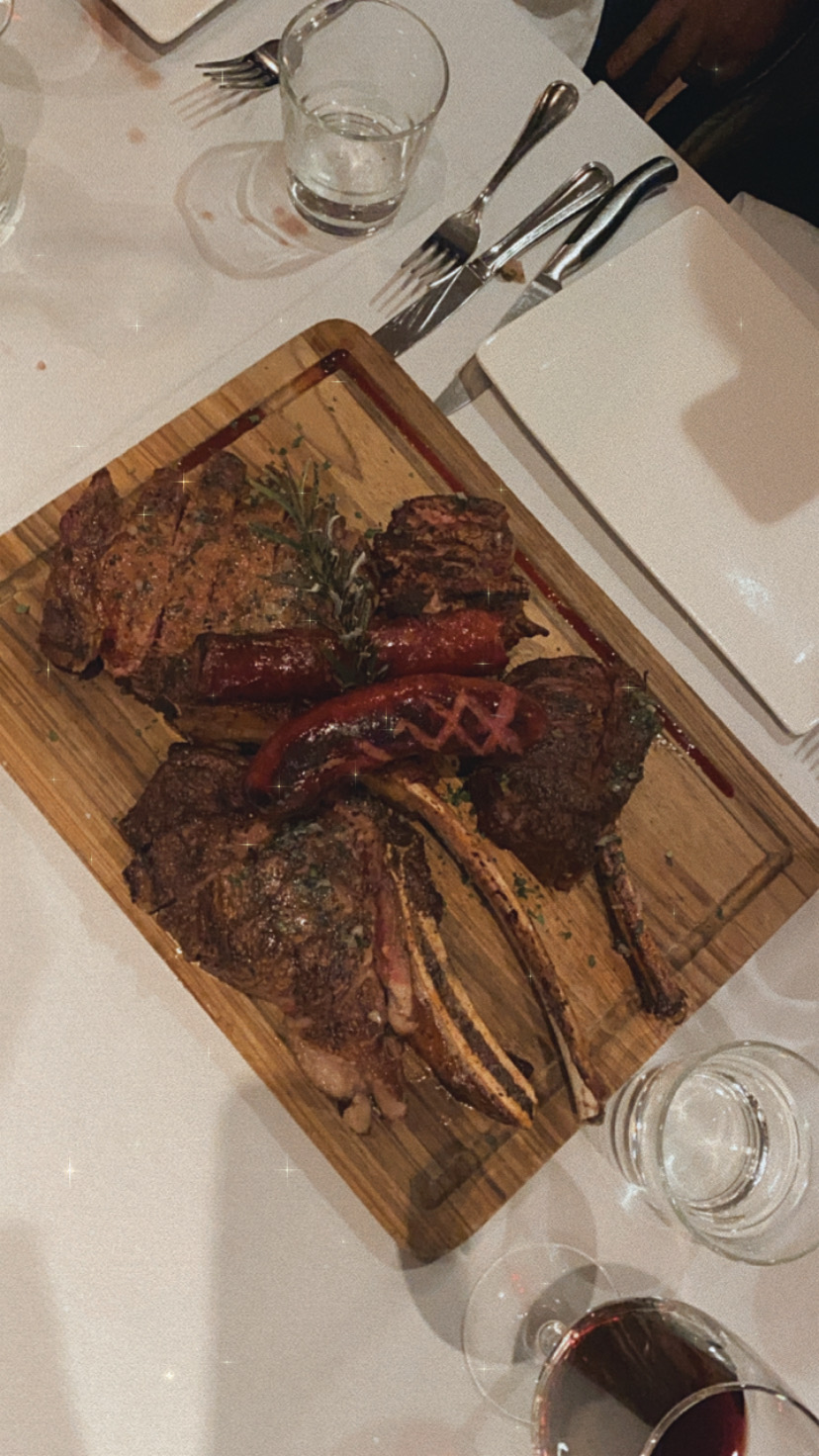 This was our first night out and it did not disappoint! You know when you're just ready to celebrate?! This place was great.  The table ordered the full meat platter which was a win, and I ordered a short rib bolognese. So good!!! This is right in downtown Jackson and neighbors to the famous Million Dollar Cowboy Bar.
So, all the skiing and time change caught up to me and I actually didn't make it out to this spot with the rest of the group. However, they did have a good time here. The highlight: ordering the bone marrow and then luging a shot once it was done.
This place is very nice and you need to book in advance. I will say it was my least favorite of the trip. Many all the steak dinners were getting to me, but I wasn't wowed by any of the dishes.
This place was so good! It's located in the hotel – so you can bring a pair of non practical shoes like I did. I also ate here with with kids for breakfast on our first morning. Highly recommend it!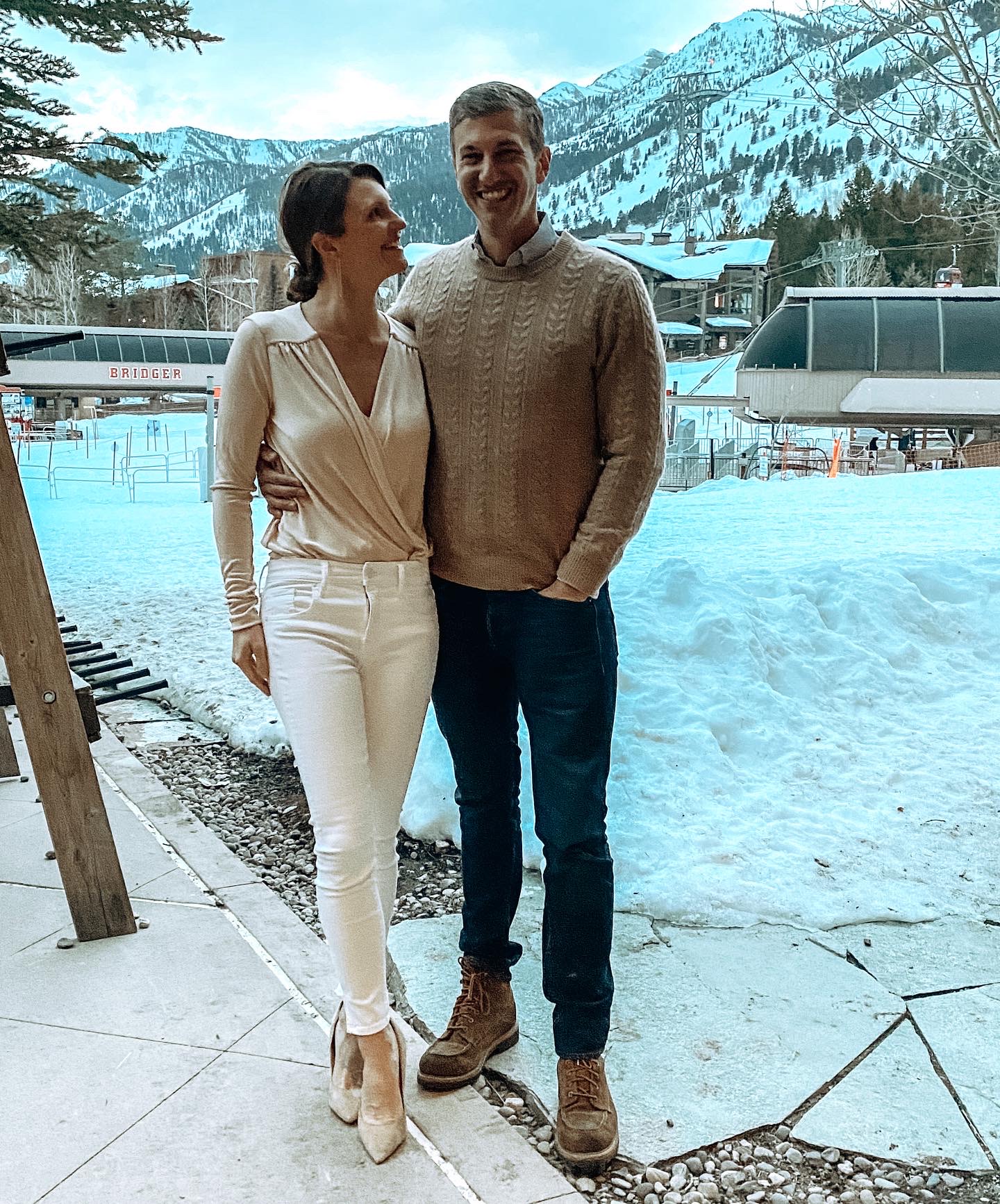 Things to Do In Jackson
Sharing a few things we did plus some additional activities that I heard was fun.
Ski! Jackson is known for being a ski town. I will say that it is a very advanced mountain. There are definitely slopes for every level, but this destination definitely caters to the more avid skier.

Get a massage. I don't ski every day on these trips.  One day, I booked myself a massage and it was glorious.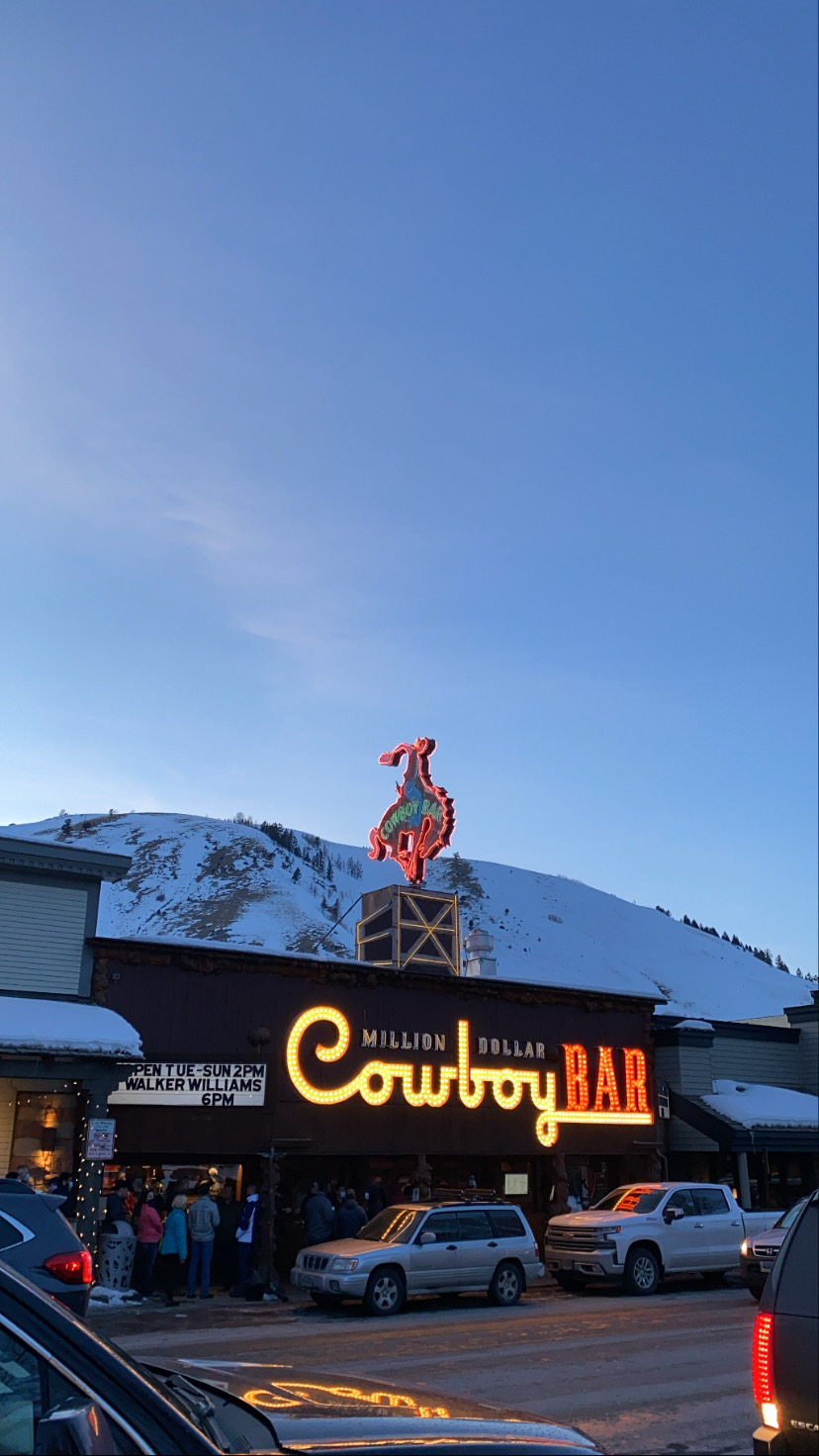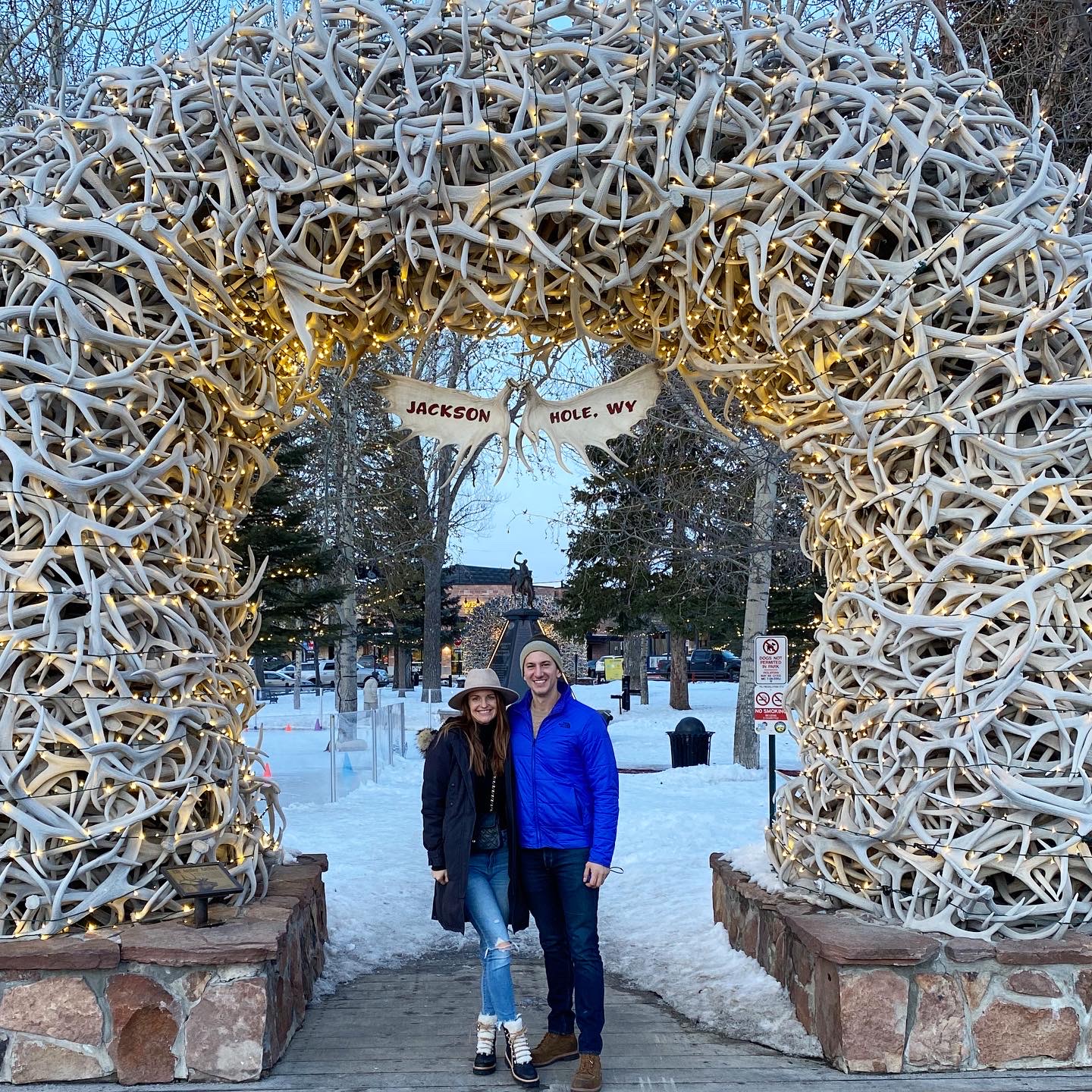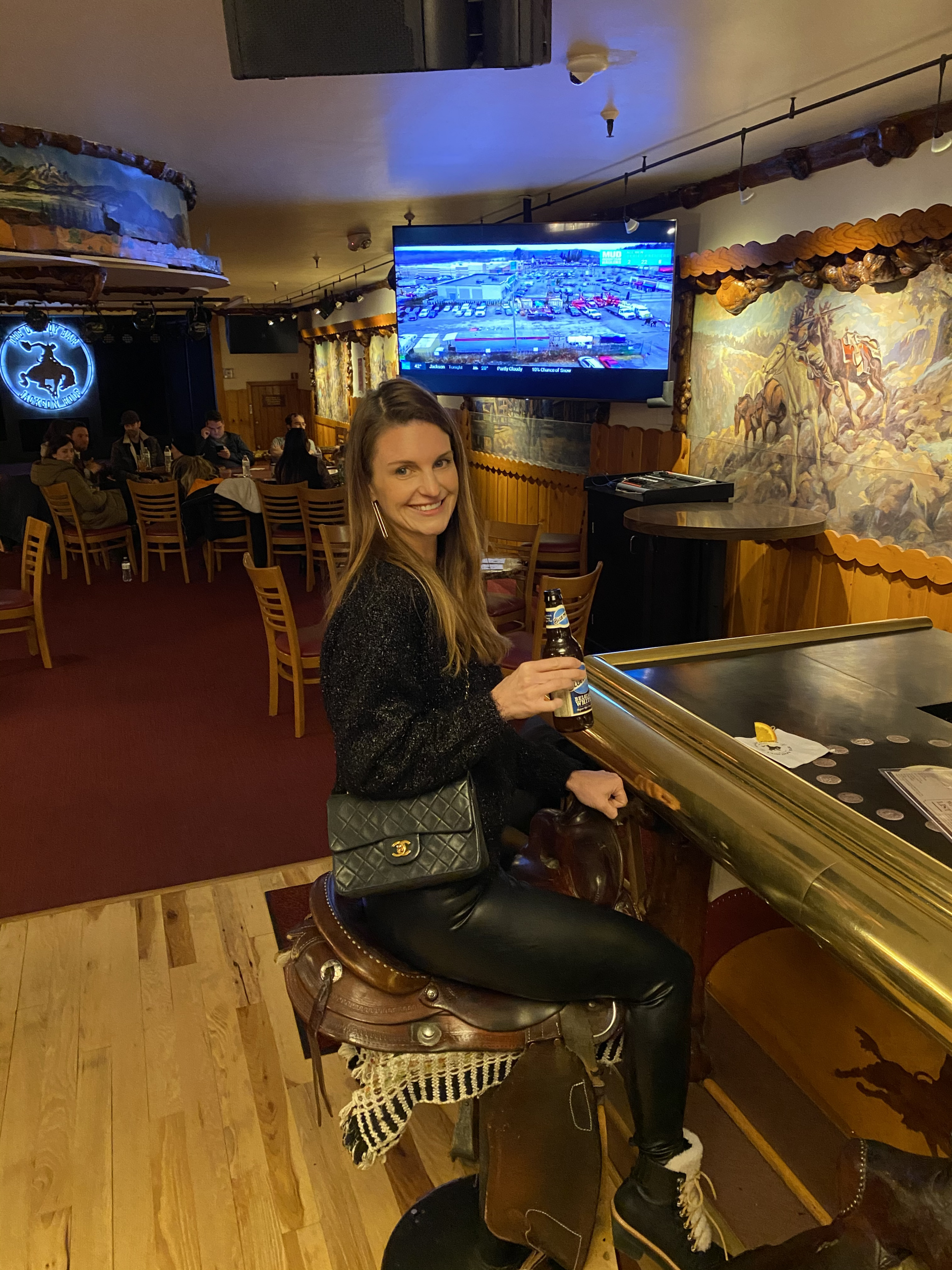 Check out downtown. There are so many cute shops in the town square. And you can get your quintessential Jackson Hole picture under the antler arch. These were collected by a local Boy Scout troupe of all the shedded antlers from the nearby elk herds.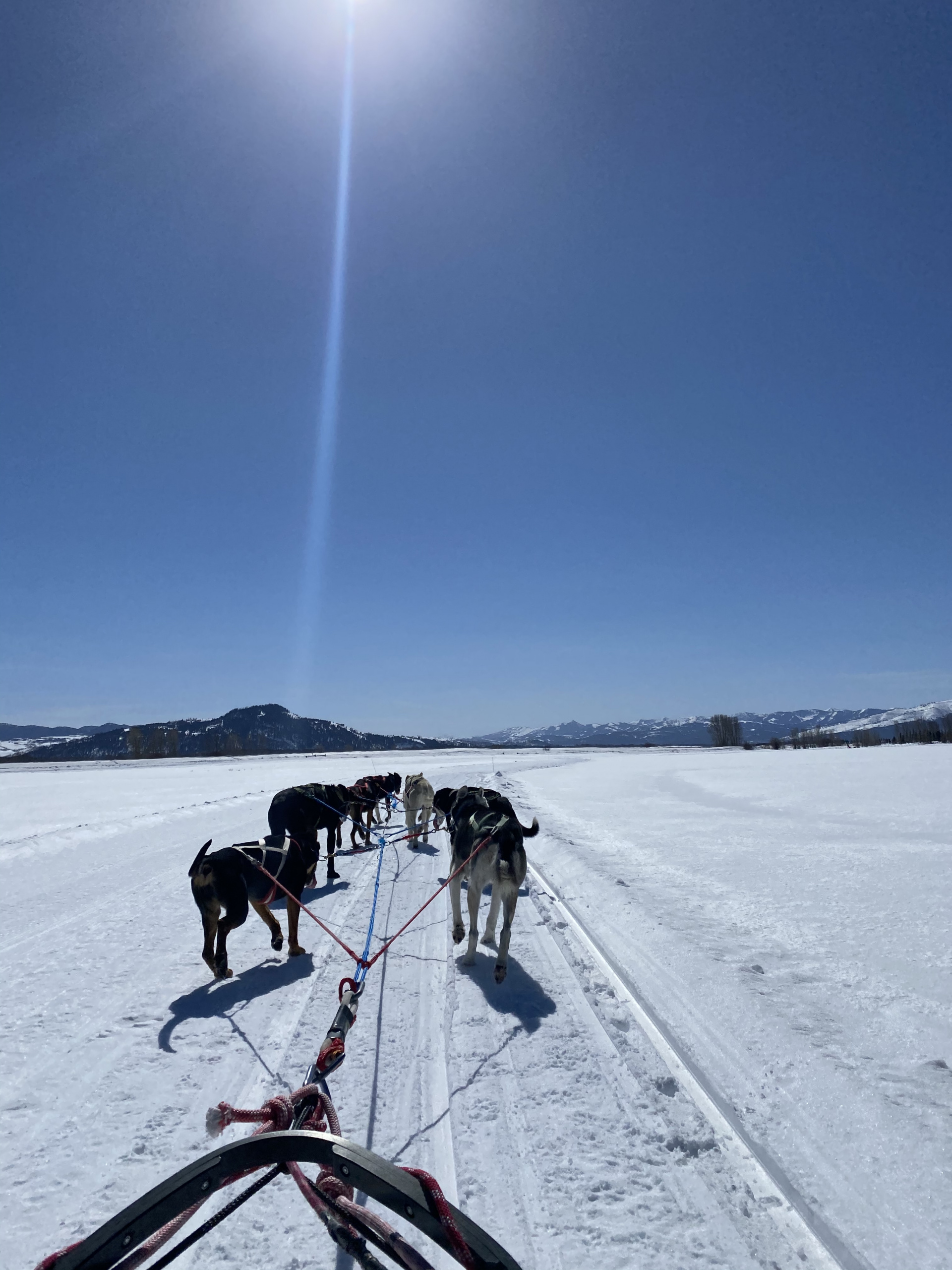 Dog Sled Tour. This was so fun with the kids! We went out for a run pulled by 8 dogs and learned about the area. The tour we went on was Call of the WYld which you can walk to from the Four Seasons.
Elk Refuge. As I mentioned, there a large herds of elk nearby and you can take a horse drawn sleigh to see them. There are also other wildlife tours where you can see moose, bison, deer, and more. We had a few moose sightings while driving around and skiing.

Aspen Vs. Jackson Hole
OK, one last opinion to help you decide if Jackson Wyoming is right for you and your family. I was asked which I like better and here's what I shared.
For me, I like seeing many different places and frankly, checking a box for the amount of states I've been to. Additionally, these are ski trips at beautiful parts of the country so both are truly amazing adventures. If you are deciding between the two it really comes down to personal preference.
What I liked about this trip to Jackson was how convenient our hotel was for skiing with kids. Getting the boots, needing to go to the bathroom, ski school set up and drop off was all great.  While at Aspen, there is no ski school at Aspen mountain, so you need to take a shuttle to Buttermilk for example.
That said, the restaurants I mentioned were in downtown Jackson so we needed to take a 15 minute car ride there. In Aspen, all the great dining was right outside and walkable.
Jackson has more of a rustic, authentic western feel to it. Aspen is more of a 'scene' and fancier.
On our adventures, the dog sledding was a one of a kind experience, however, I enjoyed the horse sleigh ride to a remote restaurant for lunch much better. With the dog sled, you don't have a destination, but rather are take the ride.
Check out my Aspen post  more details on that trip.
Hope this post helps you! And if you're headed on a ski trip, have the best time.
To Shop this Post:
xo,
Kellie