Coastal Home Decorating Ideas: How My Vacation Home Looks Now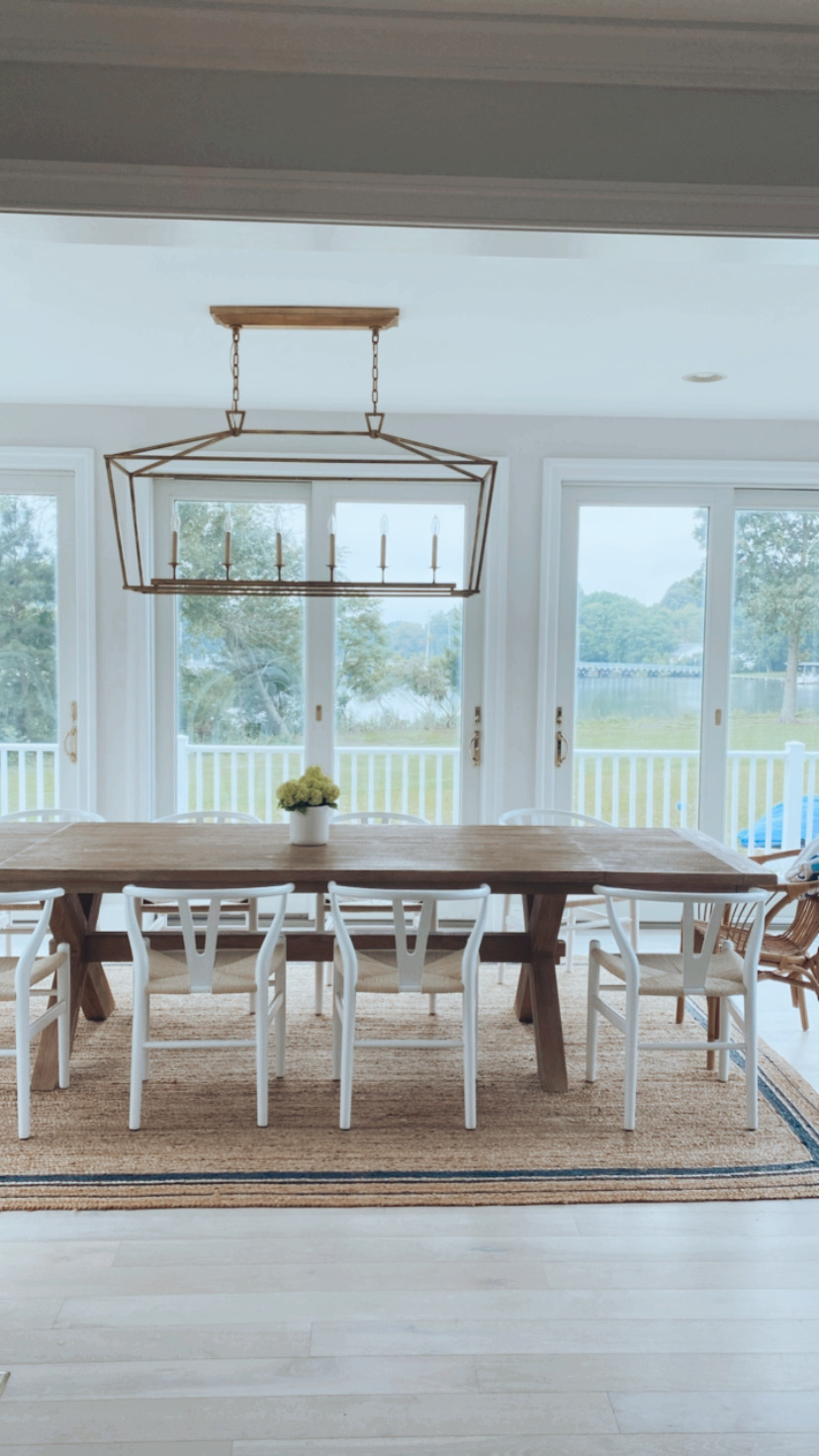 It's been a little over a year since we purchased our vacation home on Maryland's Eastern Shore and it's time for my coastal home decor reveal.  I can't believe how much we've accomplished!  In the beginning, you have all that hopeful optimism and excitement for taking on a new project.  Picking pieces out. Imagining the end product.  Then of course reality sets in with contractor delays. Shipping and supply chain delays. And a rainstorm that shows you how a peice of the roof over the laundry room is not in the best shape.
To see where we started, check out this post. 
Now, I had lofty plans to keeping posting about the progress along the way.  I kicked it off with my kitchen design.  And well, that was it.  I decided to take my blog in a new direction and focus more on my fitness.  But I still knew I wanted to pepper in other aspects of my life, which is why I narrowed down my posts to Wellness. Workouts. and Whereabouts.   And it's that last section that I am bringing to you lots of coastal home decorating ideas from my vacation home.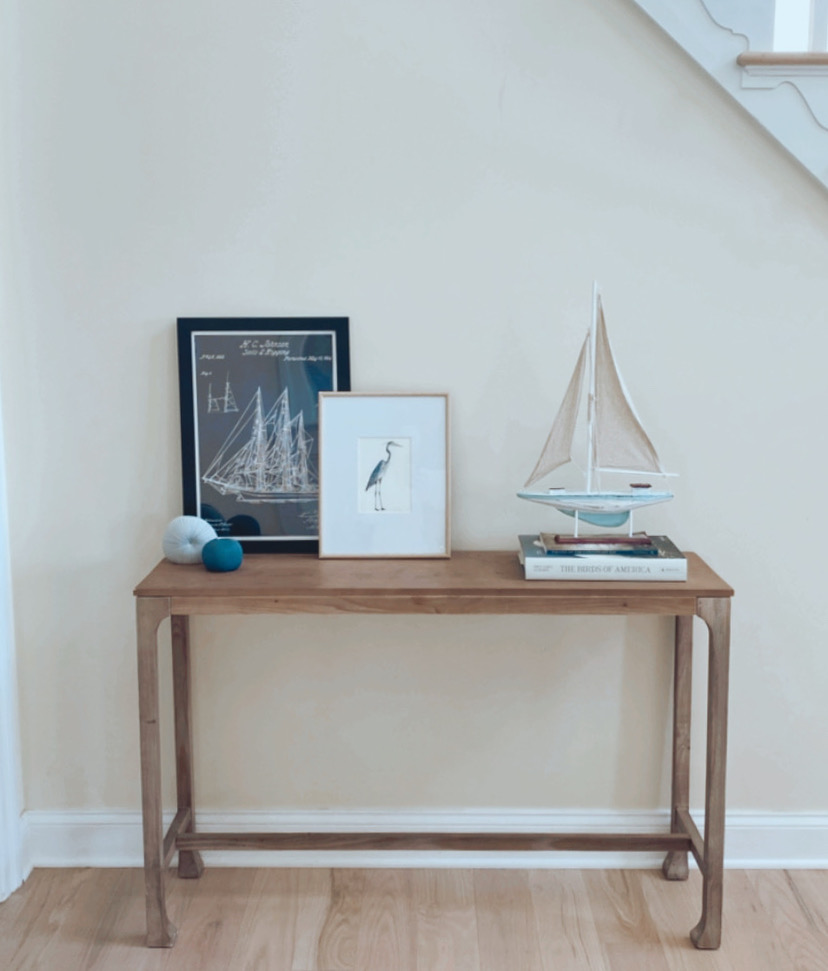 what is coastal decorating style
If you are interested in this aesthetic, let's start with the basics.  Coastal home decorating style incorporates elements from shorelines: beaches, lakes, bays, creeks, etc.  The natural elements you find around these bodies of water such as driftwood, rattan, jute, linens, and other natural woods are used throughout the design and seen in many coastal decor accessories.  The color palette is light and airy.  Giving a breezy, carefree feeling.  So skip the dark woods and heavy paint colors.  You'll find lots of whites, blues, and sand colors.
As our coast is the Eastern Shore, there are many local elements that I also brought into our home.  The area is known for blue crabs and sailing, as St. Michael's is close by which gives a little bit of that preppy feel.  Additionally, there are many farm lands, blue herons, water fowl, and wildlife.  I actually decorated the bedrooms in these different aspects of the area.
The rest of the house is definitely very coastal style.
How My Vacation Home Looks Now:  Coastal Home Decor
You can check out many of my BEFORE AND AFTER pictures on my Instagram account.  I'm not doing to bog down this post with progress, just the final steps! This is the room that received the most renovation.  We painted the cabinets, moved the fridge to side replacing a desk area, opened up the entry way, replaced the lighting and hardware, added a farm sink, replaced the countertops with quartz and included tile as the backsplash.
Coastal Kitchen Style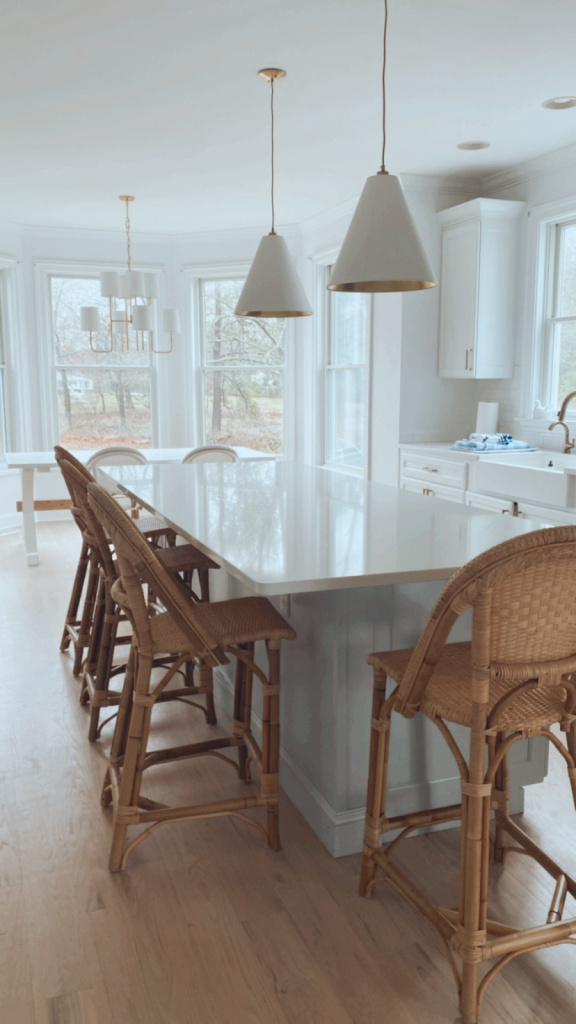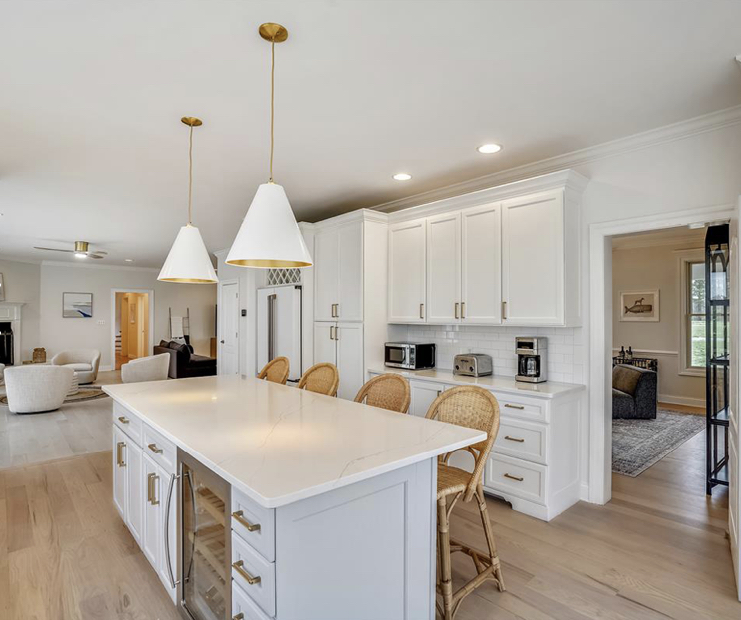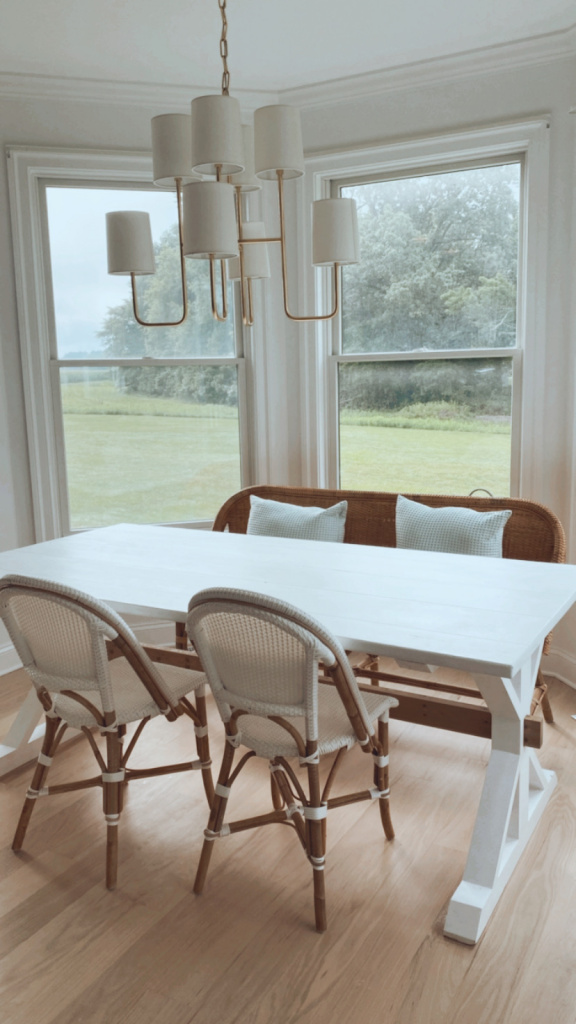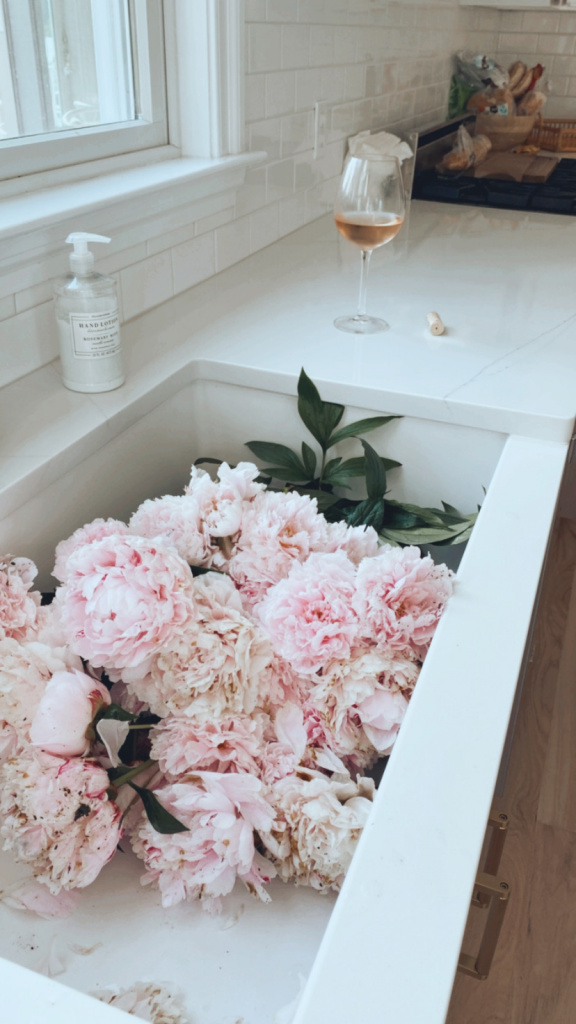 Rattan bar stools / Rattan dining chairs / Rattan bench  / Chandelier over Table / Kitchen Table / Pillows / Fridge
Cabinet Paint Color:  SW Pure White SW 7005
Under Cabinet & Swing Door Paint Color:  SW Krypton SW 6247
Coastal Dining Room
This room was originally a sitting room.  I think someone described it as a 3 seasons room?  Anyway, we wanted a big space for large groups to come together and look at the water.  We also opened up the entry way here and added hardwood flooring to replace the tile.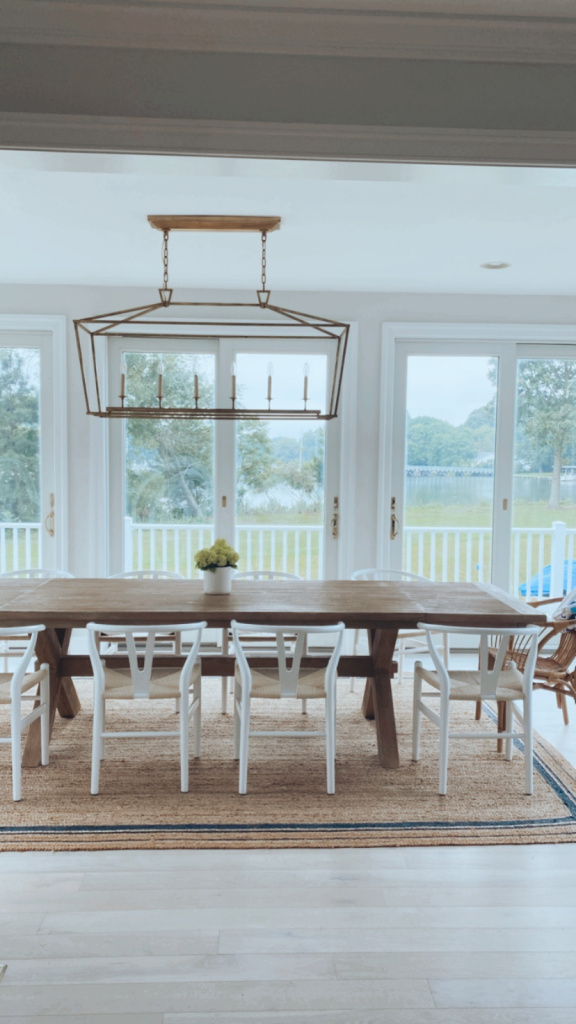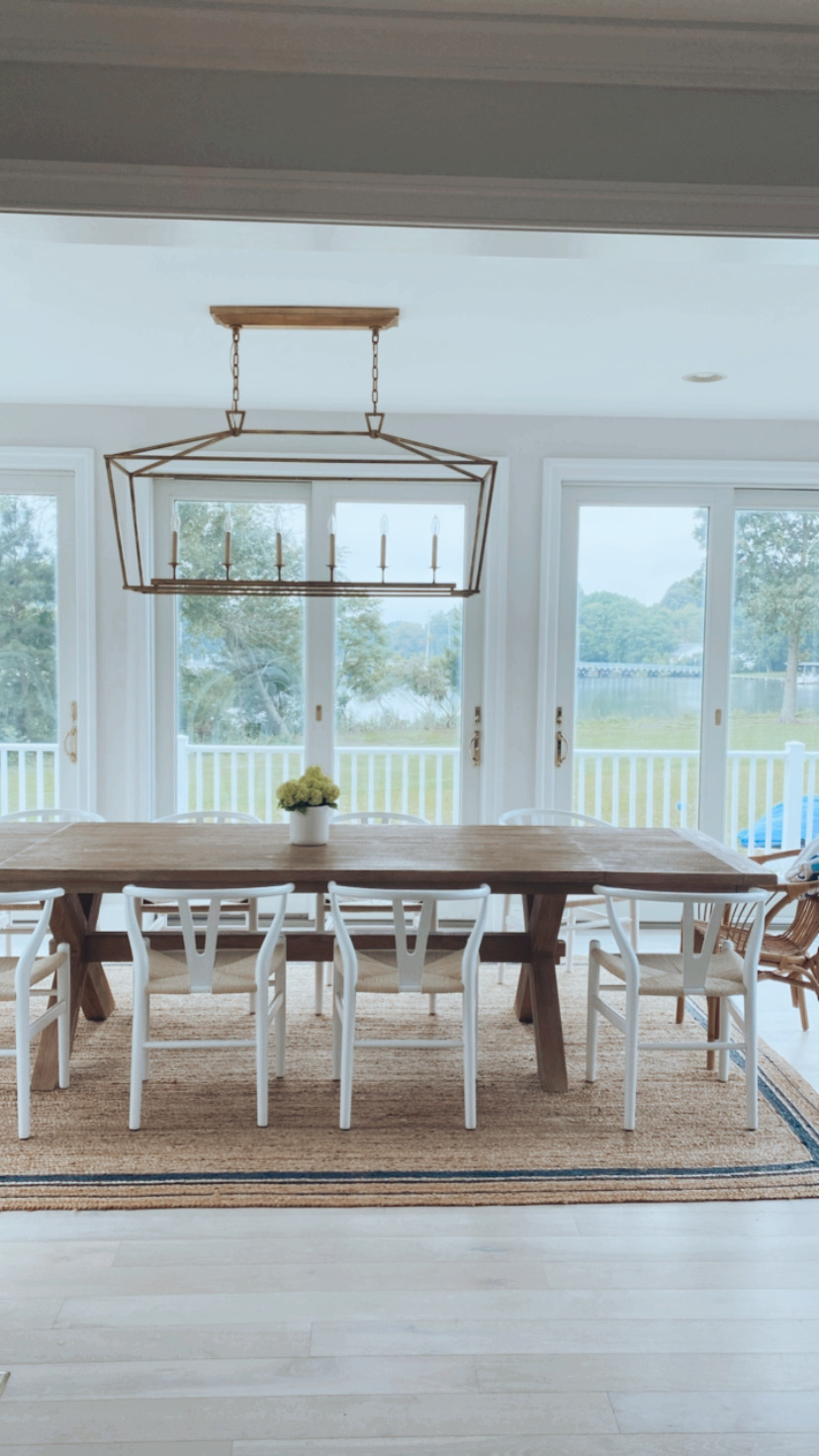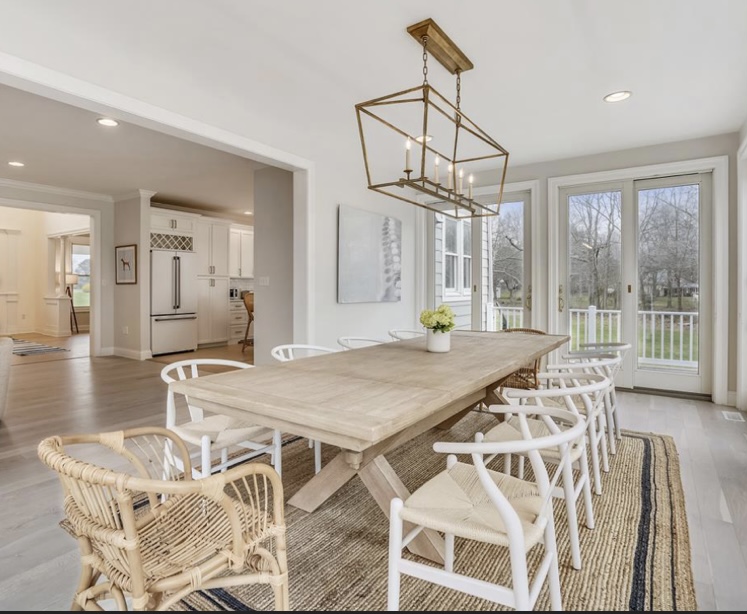 Dining Room Table / Pendant / Wishbone Chairs / Head of Table Chairs / Jute Rug /  Large Acrylic Mounted Artwork / Faux Hydrangea 
Coastal living room
This room had carpet and we replaced it with hardwood flooring.  We actually ordered a different sofa at the start of renovations.  Thank goodness for supply chain issues. Because it was constantly facing delays, we realized we needed a bigger sectional.  Additionally, the light gray I ordered was too delicate for this room.  The dark blue sofa we ended up with is soooo much better and functional.  After that, it was just decorating with coastal accessories!
We did paint the fireplace which was dark wood.  The white makes it look so much better.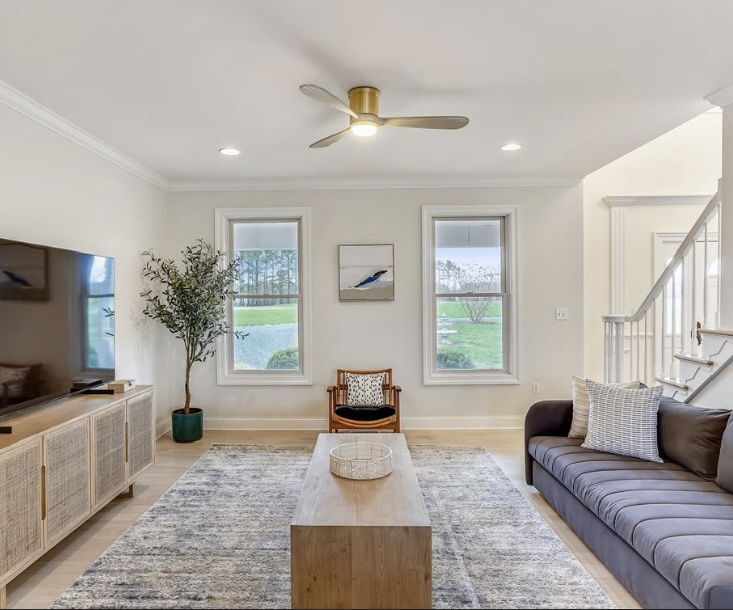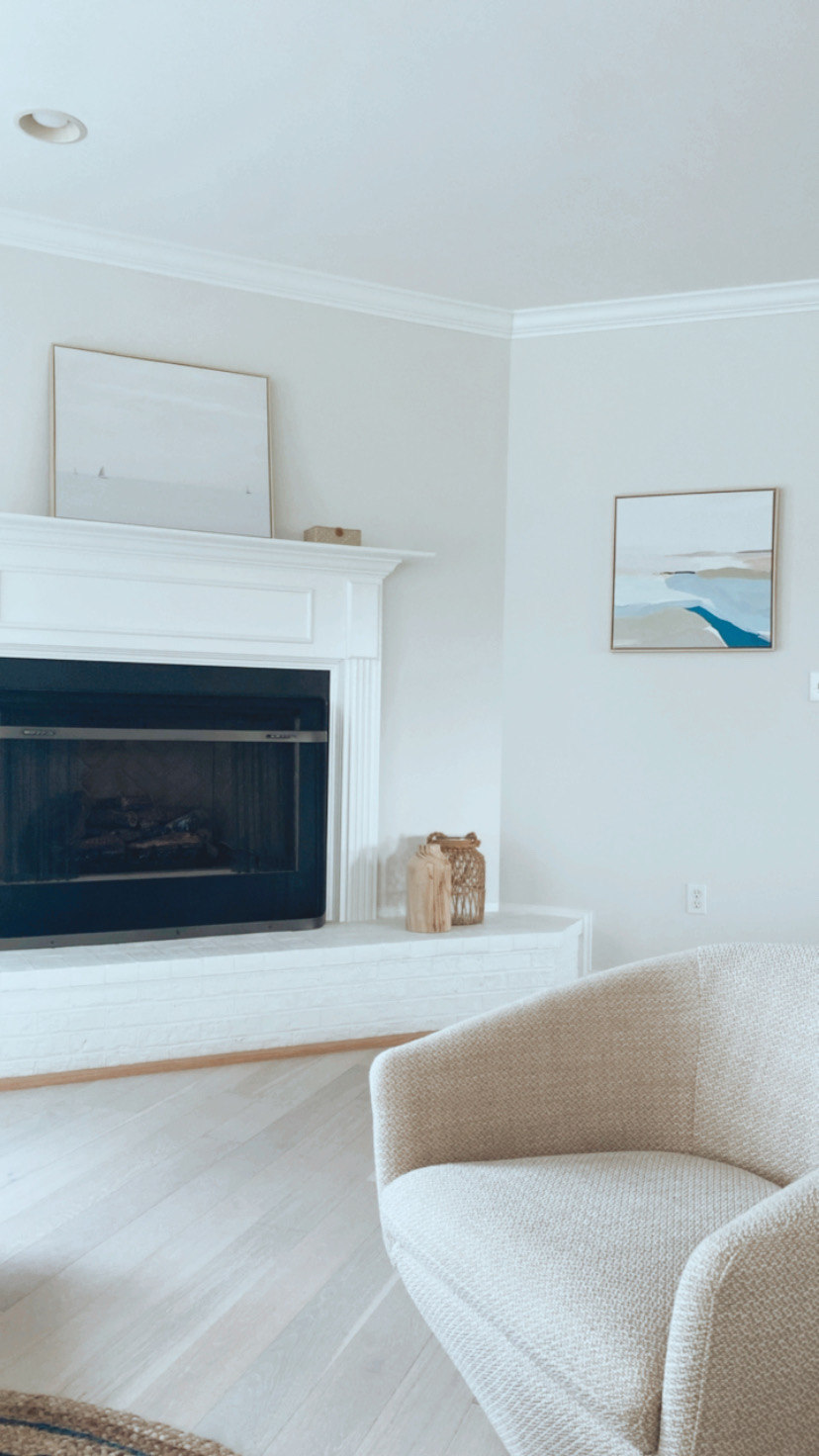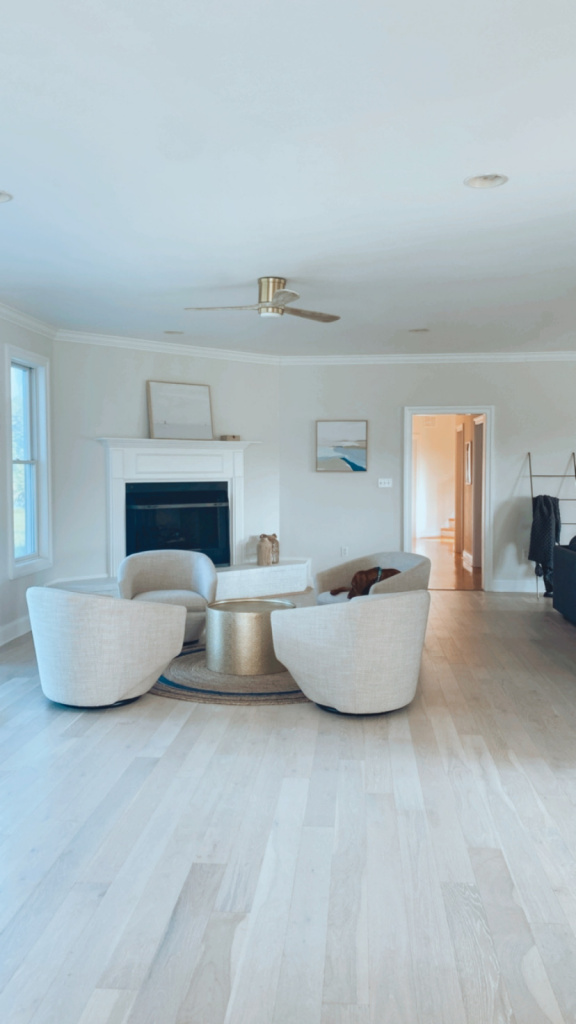 Sectional Sofa / Coffee Table / TV Console / Faux Olive Tree / Coastal Artwork / Coastal Artwork by the Fireplace / Area Rug / Swivel Club Chairs / Round Jute Rug  / Golden Drum /  Decorative Blanket Ladder / Rattan Accent Chair /  Round Striped Ottomans /  Decorative Pillows / Mantle Artwork / Ceiling Fan / Small boxes 
SHOP COASTAL HOME DECOR

Study/ Game Room
This was originally the dining room and featured a heavy crystal chandelier and painted deep red.  No thank you!  We replaced it with a beachy shell pendant which feels much more casual and Jeff painted it Benjamin Moore Silver Satin (which we know very well from our house in Washington DC).
Another thing to point out in this room: At first, I didn't think that black was welcomed in my coastal decor palette.  But then we started thinking about it could make a great contrast and Jeff loves black windows and shutters when we visit Avalon and Stone Harbor New Jersey.  So why not!
Knowing this room was probably not going get used very much as is, we tried to make it a game room.  All our board games are stored here.  The round black table serves as an area for card games or dumping out a 1,000 peice puzzle.  With a fun bar cart behind you and historical maps of the area handing on the wall.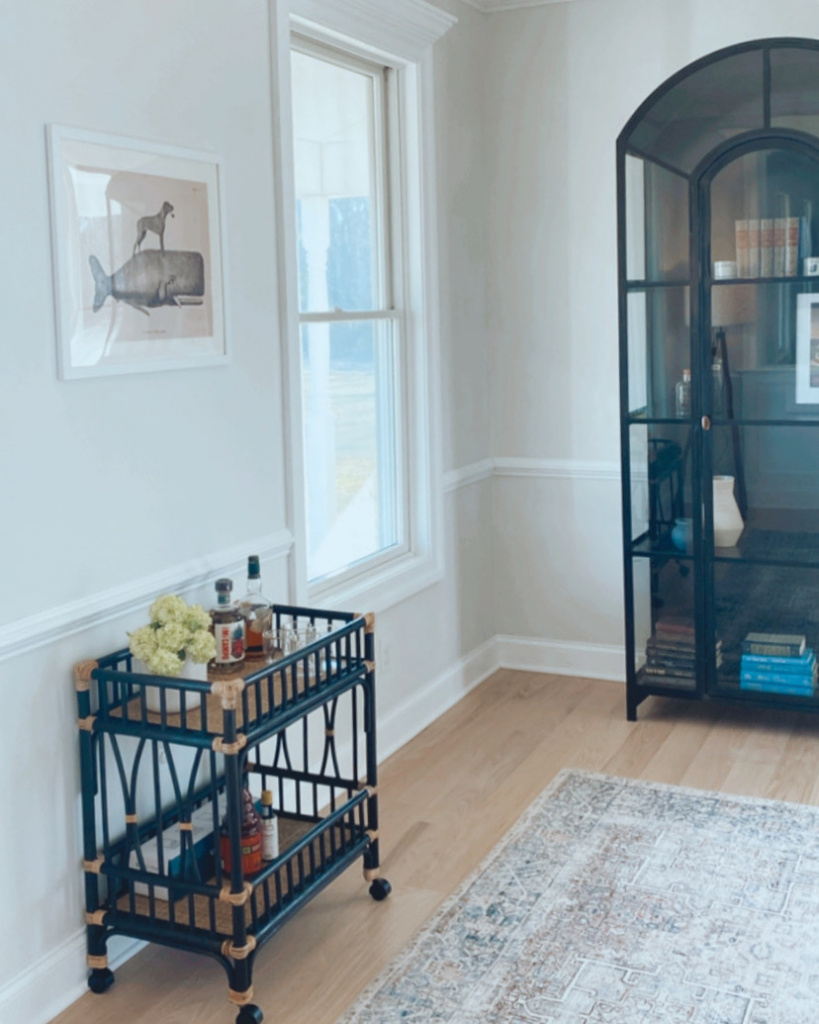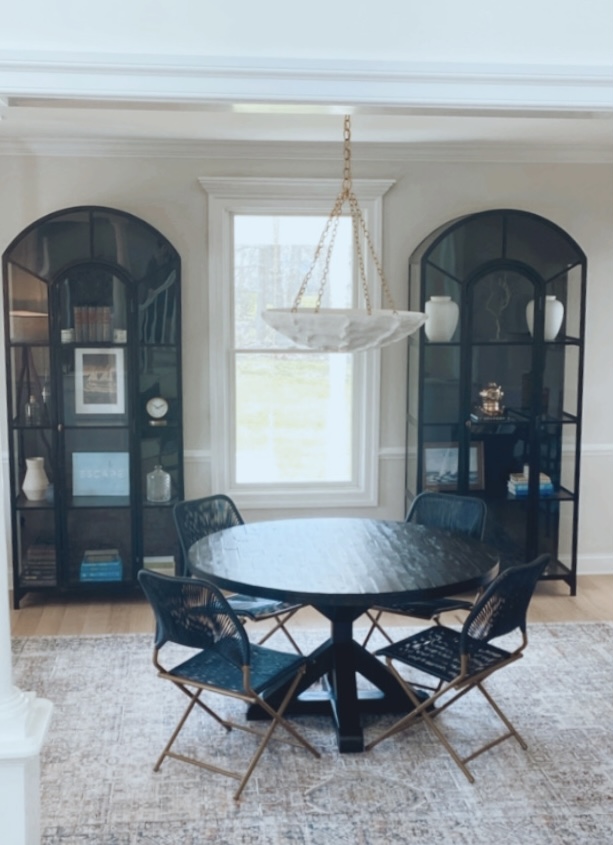 Black book cases / Bar Cart / Round Table / Chairs /  Glass Storage Cabinet / Area Rug
(all the decorative objects are from all over!  Including raiding parent's basements, goodwill trips, Target runs and etsy.)
Bedroom Decor Ideas
Like I mentioned previously. Each bedroom has a distinct feel incorporating the different personalities of the area.
The Primary bedroom:  Coastal, serene, open, calm, natural woods.
Bedroom 1:  This is where my daughter stays. The preppy, Lily Pulitzer, pops of bright colors, pinks, deep blues, and mermaids
Bedroom 2:   This more masculine bedroom is where my son usually sleeps. Rattan, turtle shells, darker colors.  I wanted to paint this room light but after discovering a turtle shell along our shoreline, I was inspired to create a room theme around it.
Bedroom 3:  Here comes the nautical theme.  I keep it very primary colors, sailing nods, and natural woods.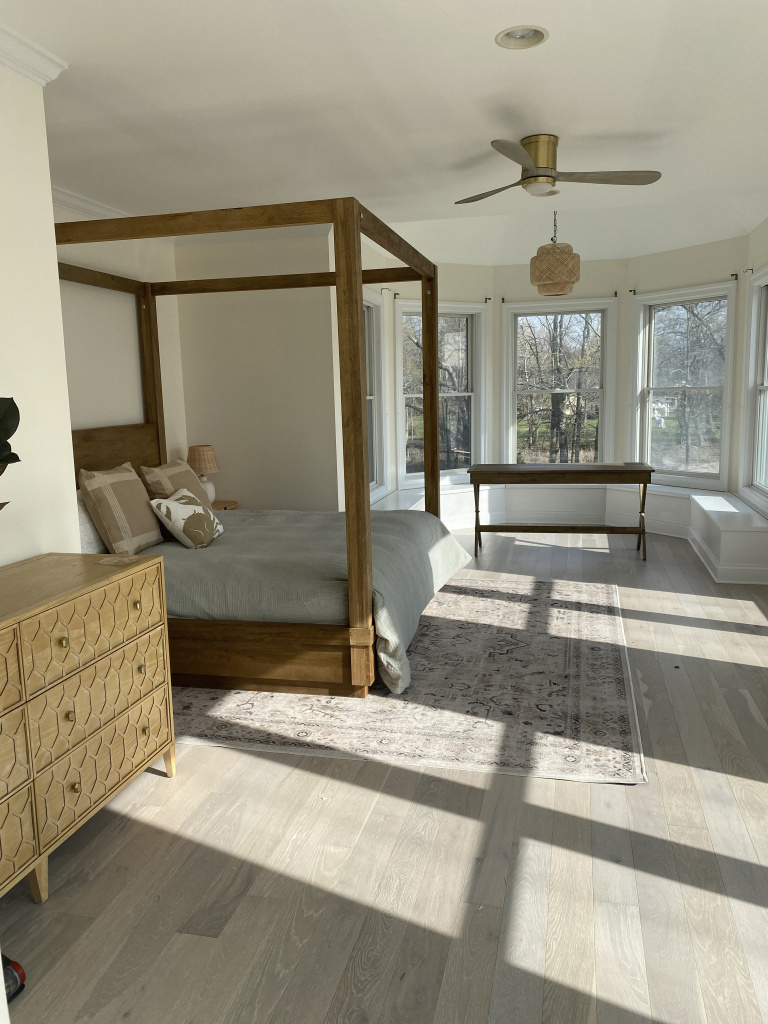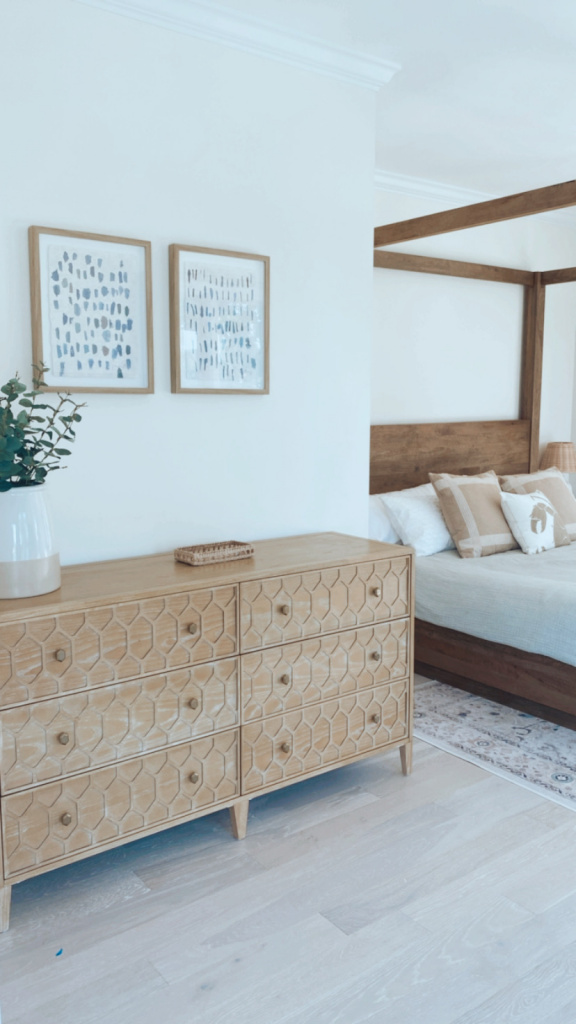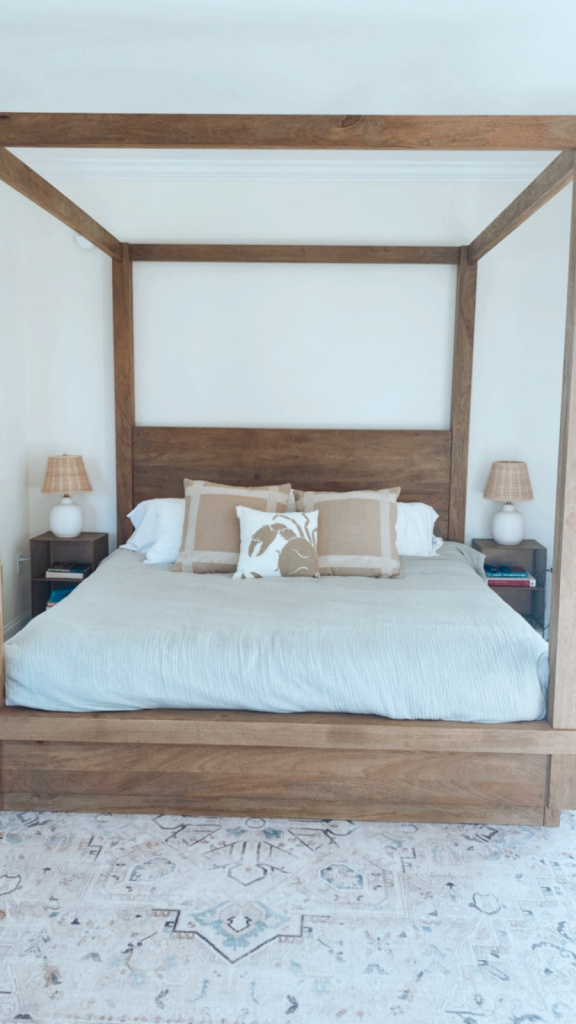 Primary Bedroom Design + Decor
Canopy Bed / Gold Storage Shelves / Lamps / Mattress /  Six Drawer Dresser / Area Rug / Desk / Chair / Mirror / Artwork / Crab Pillow / Bed Comforter / Accent Pillows / Bamboo Pendant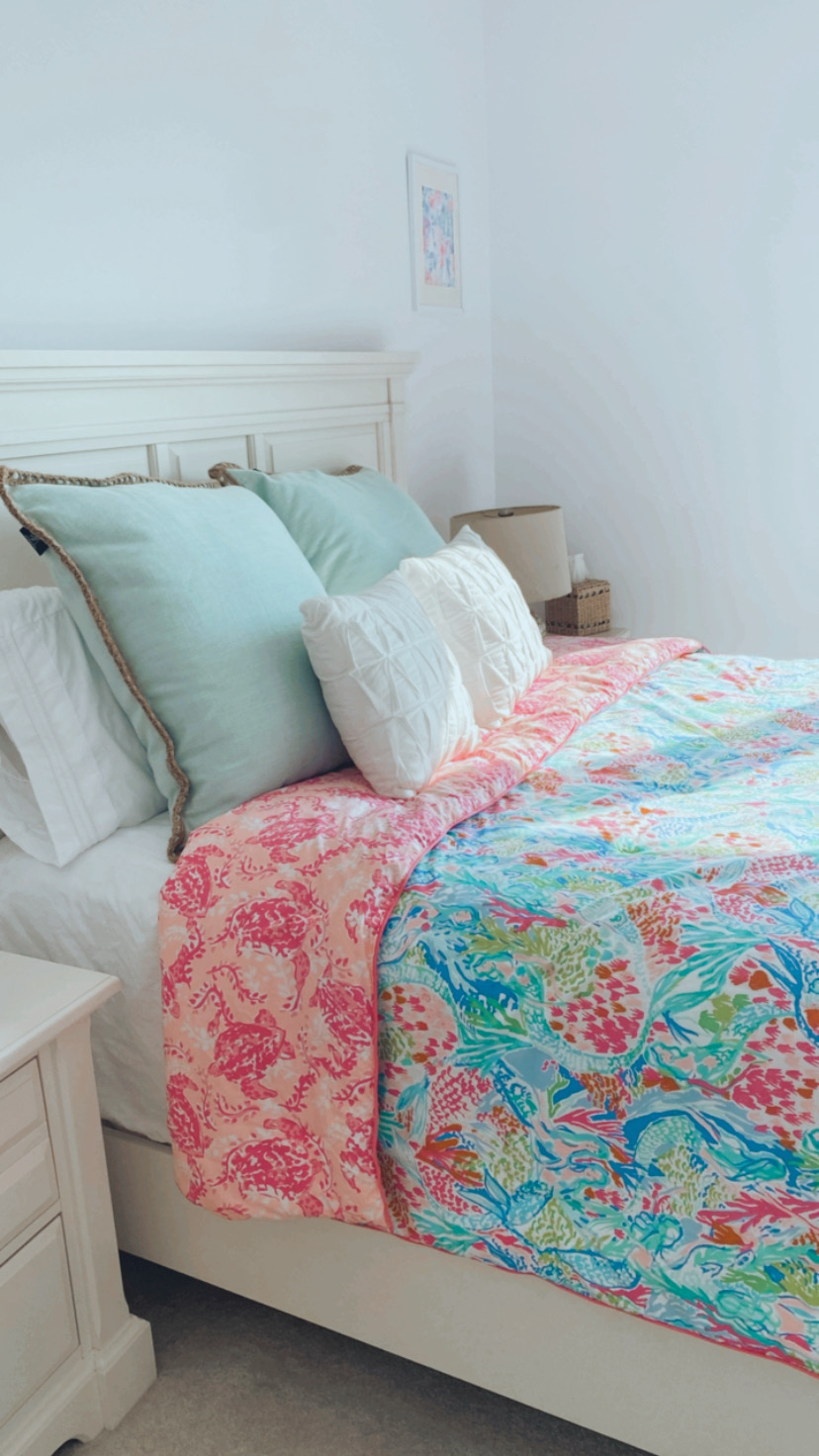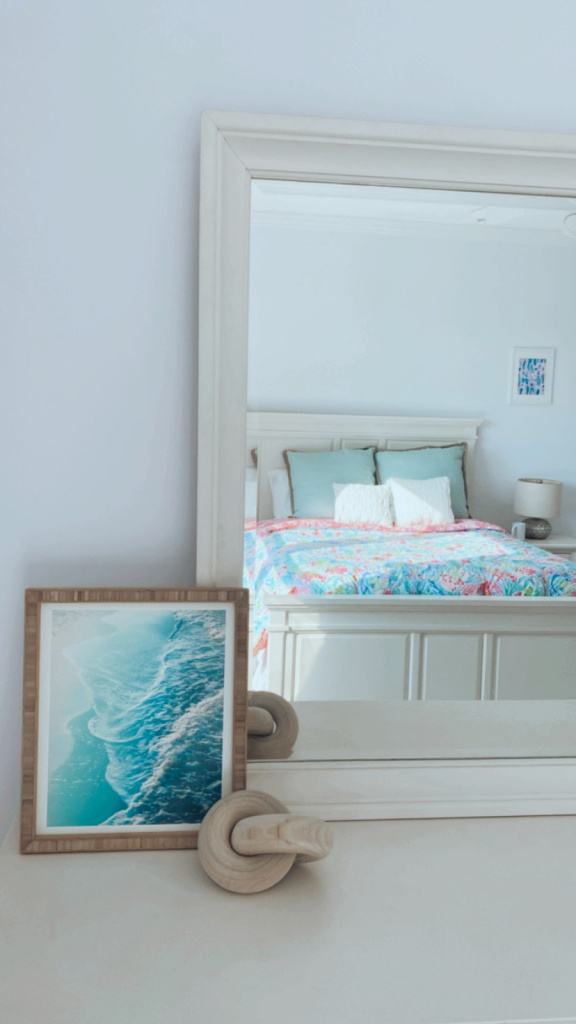 Preppy Bedroom Decor
Comforter / Beach Art Work  / Side Table / Decorative Pillows / Coastal Wooden Knot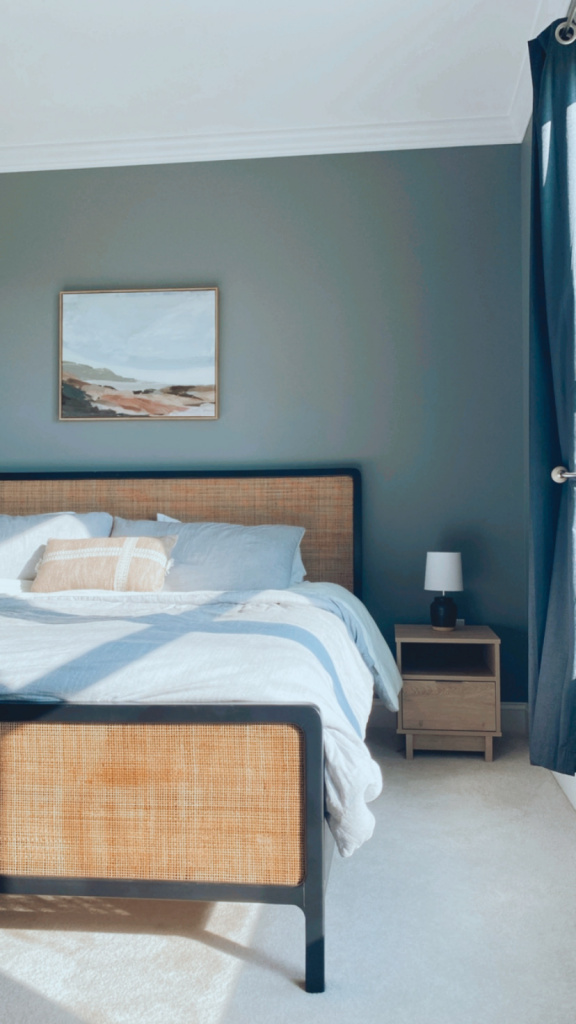 Nature Inspired Bedroom
Rattan Bed frame / Comforter / Wall Art over Bed / Mirror / Watercolor Artwork / Faux Rubber Plant / Turtle Artwork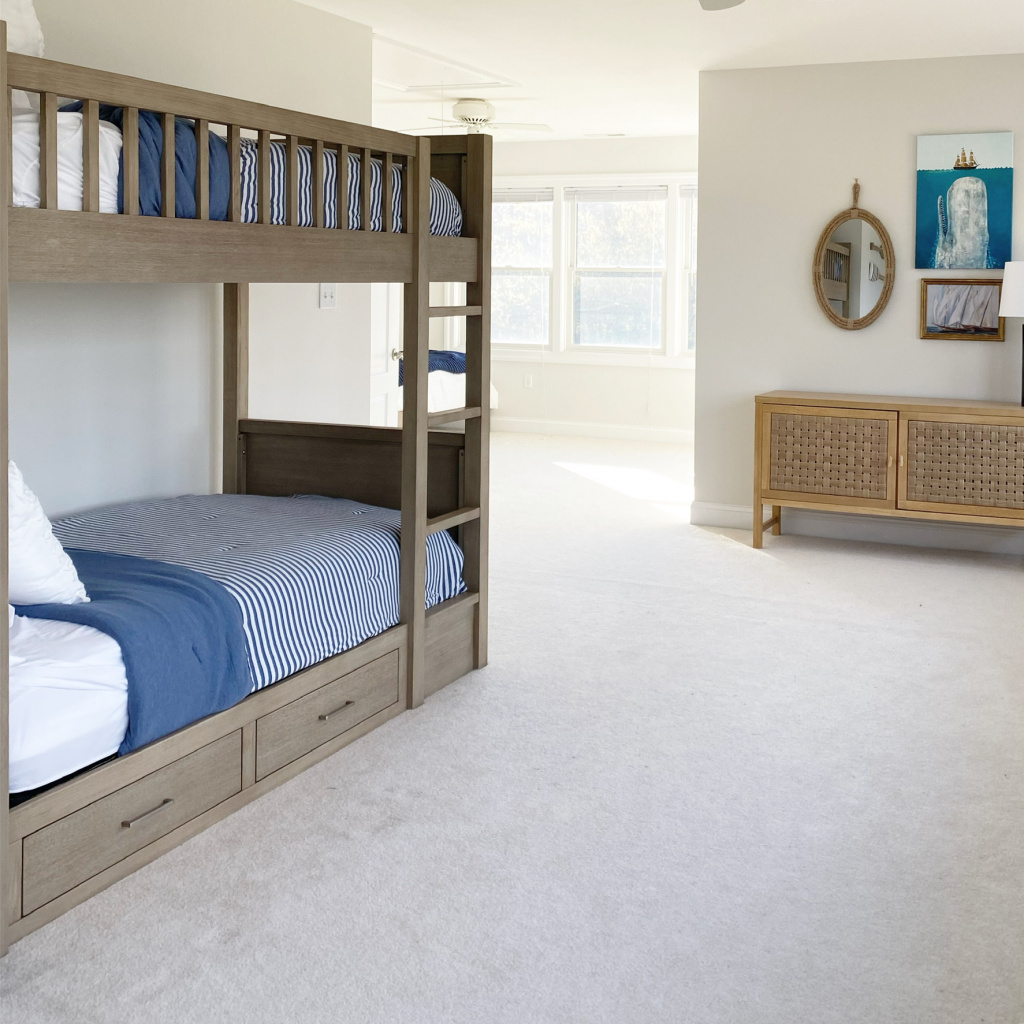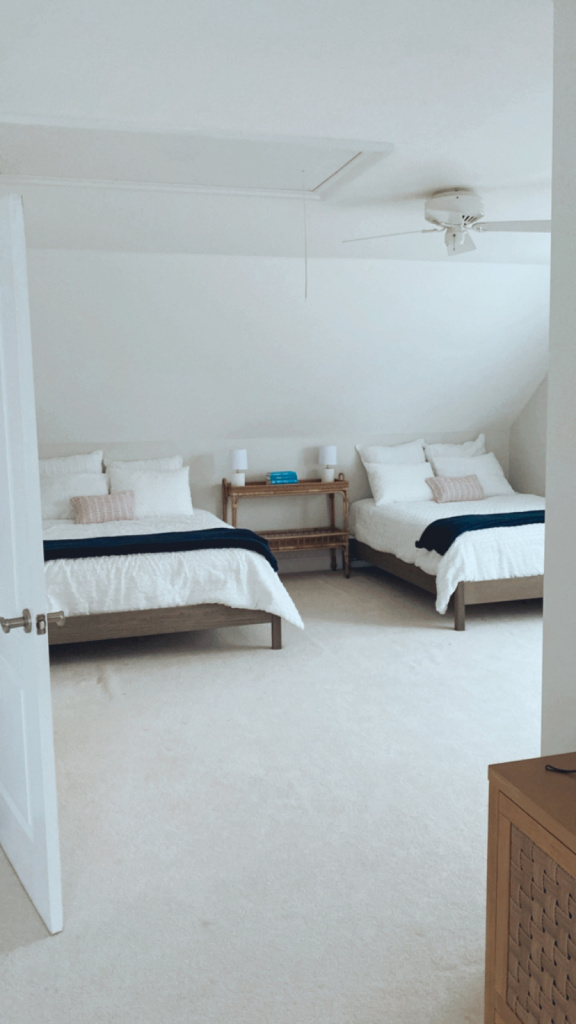 Nautical Themed Bunk Room
Bunk Beds / Bunk Bedding / Nautical Flags / Bed Sheets /  Queen Bed Frames / Rattan Side Cart / Console Table / Whale Art / Rope Mirror / Sailboat Art / Oars /
SHOP COASTAL DECOR HERE

Bonus Room Decor
The last room! So this room was painted green and had carpet.  We were going to hold off on it for a while, but decided we were already deep in renovations so get this done in one fell swoop.
This is the area where we send the kids after a day of swimming.  They can have the space to hang out, play ping pong, and chill.  We also included a sleeper sofa for exrta guest space!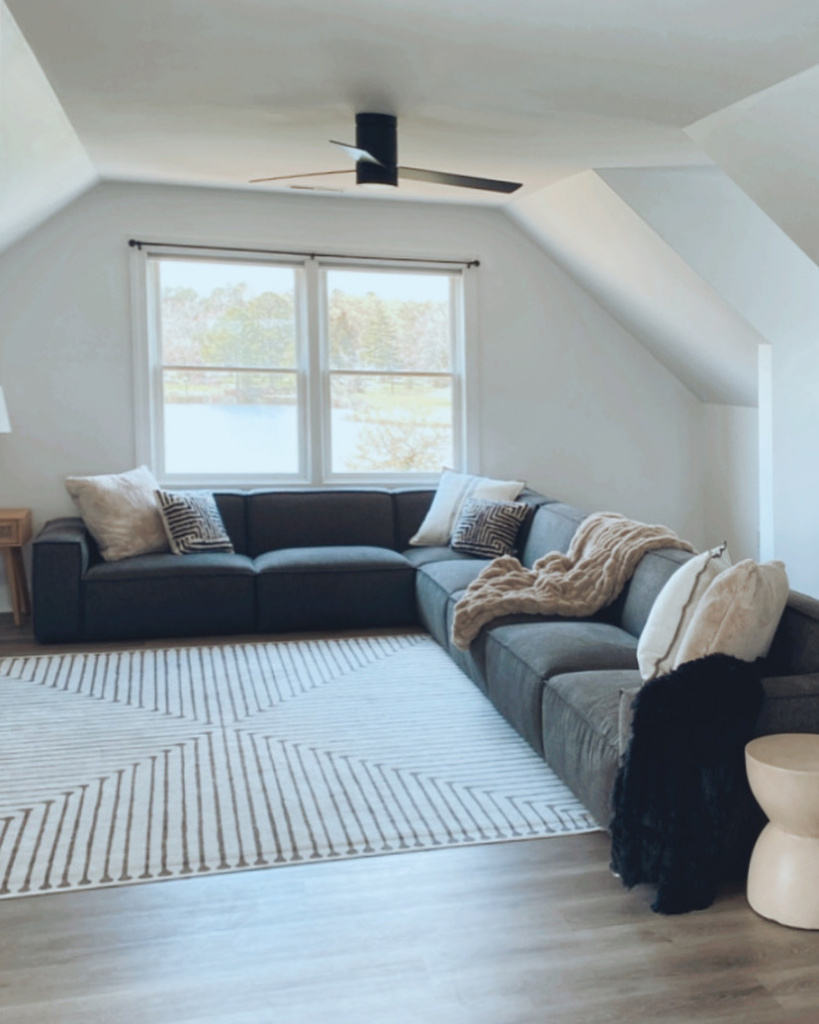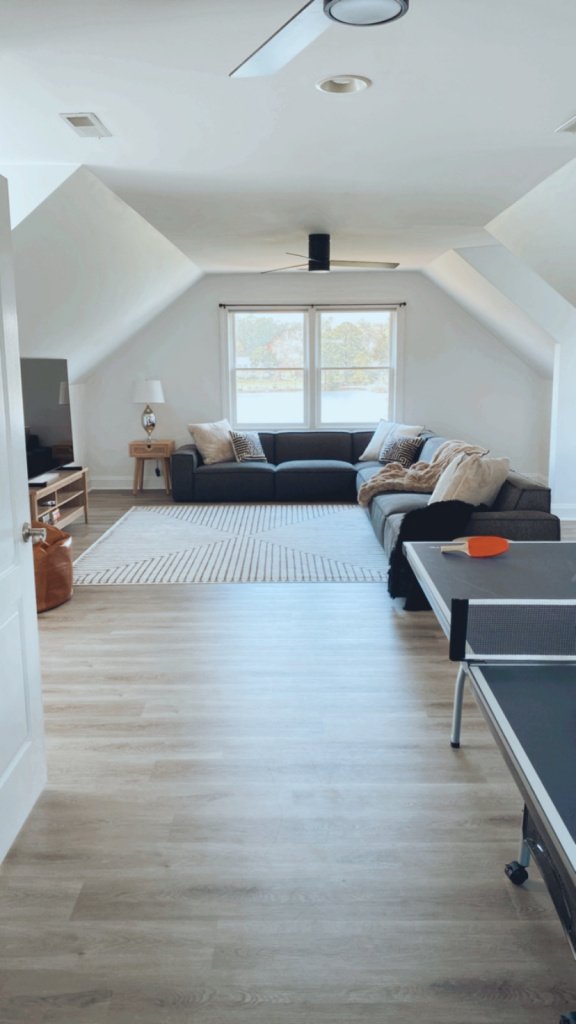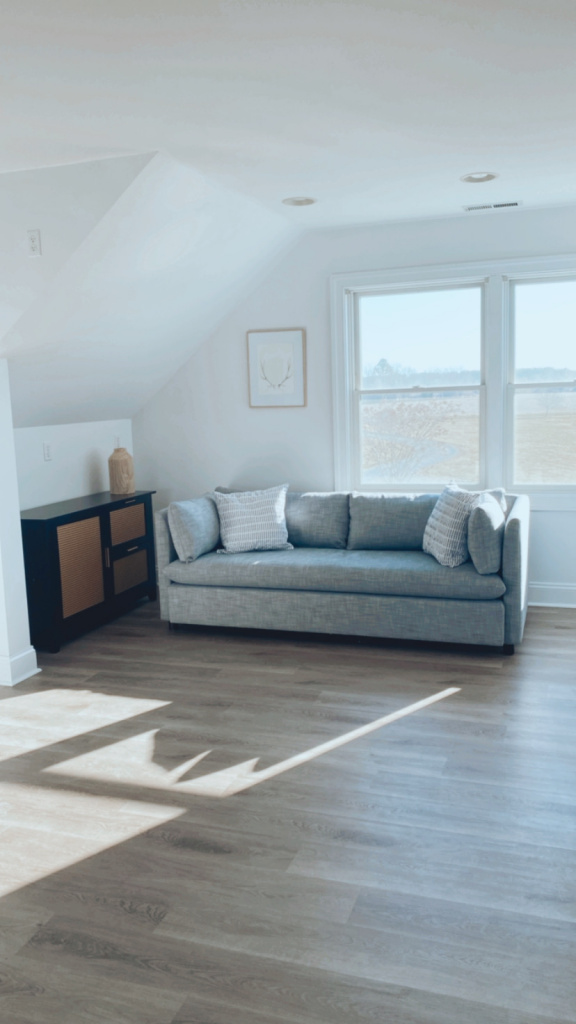 BONUS ROOM DECOR
Sectional (this is modular so we can switch it up) /  Area Rug / Ping Pong Table / Poufs / Sleeper Sofa /  Black Dresser / Rattan Side Table / Circular Side table
MORE GOOD TO KNOW WHEN DECORATING
I'm the mood board builder. My husband is the task master.  He likes to check a box and get things done.  Don't let perfectionism keep you from making decision.
Not shown in these pictures is my favorite wall paper in the downstairs powder room.  Again, love this nod to the area.  I'm also getting an embroidered quote from Wedding Crashers since this is the area it was filmed in.
Check out Goodwill! I can't even begin to tell you how many finds I picked up there.
If you're nervous about scale, tap into a professional.  I was so nervous about huge pieces of furniture after city living for so long, it was hard to think that big especially on sectionals.
Think about how the place will be used.  Yes, I love light, airy, breezy color palettes.  But if you think an all white sofa is going to withstand kids coming in from the pool or beach and your fur babies, they're not.  My recommendation would be be go light on the walls, dark on the sofas, and rugs that will mask spills.
I hope you enjoyed this home post!  If you want to keep up with me, subscribe to my weekly newsletter.  Now, back to workouts and more.
You can also check out my LTK Page for more links to my favorite things.
SHOP COAST HOME DECOR